Tribal mistrust cost BJP dearly
Only two tribal BJP MLAs managed to get elected, down from 11 in 2014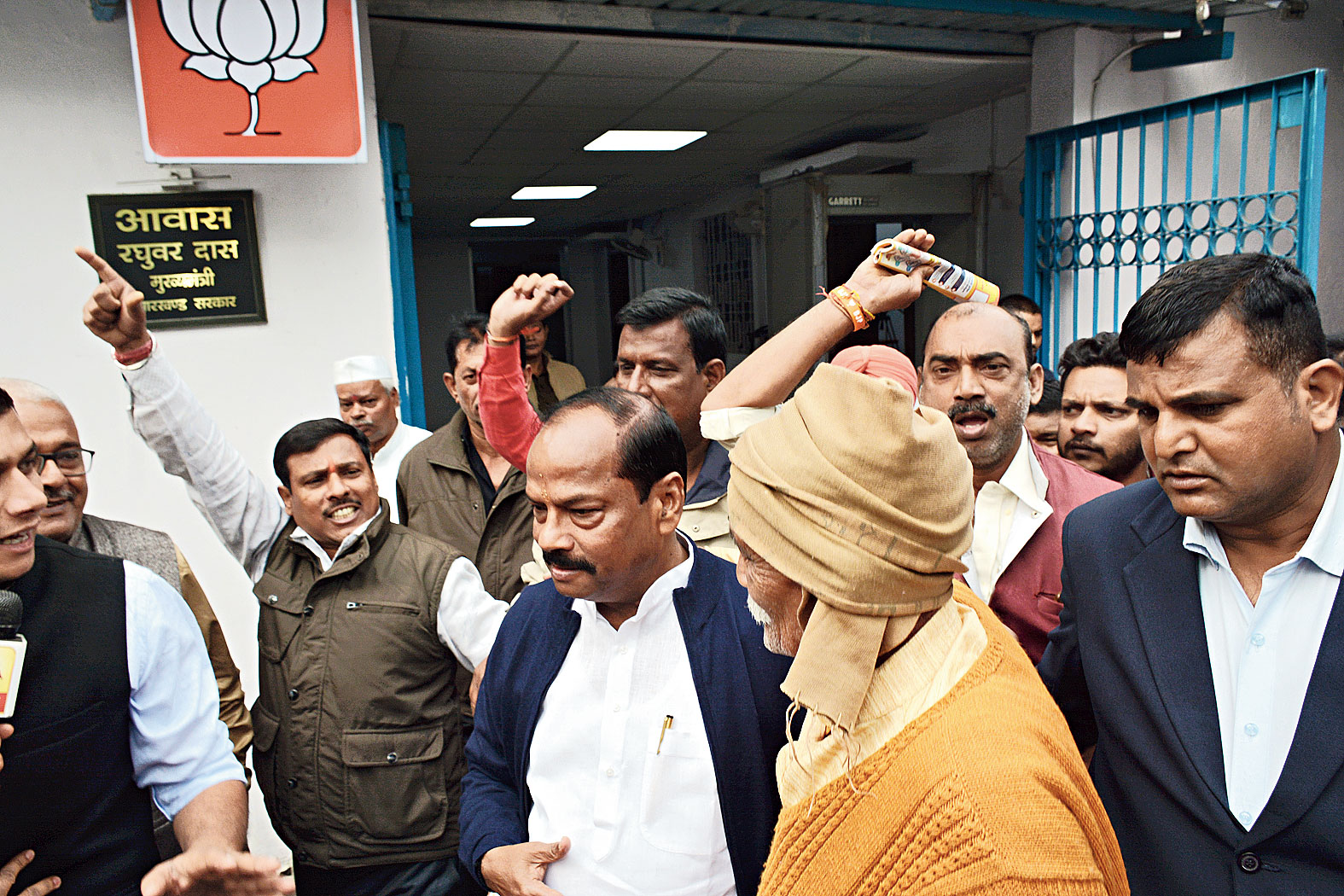 Raghubar Das leaves his Agrico residence in Jamshedpur on Monday.
(Bhola Prasad)
---
Ranchi
|
Published 24.12.19, 06:41 PM
|
---
Prime Minister Narendra Modi during an election rally in Gumla on November 26 had urged the tribals to vote for the BJP, saying that it was the Adivasis who turned prince Ram into "maryada purushottam Ram", peerless among men for his conduct.
This statement was supposed to co-opt tribal voters with the larger ideology of the BJP. However, as Monday's results of the Jharkhand Assembly elections 2019 showed, only two tribal BJP MLAs managed to get elected, down from 11 in 2014. In all, Jharkhand Assembly has 28 seats reserved for Scheduled Tribes.
The tribal BJP MLAs that did manage to get elected this time were Khunti's Neelkanth Singh Munda and Torpa's Koche Munda. Significantly, both seats are close to the epicentre of the pathalgadi rebellion, where many tribals expressed their mistrust of the government by declaring their villages out of bounds for "outsiders" and erecting stone plaques with messages from the Constitution on special land rights meant for Pesa and Vth Schedule areas. Police cracked down on the protesters violently, slapping thousands of sedition cases. That voters from the pathalgadi region chose to elect BJP tribals leaders could have been a desperate attempt to put the movement behind them.
In the rest of the areas, the loss of face of BJP's tribal leaders, including stalwarts such as Dinesh Oraon from Sisai, is being seen as the tribal voters' rejection of BJP leaders from the community.
Asked why, BJP Rajya Sabha MP Sameer Oraon said it was too soon to give a conclusive statement, but admitted to "communication gaps".
"Apparently we (the BJP) could not properly communicate to our tribal voters what we had done for tribal welfare. We failed to make people realise that we were the ones to give Jharkhand to the tribals in 2000 (under the Atal Bihari Vajpayee government) and created a separate ministry for tribal welfare in the country. We need to closely analyse where we went wrong in our communication."
Another tribal leader close to the BJP said that a non-tribal CM (Raghubar Das) was not acceptable to tribals. "Tribals have always seen Jharkhand as their state and had a tribal CM. In 2014, Raghubar Das became the first non-tribal chief minister. When Das become unpopular for his poor interpersonal skills, tribals preferred voting for a party that would give them a tribal CM. This was reflected in this election when they voted for 26 non-BJP tribal candidates," the tribal leader said.
Not so simple, said vice-president of Adivasi Chatra Sangh Jatru Oraon. "What did the government really do for tribal welfare? It even diverted funds provided by the Centre under the tribal sub-plan to the state. Tribals are smart. They realised this," Oraon said.
Food rights activist Balram cited the failure of BJP to assuage tribal fears regarding their land.
"Tribals have been worried about the safety of their land, they feared the government would give this land to big companies in the name of development. Police also implicated many tribal youths in false cases to rein in the pathalgadi movement. Efforts were on to divide tribal society on the lines of religion. The voting pattern in this election was a reaction to a lot of things," he said.
A Ranchi tribal leader, Shiva Kachhap, said no tribal in Jharkhand had forgotten this government's efforts to tinker with the age-old CNT and SPT Acts. "Tribal students were not happy with the Das government's residential and job policy framed 2016, which was too universal."