Archer Deepika Kumari, footballer Sumati Kumari highlight the value of sport
Webinar held in collaboration with Unicef showcases Jharkhand's unique programme to nurture talent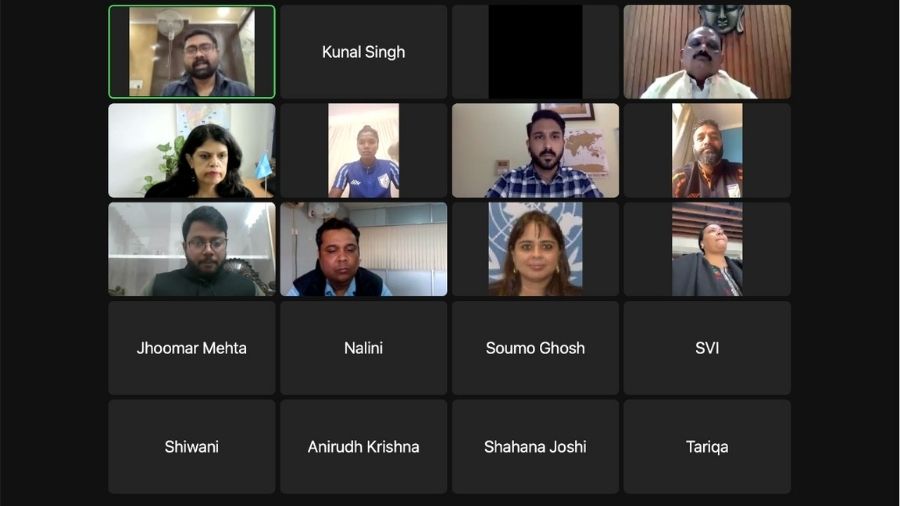 Participants at the webinar
The Telegraph Picture
---
Ranchi
|
Published 23.02.22, 10:45 PM
|
---
Two sports stars of Jharkhand stressed on the importance of sports for development of youth and gender inclusivity at a webinar on Wednesday.
Padmashri recipient and Olympian archer Deepika Kumari (27), who came from a humble background in Ranchi, and went on to become  a World Number 1-ranked recurve archer, said, "Sports can be an amazing teaching mechanism. It teaches you self-confidence, it helps you maintain a healthy lifestyle, mental fitness, teamwork and unity. It's a complete package".
The webinar, titled "Sports for Social Empowerment" was conducted by Policy and Development Advisory Group (PDAG) with Unicef India. 
Sumati Kumari (18), also from a poor family in a remote village of rebel hit Gumla district of Jharkhand, who earlier this year made it to the senior Indian women's team for the Asian Football Confederation (AFC) Asian Cup, said, "Every village in Jharkhand is full of talent. All they need is the right platform, facilities and guidance, especially girls. With the right opportunity they will get a chance to prove their capabilities. Sports will change their lives forever." 
Conversations around Sport for Development (S4D) have been gaining   momentum all over the world to highlight the impact of youth and their overall well-being and advancement. Sports has proven to be a catalyst in the transformation of youth, especially those coming from challenging socio-economic backgrounds and circumstances - broadly in the areas of early marriage, living a better and more nourished life, creating an aspirational framework and greater engagement in education for those most at risk of dropping out of school. It was with this in mind and in keeping with the UN's Sustainable Development Goals (SDG- 5 and 5.5), Policy and Development Advisory Group (PDAG) hosted the webinar in association with UNICEF.
In addition to the attendance of over 200 participants, the webinar saw a diverse set of panellists including policy makers, players, coaches, and eminent scholars, including Dr Anirudh Krishna of Duke University.
Members of the panel included, Jharkhand drinking water and sanitation minister Mithilesh Kumar Thakur, Mahagama MLA Dipika Pandey Singh, Jharkhand sports director Zeeshan Qamar (IAS), coach, India Women's National under-20 Football Team Alex Ambrose and founder and director, Pro-Sport Development, Suheil Farrell Tandon.
With the recent launch of the Government of Jharkhand's Sport for Social Impact initiative, (SAHAY), Mithilesh Thakur acknowledged the role of the state government in pushing the agenda for sport in the state.
"We have been able to change the dynamics of sports, by not only making it more representative but also through amazing performances of our players like Deepika Kumari and Sumati Kumari," he said.
Adding to this, Zeeshan Qamar said. "Jharkhand is full of sporting talent and with SAHAY we will be able to provide the youth with infrastructure, platforms and an enabling environment in order for them to grow and succeed."
MLA Dipika Pandey Singh pointed out, "Today, women from different backgrounds are leading the sports arena. An initiative of the Jharkhand government to provide employment to sportspersons will also motivate the youth to pursue this field and one should focus on strengthening it further."
Suheil F Tandon was mindful of bringing in the perspective of how important it was to organise and streamline sports programming at the grassroots by emphasizing, "Sports needs to be very purposefully designed and carefully delivered in order for it to enable the sustainable development agenda and goals in particular." Pranay Prasoon of PDAG spoke of the uniqueness of the SAHAY initiative by shining a light on Sport for Conflict Resolution.
"With support of SAHAY, for the first time sports is being used to address the situation of left-wing extremism by creating an alternative ecosystem of association, identity and solidarity for those most prone to engaging in such extreme activities," he said.
Incidentally, PDAG worked in collaboration with officials from Jharkhand sports and youth affairs department to conceptualise and design, Sports Action towards Harnessing Aspirations of Youth (SAHAY), which was launched on December 15, 2021.
The Government of Jharkhand, with the help of SAHAY, will use sport as a tool for development, conflict resolution and post-conflict confidence building amongst the youth by harnessing their aspirations to contribute to the holistic development of adolescents from some of the most far-flung and conflict-ridden regions of the state. The objective of the scheme is to use sports to bring about the highest degree of impact among communities affected by left-wing extremism, with a special focus on young women and girls.
Under the initiative, in the first phase, 72,000 youths in the 14 to 19 years age group from Left- Wing Extremism-affected districts, also classified under the Aspirational Districts Programme of Government of India, of West Singhbhum, Seraikela-Kharsawan, Khunti, Gumla and Simdega will get an opportunity to showcase their talent across the four sporting disciplines of hockey, football, volleyball and athletics.
The initiative is spread across 55 blocks and 660 panchayats within these districts. The state government envisions using SAHAY as a tool to create a strong aspirational framework, thereby contributing to identity development for young men and women, including a sense of empowerment, accomplishment, agency, improved health and nutritional outcomes and personal freedom.