Jharkhand: All India Sikh Students Federation to host petrol loan mela till fuel price comes down
Over 30 persons took slips from the fair held between 1pm and 5pm near Sakchi gurdwara in Jamshedpur on Sunday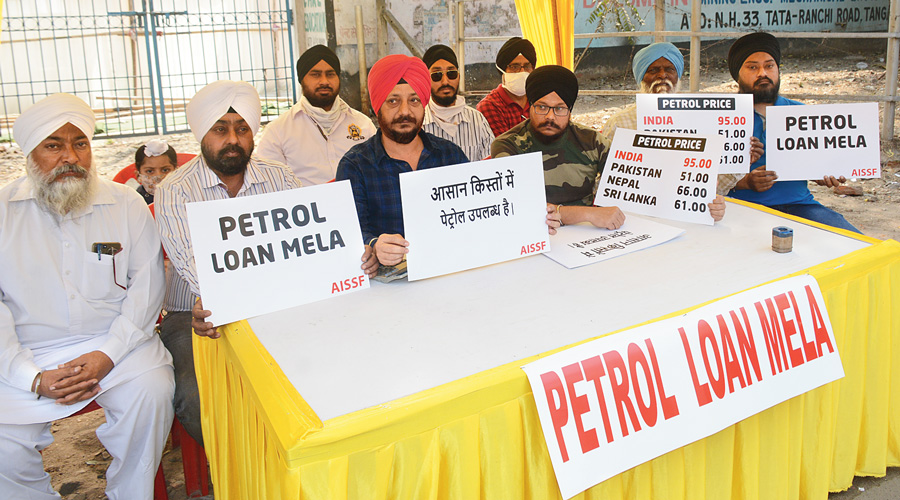 Members of the AISSF at the petrol loan mela in Sakchi, Jamshedpur, on Sunday.
Bhola Prasad
---
Jamshedpur
|
Published 23.02.21, 02:00 AM
|
---
A Sikh outfit here has taken recourse to sarcasm to vent their anger against the Union government's failure to control the price of petrol, which has touched Rs 91.15 per litre in the steel city.
The All India Sikh Students Federation's (AISSF) Jharkhand-Bihar unit has decided to host petrol loan mela every Sunday across Jharkhand till the price of the fuel comes down. The mela was inaugurated near the Sakchi gurdwara in Jamshedpur on Sunday.
"Through such initiatives, we just want to show the mirror to the Union government on its failure to tackle the spiraling fuel prices. We organised a petrol loan mela at Jamshedpur on Sunday wherein customers could purchase petrol in easy instalments at zero per cent interest as is done for expensive home appliances and other costly branded items. This is aimed at highlighting how precious petrol has become for people so that they are forced to buy it on loan. The AISSF units will also host similar petrol loan melas in other major cities of Jharkhand from the coming Sunday," said AISSF eastern unit president and Sakchi-based trader Satnam Singh Gambhir.
The AISSF, which was formed in 2008 in Jharkhand and Bihar, currently has over 100 members in Jamshedpur. It has its units in almost all the big cities of Jharkhand.
Over 30 persons took slips from the petrol loan mela held between 1pm and 5pm on Sunday. "We had tied up with a fuel retail outlet in Sakchi and anybody showing the slip bearing our stamp would be given petrol at the outlet. For each litre of petrol, one has to make a down payment of Rs 10 and give us a post-dated cheque of Rs 20 to us for getting the slip. Nearly 30 persons took the slips while we received enquiries over mobile phones from nearly 30 more people. We will be tagging the pictures of petrol loan melas on the Twitter handle of the Prime Minister Office," Singh said.
The social media is abuzz with conversations surrounding the fuel price hike as #Petrol100 trended on Twitter. Many users shared cricket anecdotes to mark the occasion as petrol prices reached the Rs 100 mark in major cities of the country.