Jharkhand 8th most polluted state: Report
State's figure is better than its neighbours Bengal (65.4 micrograms per cubic metre) and Bihar (85.9 micrograms per cubic metre)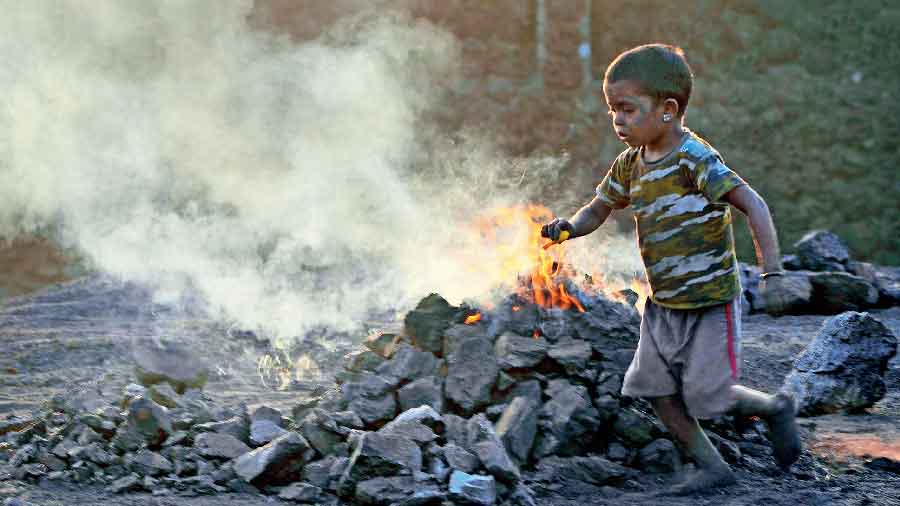 Smoke comes out of burning coal in Jharia
Shabbir Hussain
---
Jamshedpur
|
Published 02.07.22, 02:31 AM
|
---
Jharkhand is India's eighth most polluted state with the concentration of fine particulate matter called PM2.5, used to grade air quality, at 61.6 micrograms per cubic metre, according to the Air Quality Life Index (AQLI) annual report 2022 released last month.
This was revealed during a webinar organised by SwitchON Foundation in collaboration with the Energy Policy Institute, University of Chicago at Ranchi on Friday to mark the National Doctors' Day.
Jharkhand's figure is better than its neighbours Bengal (65.4 micrograms per cubic metre) and Bihar (85.9 micrograms per cubic metre).
AQLI converts air pollution concentrations into their impact on life expectancy. It is produced by the Energy Policy Institute at the University of Chicago (EPIC) and is based on frontier research by EPIC director Michael Greenstone that quantified the causal relationship between human exposure to air pollution and reduced life expectancy.
The AQLI report states that if Jharkhand were to reduce its average PM2.5 pollution to the level prescribed by the WHO (5 micrograms) guideline, it would end up adding 5.6 years to the life of its average resident. If Jharkhand were to reduce its average PM2.5 pollution to the national standard, it would still add 2.1 years to the life of its average resident. According to the report, between 1998 and 2020, average PM2.5 concentrations in Jharkhand increased 84.4 per cent.
Speaking at the event, Vinay Jaju, managing director of SwitchON Foundation, said: "Doctors have first-hand experience of the ill-effects of air pollution on health. We pay attention and listen to them when they declare air pollution as the most important health threat and emergency. While Covid impact can be seen immediately, air pollution is a silent killer and that is why it is even more dangerous than Covid."
The webinar highlighted the impact of air pollution on human health, drawing evidence from a web tool developed by The Energy Policy Institute called the AQLI.
According to the AQLI annual report, India is the world's second most polluted country and air pollution shortens an average Indian's life expectancy by five years. Even if India were to reduce its particulate pollution concentrations to the less stringent national PM2.5 standard of 40 micrograms per cubic metre, it would still add 1.5 years on an average to the life of an average Indian.
Ashirbad S. Raha, communications director at EPIC India, said: "I have grown up in Ramgarh in Jharkhand and have beautiful memories of looking at blue skies, but unfortunately things have changed over the last few decades. Even if air pollution's impact on human health does not grab headlines frequently in Jharkhand, the fact remains that this silent killer is shortening our lives."
"In many parts of the country, it may be hard to find hyper-local air pollution data — which translates into data gaps for citizens and policymakers. By giving out data on the annual average of PM2.5 levels in every district and how that impacts citizens' life expectancy, AQLI's web tool is aimed to improve our understanding of the benefits of clean air policies," Raha added.
The report cites coal hub of  Dhanbad as the most polluted district in Jharkhand followed by Bokaro, Ramgarh, Sahibganj and East Singhbhum.
In the capital city Ranchi, the average PM2.5 concentrations stand at 59.6 micrograms per cubic metre, 11.9 times the WHO guideline. An average Ranchi resident is losing 5.4 years by not being compliant with the WHO PM2.5 pollution guideline.
Dr Rudra Prasad Samanta, consultant and in-charge of pulmonology at Tata Main Hospital in Jamshedpur, said in the webinar: "In recent times, there has been an increase in patients reporting acute and chronic symptoms of respiratory disorders like Rhinitis and COPD. This is really critical and needs urgent interference, especially given the AQLI report findings for Jharkhand."