Jharia students' launch postcard campaign for pollution free area
They have asked BCCL officials to transport coal in covered vehicles, sprinkle water on dusty roads and plant trees in mining areas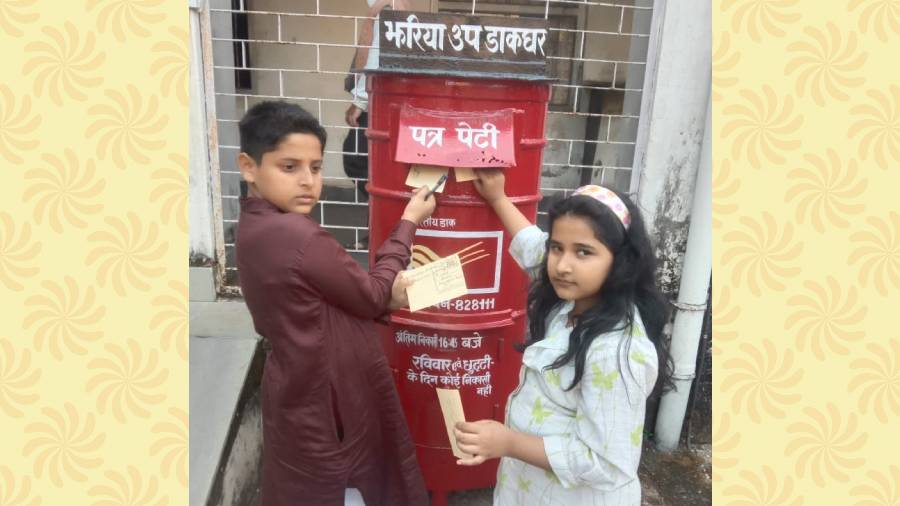 Children dropping postcards in a letter box to flag off the postcard campaign, on Friday.
Shabbir Hussain
---
Dhanbad
|
Published 31.12.21, 06:34 PM
|
---
As the country gears up to welcome the New Year, Jharia residents, reeling under the impact of severe air and water pollution, made a fervent appeal to the authorities, local representative and coal companies engaged in coal mining operation, to ensure a pollution-free New Year for their area.
Leading by example, a group of school students shot off postcards to Deputy Commissioner, Sandeep Singh; Dhanbad Municipal Commissioner, Satyendra Kumar; BCCL CMD, Samiran Dutta; Dhanbad MP, PN Singh and Jharia MLA, Purnima Singh, requesting them to take steps to mitigate air and water pollution.
The students, belonging to different private and government schools, gathered at Katras More, one of most polluted traffic squares of the district today, under the banner of Youth Concept, an organization committed to social and environmental causes, led by a speech therapist cum special educator, Akhlaque Ahmad. The students also carried posters and placards bearing slogans like Sansad dada hamari awaz uthaiye, pradushan se mukti dilaiye; DC Uncle DMFT (read District Mineral Foundation Trust) ke paise se hamari zindagi bachaiye; Vidhayak aunty hame pradushan se bachaiye as part of their awareness drive which began at around 11 am this morning.
The students, through their post cards, also appealed to the BCCL top brass to ensure coal transportation through covered vehicles only, sprinkling of water on the muddy roads being used for coal transportation, proper washing of wheels of coal transporting vehicles before they come on the road from mines besides adequate tree plantations in colliery areas.
Talking to The Telegraph Online, Akhlaque Ahmad said, "We decided to spread awareness among people and also highlight the crucial issue of pollution affecting the health and well-being of around five lakh residents of Jharia before the bureaucrats as well as people's representatives."
Ahmed also said, "Funds worth around Rs 54 crores provided by central government through the Jharkhand State Pollution Control Board (JSPCB) and meant for procuring pollution control machines are lying idle with the Dhanbad Municipal Corporation (DMC)." According to him, the ground reality can be assessed from the fact that the five dust sweeping machines procured in 2019 are also rusting at the compactor stations of Dhanbad Municipal Corporation (DMC).
Ahmed also pointed out that despite drinking water supply, environmental preservation, pollution control measures, health care, education being high priority areas for District Mineral Foundation Trust Fund (DMFT), very little of the allocated DMFT fund is being spent on environmental preservation and pollution control measures.