Jharia residents stuck in vulnerable coal zones as Covid stalls rehab
Not a single family shifted from the fire affected areas to safer places after April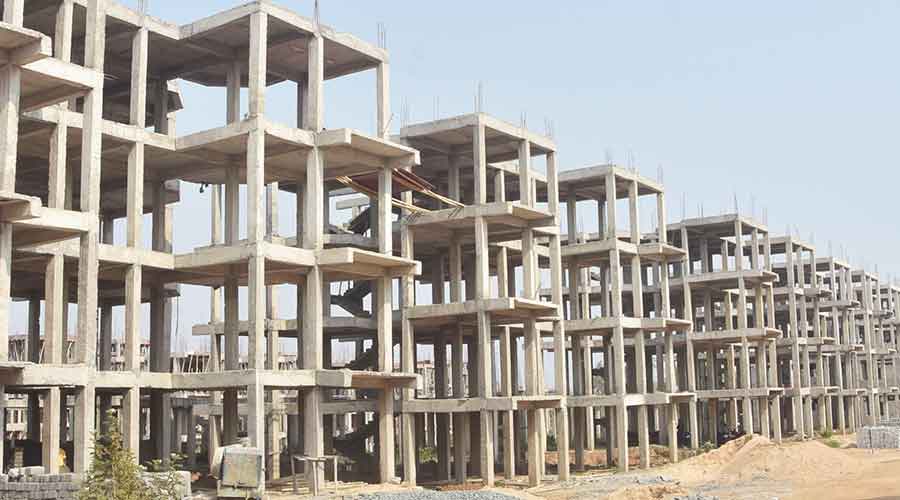 Construction work of new quarters at Belgaria in Dhanbad.
Gautam Dey
---
Dhanbad
|
Published 22.07.21, 06:05 PM
|
---
The Jharia rehabilitation has once again taken a backseat due to the second phase of Covid after some spate of activity between December 2020 and March 2021.
The gravity of the situation can be ascertained from the fact that not a single family's rehabilitation has been carried out from the fire affected areas to safer places after April, although more than 20 incidents of gas emission, subsidence and house collapse have taken place since the onset of monsoon.
In one of recent incidents, a 28-year-old youth of Kenduadih had sustained 80 per cent burn injuries after falling into a crater on July 18.
Talking to The Telegraph Online on Wednesday, Rajendra Paswan, a resident of Kujama area of Jharia, one of the underground fire affected sites said, "The coal company BCCL has been given responsibility to carry out some temporary shifting in view of any incident during monsoon but not a single shifting has been carried out by Jharia Rehabilitation and Development Authority (JRDA), the agency meant for executing Jharia Master plan."
Murari Sharma, an octogenarian resident of Jharia who is also the working president of Jharia Coalfield Bachao Samiti, a citizen's group said, "Discussions were held with a few residents on January 16, this year for preparing a revised master plan as the existing Jharia master plan has completed its tenure of 12 years with rehabilitation of only around 5 thousand families out of total 1.04 lakh families."
"We are not hopeful of any movement forward as there is no comprehensive policy with regard to shifting of Legal Title Holders (owners of land and property) and until and unless lucrative package is announced for them the rehabilitation is not likely to accelerate," charged Sharma and added that under the original Jharia master plan they were offering a 50 square meter land for the Legal Title Holders which was not an acceptable proposal.
Notably, only 6358 quarters have so far been constructed by JRDA at Belgarhia for rehabilitating non legal title holder (encroachers) of fire affected sites at Belgarhia area of Baliapur block.
S.K.Choudhary, Chief Manager of Jharia Rehabilitation and Development Authority, said, "Construction of 8000 more quarters are in progress at Belharia for non LTH families under three different phases of work out of which 88% work of 2000 quarters in complete, while 70% work of m more 2000 quarters is also ready while 50% work of remaining 4000 quarters has been completed and work is still under progress."
He accepted that Covid had slightly affected the pace of civil as well as rehabilitation work.