Jharia king's family wants royal museum in abandoned building
RSP College, set up by royal family, was relocated because of fire raging underground in coal seams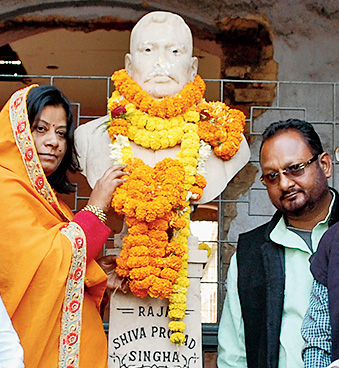 Madhavi Singh garlands the statue of king Shiva Prasad Singh on his 71st death anniversary in Jharia, Dhanbad, on Monday.
Shabbir Hussain
---
Dhanbad
|
Published 31.12.18, 08:03 PM
|
---
Descendants of the royal family of the princely estate of Jharia on Monday demanded construction of a museum in the abandoned building of RSP College, Jharia, highlighting the life and work late king Shiva Prasad Singh.
The college, established in 1951, was shifted from its original address to a new campus in Belgarhia, 6km away, on September 7 last year owing to threat from the raging underground fire.
The descendants, all alumni of the college, had congregated in the building at Bhagatdih to observe the 71st death anniversary of the king. The programme began around 12.30pm with the garlanding of the king's statue by his grand daughter-in-law Madhavi Singh.
Besides people from the king's family, a number of social activists, office bearers of Jharia Chamber of Commerce and former students of the college were also present.
The participants expressed grief over the pitiable condition of the abandoned building which had turned into a gamblers' den due to lack of proper security ever since the college was shifted.
Singh said, "The college was the only centre of higher learning in the region before Jharkhand was carved out of Bihar. We are peeved with the state government for neglecting the structure that was build on land provided by our family in 1949."
Swapan Mukherjee, a renowned lawyer of Dhanbad said, "During my days in the college from 1972-74, it was considered the best in the region. Several of its alumni are settled abroad and we whole heartedly support the demand of the royal family to establish a museum in the institute."
Pinaki Roy, founder of social outfit Institution of National Amity said, "The building signifies the pride of Jharia estate which was once one of the richest among all the princely estates under the Calcutta Presidency."
Amit Sahu, a student of the 1988 batch and president of Jharia Chamber of Commerce said, "We are not here to discuss whether the shifting of the college from Jharia was right or wrong. We want the government and the district administration to preserve the building as it also symbolises the princely estate system of governance prevalent in Jharia."