JFC's coach believes in total football
Spaniard Antonio Iriondo is all praise for steel city, its people and infrastructure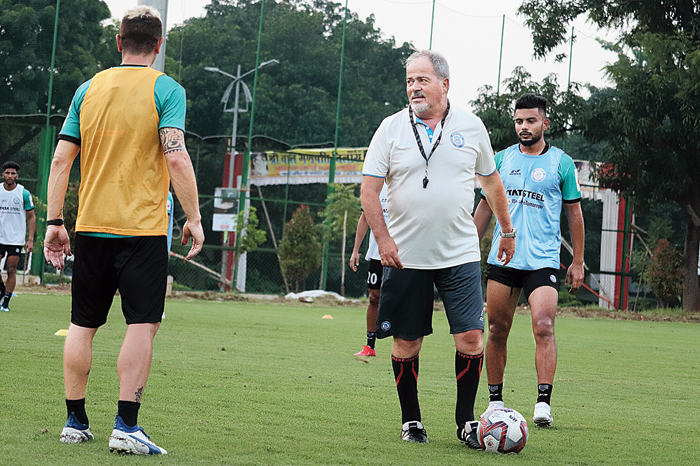 JFC head coach Antonio Iriondo trains the boys at Flatlet ground in Kadma, Jamshedpur, earlier this week
Telegraph picture
---
Jamshedpur
|
Published 18.09.19, 07:16 PM
|
---
Jamshedpur FC head coach Antonio Iriondo believes in living in the present and has, therefore, set his sights on the final objective which, for him, is winning.
The 66-year-old Spaniard, whom the Tata Steel-owned franchise has picked as head coach after a rigorous search involving extensive background references and analysis, knows his job and is confident of shepherding the team towards the ultimate goal of clinching the Indian Super League (ISL) title this season.
It's been over a week Iriondo has taken charge of his men. He sounded optimistic about the team and showered praise on the available infrastructure in the steel city.
"I am optimistic by nature. I have faced many difficult situations in the game of football and came out strong from them. Therefore, I am optimistic," he said.
Iriondo, who has managed various clubs in Spain's La Liga, Segunda Division and Segunda B in a 27-year-long career, said he did not consider deficiencies before they occurred. "I work on everything there is to work on to make good football. I only live in the moment, without losing sight of the final objective."
On why JFC did not qualify for the play-offs despite scoring more goals than last year's champions Bengaluru FC, Iriondo said: "The past does not exist, so any reference from the past at this time is not worth it to me because I have a totally different vision of football. The past and future does not exist, only the present exists."
He said he was satisfied with his team and players. "The players are working hard and enjoying the game. They make me enjoy (the game) too. The essence of the game is to enjoy. So, I am very happy with the attitude of the players," Iriondo said.
Asked if his team would adopt the tiki-taka (short passes) style, he said: "I don't know how to define tiki-taka. I know that I like to take control of the game. For that we must know how to have it… If that's what they call tiki-taka, well, may be it's tiki-taka. But I'd like to talk about total football rather than tiki-taka," the head coach said.
Iriondo believes in contemplating the idea of attack and defence.
"A team is not complete if it only attacks or only defends. We want to do what they call total football; ie attack, counterattack, defend and defend counterattacks. This requires a thorough job. I think we are in a good line to get it," he explained .
On his thoughts about Jamshedpur and its people, Iriondo said: "I can only have words of praise for each and everyone. Everyone treats us wonderfully. They treat us with lots of love and respect. The truth is that we are very satisfied to be here."
Heaping praise on the football infrastructure available here, Iriondo said facilities provided by Tata Steel were unique. "It is difficult to find such infrastructure in India and also in Spain," he signed off.