Jeweller's silver mask that costs a crock of gold
Rs 75,000 for one, says Hazaribagh's Sumit Verma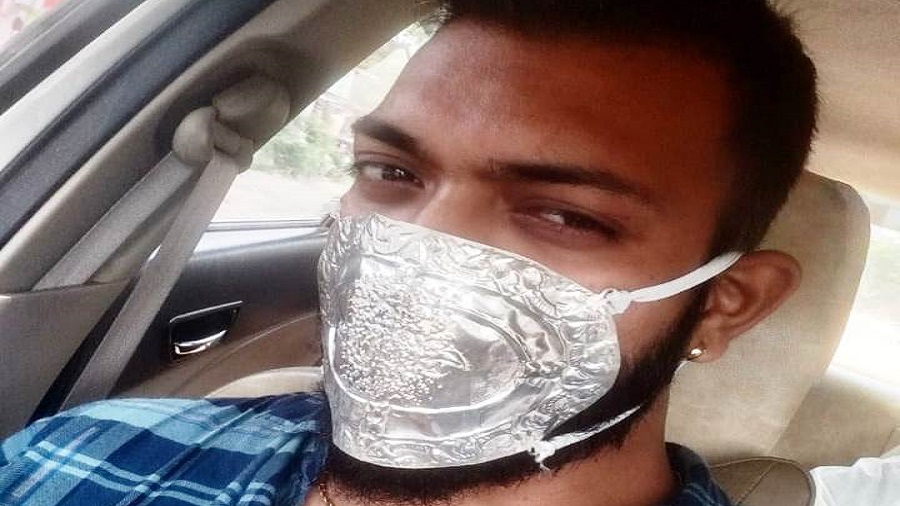 Sumit Verma with his silver mask in Hazaribagh on Saturday
Vishvendu Jaipuriar
---
Hazaribagh
|
Published 01.08.20, 04:18 PM
|
---
A young jeweller in Hazaribagh has spent ten days making one 100g silver mask costing Rs 75,000, which he designed himself and is seen wearing nowadays.
Sumit Verma, who owns Vidya Jewellers on Congress Office Road has become the talk of the town with his intricately designed mask.
Talking to The Telegraph Online, Sumit said he was inspired by a variety of designer masks he saw on television.
"When I saw masks made of gold and silver on television as well as on Google, I decided to make one for myself," he said, adding that he spent some time searching for designs, and sat in his shop to make the mask over a period of ten days.
"Wherever I go, people keep staring at me after knowing that I am wearing a silver mask costing Rs 75,000," he added. 
According to Sumit, he worked very minutely on this silver mask, carving beautiful designs and leaving a small hole near the nose for breathing.
He admitted to getting calls from people asking about this mask.
"If I get a request, I will definitely make another on order", he said. 
Sumit admitted that people were fed up of wearing the same mask daily and so when they see something new, they stop and enquire.
"People are showing interest in it. But the fact is that it's expensive for them", added the jeweller.