Jesuits question decision to vaccinate Covid-positive Stan
Move comes after the incarcerated priest tested positive for Covid-19 at the Holy Family Hospital in Bandra, Mumbai, on Sunday noon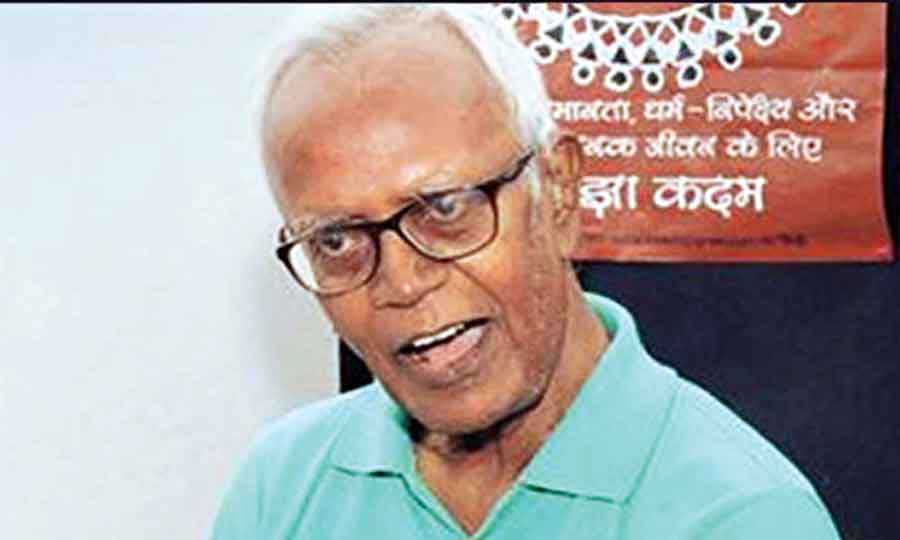 Father Stan Swamy
File picture
---
Jamshdepur
|
Published 01.06.21, 01:20 AM
|
---
Jesuits are planning to submit a petition to the Maharashtra home department against the alleged callous approach of the Taloja Central Jail authorities in administering Covid-19 vaccine to octogenarian priest and tribal rights activist Father Stan Swamy despite him showing coronavirus symptoms.
The decision was taken after the incarcerated Jesuit priest tested positive for Covid-19 at the Holy Family Hospital in Bandra, Mumbai, on Sunday noon.
"We will be writing to Maharashtra home minister (Dilip Walse Patil) tomorrow (Tuesday) on the callous and negligent manner of the Taloja Central Jail authorities in giving vaccine to Father Stan Swamy on May 18 despite him suffering from fever. The jail authorities later told his lawyer (senior advocate Mihir Desai) that Fr Stan underwent the rapid antigen test (RAT) and as the report came negative, they gave him the vaccine. However, as he had fever and Covid symptoms, they should have gone for an RT-PCR or other accurate confirmatory test. We are worried about Fr Stan who is already on oxygen support and has been diagnosed Covid-positive at the hospital," said Father Joseph Xavier, director of the Bangalore-based Indian Social Institute, who is coordinating with Jesuits on Fr Stan's condition and is regularly in touch with him at the hospital.
Experts also said vaccine should not be administered to persons showing Covid symptoms.
"Even if there are mild symptoms, vaccine plans should be postponed. It can totally be catastrophic if you take vaccination when your body has an infection. Even if there is an iota of doubt that you could be suffering from an ailment, one should go for an RT-PCR test. Even if the report is negative they should hold on instead of rushing to take vaccine shots. There is no emergency and studies have shown that if you delay the vaccination, it is better. The immune response is better if the vaccine is delayed till up to 12 weeks," said Dr Vijay Mishra, head of the critical care department and medical director, Medica Superspecialty Hospital, Ranchi.
He said conducting the rapid antigen test on a person showing Covid symptoms was fundamentally wrong.
"The government strictly stipulates that the RAT cannot be used for diagnosis of Covid. The test can be used for diagnosing somebody negative after they have been positive," said Dr Mishra.
Bombay High Court had on Friday directed Taloja prison authorities to shift Fr Stan Swamy to the Holy Family Hospital in Bandra for 15 days. He was shifted to the hospital late on Friday where he was put in the ICU on oxygen support. He tested positive for Covid-19 on Friday.
The high court in its order said: "It is not in dispute that the appellant's age is 84 years and according to findings recorded by a team of doctors from JJ Hospital, he needs treatment. However, due to the present pandemic situation, and influx of patients, it may not be possible to give attention to the appellant in JJ Hospital."
The court had allowed Fr Frazer Mascerenhas, former principal of St Xavier's College, Mumbai, and parish priest of St Peter's Church in Bandra, who is Fr Stan's friend, to visit him at the hospital according to the facility's protocols.
"At the moment we are collecting the facts before approaching the court in this connection (administering vaccine to Fr Swamy). We will press for interim bail after the high court re-opens in June," advocate Mihir Desai, Fr Stan's counsel, told The Telegraph.
Fr Stan was arrested by the National Investigation Agency from his house in Namkum near Ranchi on October 8, 2020, and has been in Taloja Central Jail since October 9.
Fr Stan and 15 others have been arrested under various sections of the Indian Penal Code and the anti-terror law Unlawful Activities (Prevention) Act in the Bhima Koregaon-Elgar Parishad case.