Former union minister of state for civil aviation and Hazaribagh MP, Jayant Sinha shot a missive to chief minister Hemant Soren on Tuesday requesting him to release the fund for the construction of a 500-bed state-of-the-art hospital in Hazaribagh.
Prime Minister Narendra Modi had laid the foundation stone for this hospital in February 2019, when he came here to inaugurate the newly constructed medical college, a promise made by Sinha when he fought election for the first time in 2014. Due to lack of fund, this hospital construction work came to a halt.
Sinha said the total budget to construct this hospital is Rs 509 crore and the state government will have to bear the entire expense. He said in the first phase, the state government had to release Rs 140 crore, but only Rs 10 crore was sanctioned for the purpose.
Sinha said due to the ongoing pandemic and to cater to proper health facilities, this hospital needs to be constructed as soon as possible. He also added seeing the importance of this project, the union government has cleared all hurdles for completion of this ambitious project.
Sinha stated that the people of his constituency which comprises Hazaribagh and Ramgarh district are dependent on Ranchi for emergency health services. In his letter to Soren, Sinha requested him to sanction the rest of the amount of the first installment of Rs 140 crore, as work has come to a standstill and fund is required to restart the work again in this important project.
The hospital will be constructed on the campus of the medical college at Lake Road in Hazaribagh.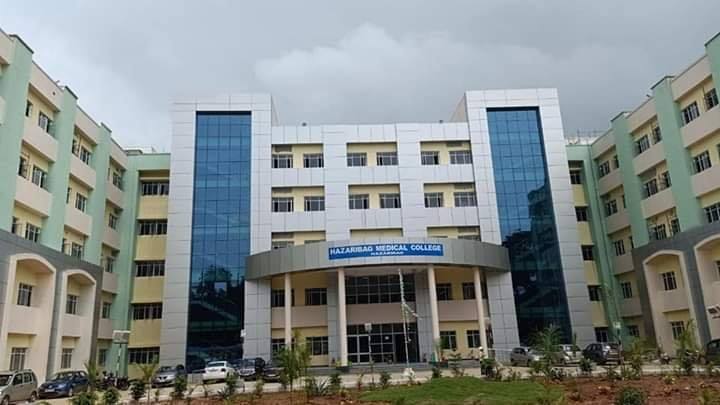 Hazaribagh Medical College. Picture by Vishvendu Jaipuriar
Last week, targeting the state government, he said the national medical commission refused to give permission to take fresh admissions in the MBBS course due to lack of proper infrastructures at three new medical colleges of the state including Hazaribagh.
Sinha also said such negligence hit hard on the future of aspiring doctors of this state. When the BJP government was there in the state, all required steps were taken at that time after which permission to take admission was given.
On health minister Banna Gupta's allegation that the union government is doing politics in medical colleges' issue, he said instead of wasting time, they should ensure maintaining the infrastructures as asked by the commission. "Instead of taking a fast decision on changing the name of the three colleges, the government should have plugged all loopholes to upgrade these important institutions," stated Sinha.
He also said due to the state government only, the ambitious project to develop Hazaribagh aerodrome failed to gain momentum. The state government did not acquire the land for which they will have to cough up Rs 250 crore and they failed to do this, added Sinha. He also stated that only centre sponsored projects are running properly in the state.