Former union minister of state for civil aviation and Hazaribagh MP Jayant Sinha on Wednesday led a team of Border Security Force(BSF) 400 jawans and officials to clean Hazaribagh lake, which was left filthy due to the Chhath festival that started on this day.
The team, which came forward for the first time to clean the popular tourist spot, brought in trolleys, JCB machines and tractors to dispose of the garbage that was collected from the lake.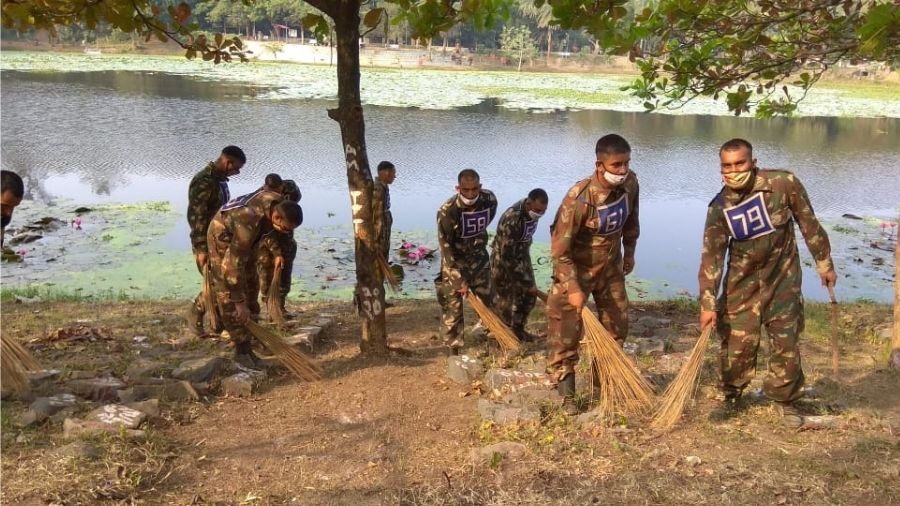 BSF jawans on their sanitation drive Picture by Vishvendu Jaipuriar
Praising the efforts of the BSF and calling its jawans and officials sanitation warriors, Sinha urged everyone to take part in such drives in order to keep their areas clean. He also hoped that the force would come forward to participate in such missions at other important areas of the town.
The MP reached the lake this morning and joined the BSF jawans to clean it. The Hazaribagh lake, a popular tourist destination, is used by devotees during the Chhath festival to perform several rituals that subsequently pollutes it. With the situation being the same at three other reservoirs as well, efforts are on to clean them all. In recent years, all the four lakes have been covered with jalkumbhi or common water hyacinths as a result of negligence, which has prompted the deputy commissioner to ask the department of fisheries to take up the cleaning work.
According to Inspector General Rajiv Gandhi, paramilitary forces including the BSF have been taking part in these drives from time to time as a result of Prime Minister Narendra Modi's call for a cleaner and greener India, which asks everyone to take part in sanitation works. Along with securing the borders the BSF has also been taking care of the residents living around the camp areas, he said.
Gandhi added that on Wednesday 350 jawans and 50 officials took part in the s sanitation drive, while terming the Hazaribagh lake an ornament for any city.
Other BSF officials present were deputy inspector general S Ahmad, second-in-command S Kereketta and Nalin, deputy commandants R.K. Mishra, D.K.Mishra, Sushil Kumar, Sanjay Kumar and Pawan Kumar beside assistant commandants Neeraj Kumar, Vikas Kumar and Amar Chand.