Jamshedpur to pay grand tribute to Jamsetji Tata on March 3
Electricians and decorators from Chandernagore in Bengal are busy making light illumination models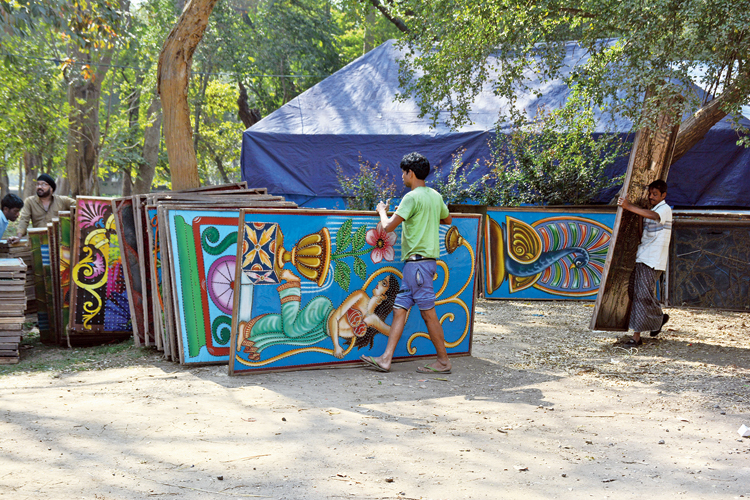 A worker installs illumination models at Jubilee Park in Jamshedpur on Tuesday.
Picture by Bhola Prasad
---
Jamshedpur
|
Published 18.02.20, 06:48 PM
|
---
Swachh Bharat, green initiatives and a special show on 100 years of Jamshedpur will be the major highlights of this year's Founder's Day illumination at Jubilee Park, one of the eagerly awaited events in the city.
Jamshedpur pays tribute to JN Tata, founder of the Tata group, on March 3, his birth anniversary, every year.
Not only does the city get a facelift, there are a slew of events across the city as well as floats made by NGOs, trade bodies, social outfits and others on display.
But the main attraction for lakhs is the Jubilee Park illuminations that are inaugurated on the evening of March 2.
Last year, over 3 lakh people came to Jubilee Park to watch the lights.
More than 30 sound and light illumination models, as large as 10 feet x 28 feet, will showcase the landmark steps taken by Tata Steel and its civic utility arm Tata Steel Utilities and Infrastructure Services Limited (TSUIS, formerly Jusco) in keeping the city clean and environmental-friendly initiatives such as the launch of reduce-reuse-recycle activities on a bigger scale and opening of new green hubs at the 500-acre Jubilee Park.
Over 100 electricians and decorators from Chandernagore in Bengal are busy doing the work. TSUIS spokesperson Sukanya Das said even for illuminations they would save energy.
"The electricians will use energy-efficient LED lights with low wattage to make models on the theme of clean city, green city, and showcase the various initiatives of Tata Steel and TSUIS. We will also have an illumination on the theme of Getting Decade Ready, this being 2020," said Das.
This apart, there will be a three-minute light-and-sound special show on the 100 years of Jamshedpur.
"The light-and-sound show will showcase growth and development of the city, its luminaries, achievements in various arenas, milestones achieved by the company and the capital in the last 100 years in the illumination models that will be open for masses between March 2 and 5 after the illuminations are inaugurated on March 2 evening at Jubilee Park," said a senior official of Tata Steel associated with the illumination work. "This apart, there will be illumination models of animals and historic monuments of the country."
The laser fountain and musical fountain shows, which have been overhauled for Founder's Day, will also be illuminated on the occasion.
"Steps have been taken for safety of visitors. Illumination models are fenced. We are putting a lot of emphasis on safety. All approach roads to Jubilee Park will also be illuminated. Different parks maintained by TSUIS across the steel city will also be illuminated for Founder's Day," said a Jusco source.
He added that 22 CCTV cameras would be installed at strategic locations to keep tabs on visitors. This apart, more than six watchtowers doubling up as control rooms will be manned by security personnel and TSUIS officials.