Jamshedpur's gerbera lady to train farmers
Entrepreneur with thriving flower business to help paddy-growers find export links for vegetable crop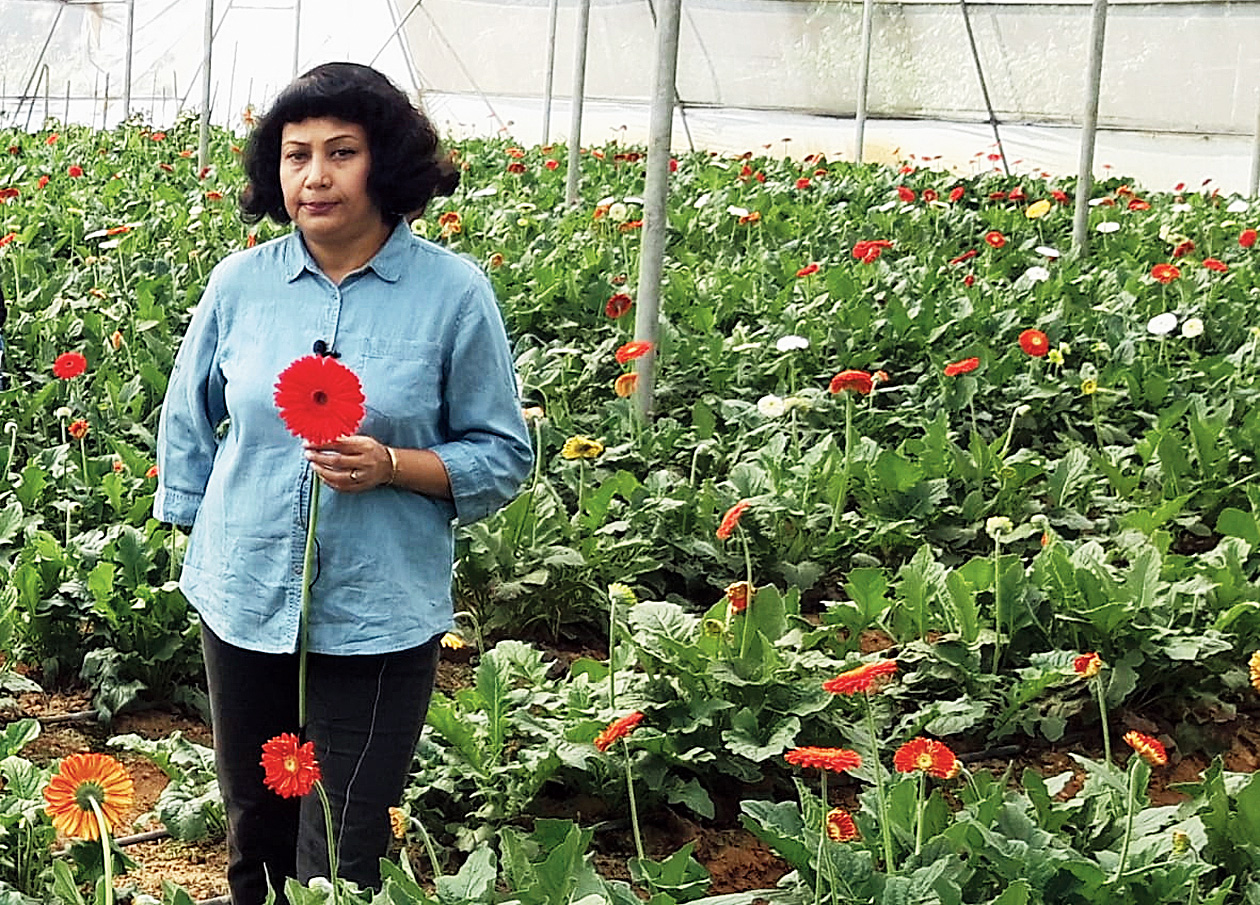 ---
---
The New Year is expected to bring glad tidings for some East Singhbhum farmers, thanks to steel-city farmer-entrepreneur Sudipta Ghosh.
Ghosh (46), who started farming gerbera flowers in 2016 in her five-acre plot at Khuntadih village in Ghatshila subdivision of East Singhbhum, is planning to make local farmers aware of the concepts of contract farming and market linkage and help them earn more.
Contract farming involves production on the basis of an agreement between the farmers and buyers.
Ghosh will train farmers to gauge market demand and grow vegetables on their land when they are not cultivating paddy.
A post-graduate in economics and a cost accountant, Ghosh (46) has established herself as a farming entrepreneur with her annual revenue crossing more than Rs 8 lakh in 2017-18.
In 2019, she aims to not only increase her earnings, but also give a new lease of life to farmers in nearby villages who only bank on paddy for income.
"I only came to know about the problems of agriculture and horticulture when I started farming myself. Jharkhand has the potential to produce good quality crops, flowers and vegetables, but farmers are unaware of market linkage. They don't know how to fill the gap between demand and supply or where to sell at a good price. Therefore, what we need is a link to an export house who can sell our produce in other cities and countries," Ghosh, who has 14 years of corporate experience, said.
She has also completed a six-month certificate course in entrepreneurship from XLRI in 2014 before getting into gerbera farming.
Ghosh, who participated in the Global Agriculture and Food Summit in Ranchi in November, feels that Jharkhand farmers lack the access to technical training and proper market.
Therefore, she plans to help the farmers acquire the know-how on cultivation of broccoli and bell pepper, which have a huge demand in the hospitality sector both in India and abroad.
"I am already in discussion with an export house. However, the first step is to seek approval from the Agricultural and Processed Food Products Export Development Authority, which can only happen when we grow the first lot of vegetables. I have decided to first sell that lot in the local market, get it approved and then send the produce for export," she said.
Ghosh also wants to help farmers grow exotic vegetables and avail subsidies under various schemes of the government, National Horticulture Mission and Nabard.
She said she not only wanted to grow as a happy farmer herself in 2019, but also lend a helping hand to her counterparts in the state by gauging the demand-supply gap in the market and bridging it effectively.