Jamshedpur's Domuhani bridge gets value-adds
Once Domuhani bridge becomes fully operational, heavy vehicles can use it to reach industrial units Adityapur and Gamharia via Marine Drive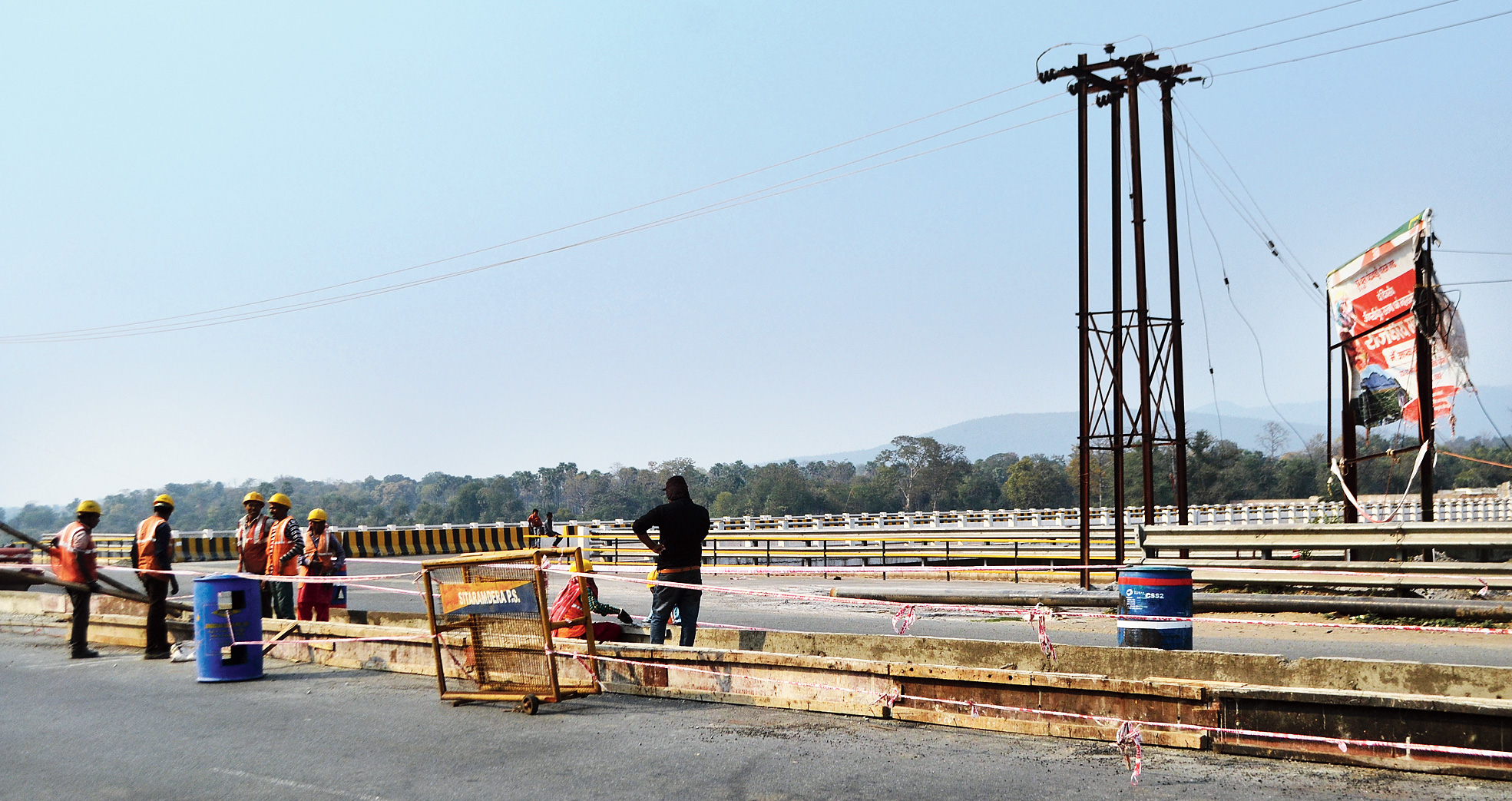 Divider construction in progress along Marine Drive in Sonari, Jamshedpur, on Friday.
Animesh Sengupta
---
Jamshedpur
|
Published 25.02.19, 07:44 AM
|
---
Traffic on Domuhani bridge over Subernarekha has been suspended from February 22 to make it heavy duty by March 1.
A divider on a 50-metre stretch is coming up on adjoining Marine Drive, linking a new roundabout while a concrete diversion is being built on a point of Dobo-Kanderbera road, 4km away.
Jusco is building the divider and road construction department (Seraikela division) the diversion. Both promised work would be over by February-end.
Together, the divider and diversion would ease traffic, especially heavy vehicles, on the bridge to free Jamshedpur roads from snarls.
Jusco, building the divider based on a design approved by East Singhbhum district administration and road construction department (Jamshedpur division), said the bridge was likely to reopen on March 1.
Jusco spokesperson Rajesh Rajan said they were building the divider to ensure heavy vehicles reached the bridge only after crossing the roundabout. "The divider will ensure smooth and safe traffic from Marine Drive to the bridge."
Road construction department (Jamshedpur division) executive engineer Sanjay Kumar Singh said the bridge would be ready for all kinds of vehicles from March 1.
Once Domuhani bridge becomes fully operational, heavy vehicles can use it to reach industrial units Adityapur and Gamharia via Marine Drive, which would reduce both snarls and mishaps inside Jamshedpur. Currently, over 2,000 heavy vehicles enter Jamshedpur through Jaiprakash Setu in Mango and wend their way through steel city roads to reach Gamharia and Adityapur on the opposite end.
The Rs 41-crore, 252m bridge with a 8.5m wide carriageway and a 1.5m wide pathway, was built between December 2015 and January 2018. But, a 7.7km connector from Dobo to Kanderbera, too big to be termed an approach, is still being built.
Dinesh Kumar Rajak, executive engineer of road construction department's Seraikela division, said the diversion would be ready by February 28. "Then, the road will be fit for all kinds of vehicles," he said, implying so would the bridge.