Jamshedpur lights off for 1 hour
Famously started as a lights-off event in Sydney, Australia, in 2007, Earth Hour has grown to engage more than 7,000 cities and towns worldwide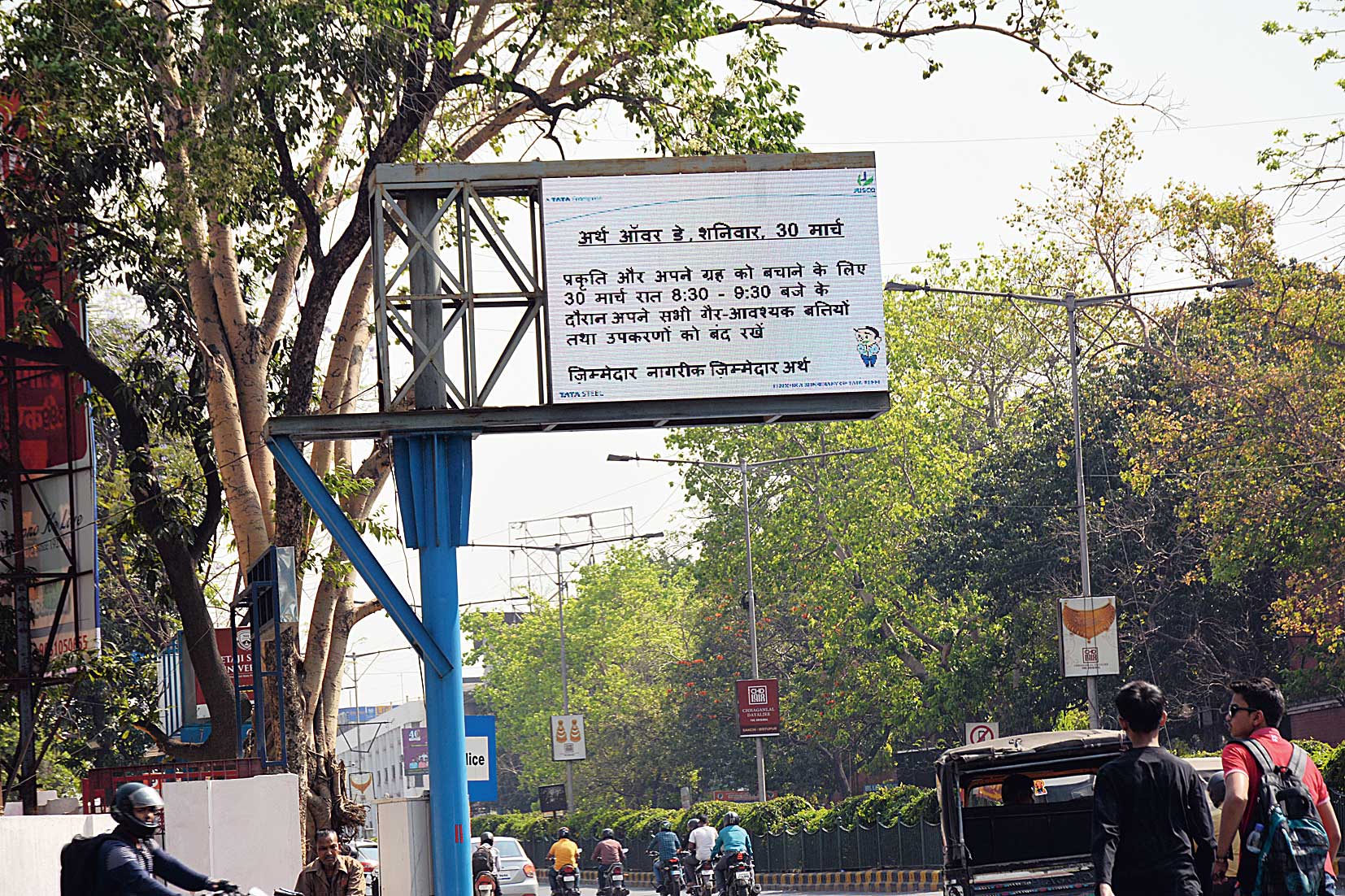 A Jusco LED board appeals to residents to observe Earth Hour in Bistupur, Jamshedpur, on Saturday.
(Bhola Prasad)
---
Jamshedpur
|
Published 30.03.19, 07:04 PM
|
---
The steel city became the only urban township in the state to take part in the Earth Hour movement under which millions across the world switch off their lights for one hour as a pledge to protect our planet.
Tata Steel's wholly owned subsidiary Jusco had on Saturday morning issued a circular to all its units, employees and companies getting electricity from it to observe Earth Hour by switching off non-essential lights between 8.30pm and 9.30pm.
"We had been observing Earth Day (April 22) for the last few years, and decided to observe Earth Hour from this year. We urged employees and companies to join the movement by switching off non-essential lights or putting them on dim mode between 8.30pm and 9.30pm on Saturday," Jusco spokesperson Rajesh Rajan said.
Earth Hour, a worldwide annual campaign for the planet organised by World Wide Fund for Nature, encourages individuals, communities, households and businesses to turn off non-essential electric appliances for an hour (from 8.30pm to 9.30pm local time), towards the end of March, as a symbol of their commitment to the planet's well-being.
Famously started as a lights-off event in Sydney, Australia, in 2007, Earth Hour has grown to engage more than 7,000 cities and towns worldwide.
"This is a beginning and we will now observe it every year as part of our effort to spread awareness on environmental issues. The street lights in parks and civic areas were either be dimmed completely or switched off during the period. We also ran an awareness session through the LED screens installed near Bistupur thana and near Adityapur roundabout for the entire day," Rajan said.
Jusco has over 15,000 street lights in the city, including parks, parking bays, market areas and streets.
The city consumes 1.32 million units of electricity per day.
Ranchi Municipal Corporation in-charge (light) Nagendra Dubey said they had got no intimation to switch off lights in the capital during Earth Hour.