Jamshedpur FC celebrates Amarjit Singh Kiyam's 20th birthday
Tata Steel-owned club has been celebrating birthdays of players and support staff in Goa, the venue for the edition 7 of Indian Super League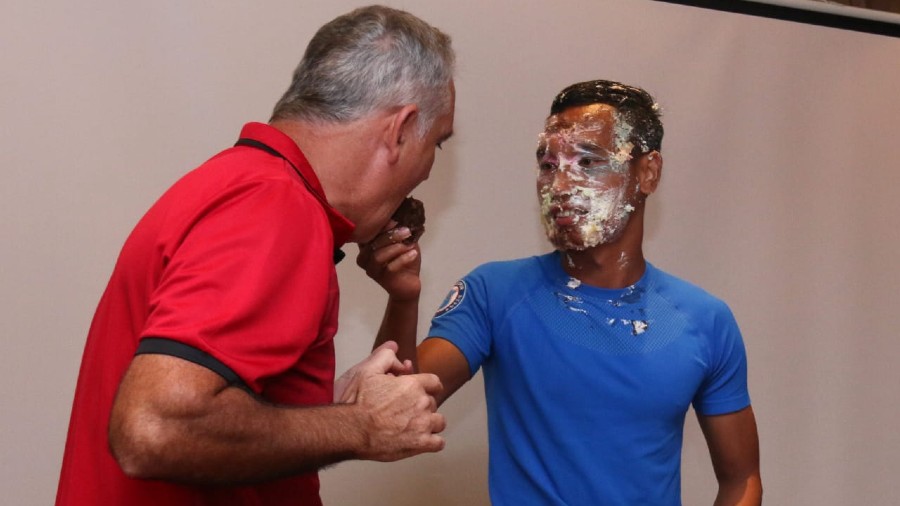 ---
---
In a bid to ease the on-field pressure, Jamshedpur FC players opting to celebrate off-field birthdays to bond better.
On Thursday, the team celebrated Amarjit Singh Kiyam's 20th birthday at the team hotel in Goa. They had a cake cutting ceremony for the player.
Tata Steel-owned club has been celebrating birthdays of players and support staff in Goa, the venue of edition 7 of cash-rich Indian Super League (ISL).
"The players wished Amarjit and even smeared cake on his face. They displayed sheer togetherness. In fact, camaraderie was very much evident at the hotel," said a team management member.
According to him, the players and support staff behave like friends and show great commitment towards team cause.
Head coach Owen Coyle anchored the birthday ceremony as he always does. Before the cake cutting ceremony, a group of players who lost a fun training drill earlier in the day, were made to sing a song on stage. They even dedicated Mohammad Rafi's `Bar Bar Yeh Din Aaye, to Amarjit.
The cake was smashed by Amarjit's teammates and long time friends Narender Gahlot and Jitendra Singh. The three have been together since they played for India during the under-17 World Cup.
A joyful Amarjit, while sharing the cake with the support staff and teammates, said, "I love my teammates and JFC.".
Coyle said, "Such celebrations build team spirit and keep the team together." He added, "It also drives in positivity among players and support staff who have fun. Birthday celebrations are important as we stay away from our homes. The players are in bio-bubble and such events become very important." Scotland-born Coyle is very particular about team spirit.
At present ISL is key to Jamshedpur's prospects and the form of players is a key element. Save a few injuries, the team is fit to take on the challenges ahead.
JFC takes on Kerala Blasters FC on Sunday. Coyle said the team's moral was high and they were confident of living up to their standard. "We are aware about the strengths of Kerala Blasters and respect our opposition. But we will play to our strength and try to win the encounter."