Extended winter spurs winged guests to overstay in Dalma
Maximum number of birds seen to the Pata Lake this time around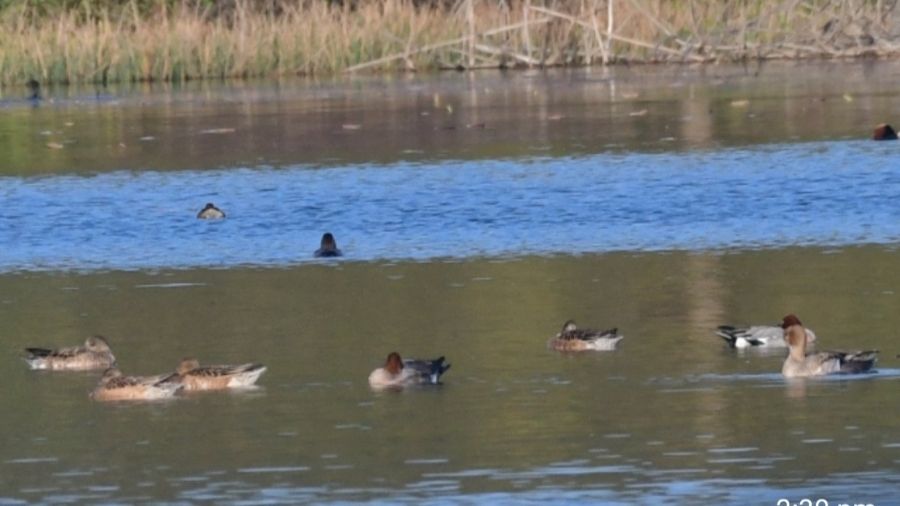 Migratory birds in the picturesque Pata lake near Jamshedpur
Animesh Sengupta
---
Jamshedpur
|
Published 23.02.22, 05:48 PM
|
---
Flocks of migratory birds that are anchored in various water bodies surrounding Dalma hills are to overstay here. The lingering of the return flight of the birds coming from as far away from Siberia and other cold counties is due to the extended winter that this region is going through.
The phenomenal overstaying of the migratory birds here this year came to the fore following a survey conducted by the Dalma forest division on Wednesday. "The migratory birds that fly over here from Siberia and other cold countries in November tend to start returning from mid-February. The birds are still staying cozily this time around although that is about to come to an end," said Abhishek Kumar, Dalma divisional forest officer (DFO) while talking to The Telegraph Online. 
Kumar who led a team of forest officials for the survey of the migratory birds pointed out that the flying guests had descended at Dimna lake, Chandil dam, Pata lake in Bodam in good numbers, but the maximum number of these birds were seen at the Pata Lake. 
The Dalma DFO said that the birds are now anchored in the Pata lake include Ferruginous duck, Eurasian Wagon, Red Crested Poachard, Common Poachard, Taiga Flycatcher, and Black Bittern. 
"While the Red-Crested Poachards are about 60, the number of rest of the species are in single digit," observed the senior forest officer. 
One of the forest officials in the survey team revealed that there are very negligible number of migratory birds at the sprawling Chandil dam this year. 
"Chandil dam was known as a favourable destination for the winged guests, but this year presence of such birds in the sprawling dam is very negligible, perhaps due to enhanced boating and fishing activities in that waterbody, " said the official while talking to this website.