Jamshedpur artist portrays jumbo in anguish
Watercolour painting of pregnant elephant's suffering showcases cruelty against animals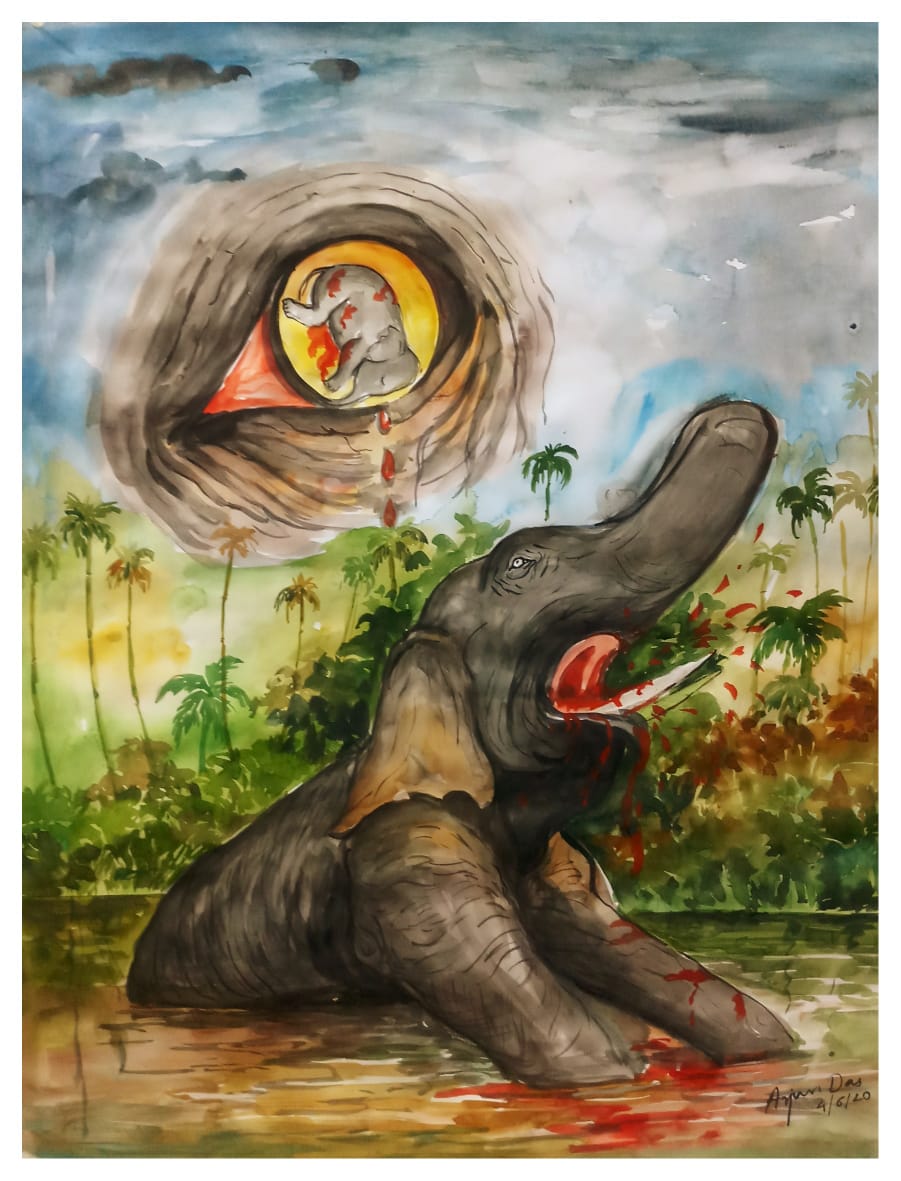 The painting of the elephant in anguish
Jayesh Thaker
---
Jamshedpur
|
Published 10.06.20, 01:44 PM
|
---
Anguish and distress took on many hues in a painting by an artist from Jamshedpur, portraying the silent suffering of a pregnant elephant at Silent Valley National Park in Kerala's Palakkad district recently.
Arjun Das, a resident of Khutadih in Sonari, has come up with a painting depicting the elephant in pain with blood oozing from its mouth and the baby drawn in one of her eyes.
The three by two-foot painting reflects the agony that consumed the elephant which ate a pineapple filled with firecrackers and died in Kerala on May 27.
"I used watercolours for the painting for subtle tones. I was in extreme despair when I came to know of the death of the pregnant elephant. I am an animal lover and against cruelty to animals. I used my imagination to project her pain onto canvas," the 34-year-old Das said.
Das has been busy with coronavirus-related paintings, showcasing the importance of staying indoors and the work being done by agencies in feeding the needy.
"It took me a whole day to complete the painting. Usually, I complete my work in three to four hours. In this instance, I was so overwhelmed by emotion and the distaste I felt for humans who treat animals this way that I took much longer," Das said.
Das, who also uses acrylic as a medium, has showcased his paintings at Elitaire, an art exhibition at India Habitat Centre, New Delhi, in 2018.
His works on Gautam Buddha, Radha Krishna and the ghats of Varanasi were displayed at Kalaa Spandan fair at Nehru Centre in Worli, Mumbai, in 2017.
His creations were also put up at exhibitions in Ranchi, Bangalore, Nagpur, Delhi and Chennai.
Das, who idolises Amit Bhar and Kishore Roy from Calcutta, took to painting nearly a decade ago.
He started pursuing it professionally after visiting Art in Industry, a camp organised by Tata Steel in 2011. He also attended an art workshop in Raipur.
Six of his paintings have been bought online by art lovers in Dubai and the United States.
"I have also portrayed the theme of the Atmanirbhar Bharat Abhiyan (self-reliant India campaign), stressing the importance of promoting indigenous products," Das added.