Intellectually impaired students of Jeevika make diyas for festive season
They model and paint over 5,000 diyas every year in run-up to Diwali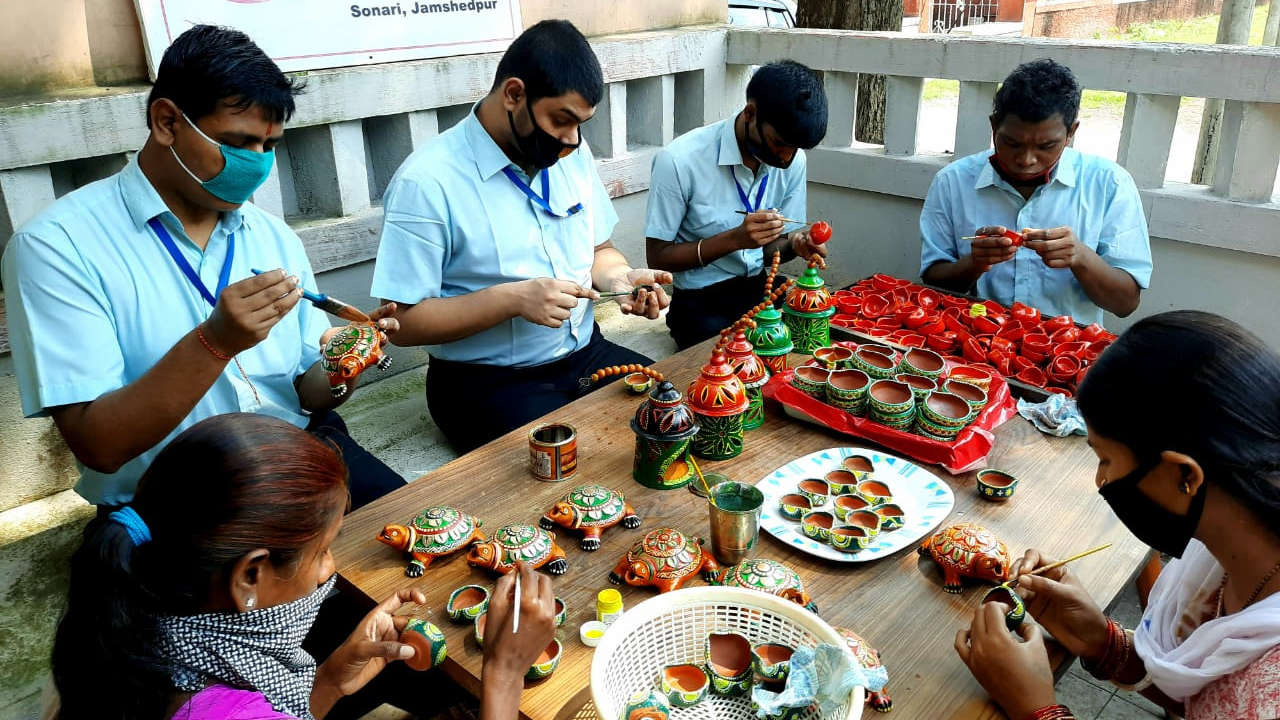 Jeevika members paint diyas in Jamshedpur on Tuesday.
Bhola Prasad
---
Jamshedpur
|
Published 07.10.20, 01:06 AM
|
---
The pandemic may have forced them indoors for six months, but the intellectually-impaired have not lost their touch when it comes to modelling and painting diyas for the festival of lights.
Five special students of Jeevika, a Sonari-based NGO working for the promotion of the intellectually-impaired, are on the job for the past couple of days. They are presently varnishing the diyas and would later pour wax in them and also paint them.
"We would gradually increase the number of students as it would not be wise to call all of them in Covid times. We have procured some clay diyas from Sakchi market but most of the consignment will be bought from a potter in Asanbani in  East Singhbhum. We have already given orders for diyas to the Asanbai potter," said Jeevika secretary Sukhdeep Kaur.
Ganga Bai, Akash Sharma, Ankit Mukherjee, Ryan Francis and Pankaj Kumar remain busy for about four hours daily at the Jeevika centre.  They are assisted by Anuradha Kumari, a temporary staff of Jeevika.
"We are modelling and painting aound 2,000 diyas for Diwali which falls on November 14. Six hundred decoration pieces as well as decorative eco-friendly bags will also be made by our special students," said Jeevika founder Avtar Singh.
According to him, they would not be putting up stalls at the schools this year and hence the number of diyas would be sold in less numbers this year. "We are aware that there will be an unprecented demand for diyas since Indians are boycotting Chinese products, including diyas. We are against taking unnecessary risk since there will be rush of people if we display more numbers of diyas for sale. We need to be very cautious in dealing with the pandemic," Singh explained.
The intellectually impaired model and paint over 5,000 diyas every year in run-up to Diwali. The diyas – in various shapes and sizes, the most unique being the turtles – are a hit among people from Jamshedpur and Ranchi. The diyas invariably get exhausted much before Diwali. The diyas are also purchased by different companies and social organisations of the steel city.
Ganga Bai, who won a gold and two silver medals at the Special Olympics International World Summer Games in Athens, Greece, in 2011, said she was happy to be working on the diyas. "Mujhe yeh kaam achha lagta hai. Mujhe painting karna bahut pasand hai (I love modelling and painting diyas. I also like painting)," she said.
Three of intellectually impaired and Ganga Bai paintings had featured in 2016 annual calendar of Tata Steel.
The intellectually impaired stand a chance of getting pat and cash from the special school after Diwali. "We have plans to recognise the toil of our students. Their hard work and patience should be recognised," said Singh.
Jeevika is striving hard to bring special athletes to the social mainstream. Some of its students have got married and are leading a happy live. Seven of its students have landed employment.