Intellectually impaired athletes to undergo physical screening on April 7
Special athletes to attempt spot jump for over a minute to try and make it to Guinness Book of World Record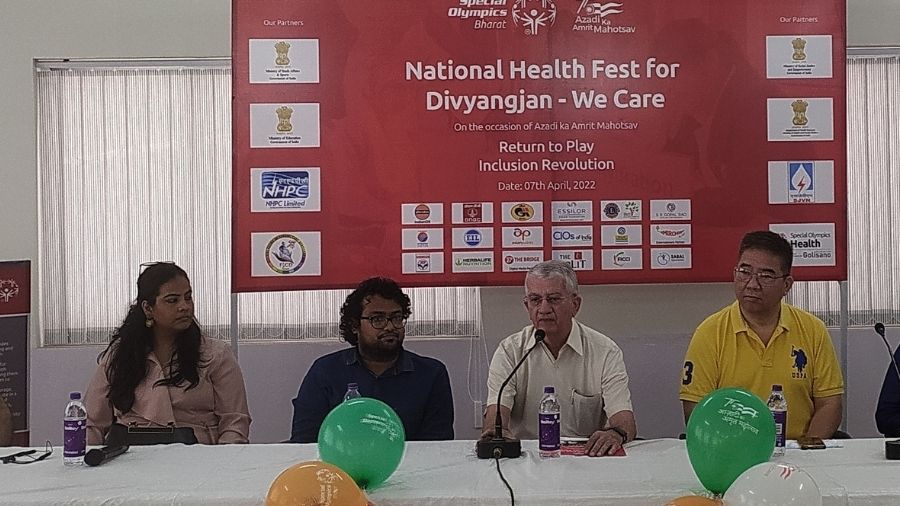 SOB offcials at the press meet in Jamshedpur on Tuesday.
Bhola Prasad
---
Jamshedpur
|
Published 05.04.22, 06:40 PM
|
---
In an attempt to leverage every opportunity to spread awareness about the need to help intellectually impaired athletes of Jharkhand on the health front, the Special Olympics Bharat (SOB), a national organization working for the promotion of the intellectually impaired, is organizing health and fitness screening camps to make a mark during the ongoing Amrit Mahotsav.
Azadi Ka Amrit Mahotsav is an initiative of the government of India to celebrate and commemorate 75 years of progressive India.  This celebration has provided the SOB with a golden opportunity to showcase the abilities of the athletes and the expansion of the Special Olympics program in India while reaching out to many more stakeholders.
Incidentally, April 7 also marks World Health Day.
"Under the platform of Amrit Mahotsav, the SOB is ready to launch 'Return to play - Inclusion Revolution' to bring our athletes back to the sports field after health examination and fitness drive," said Bailey Bodhanwala, area director of Special Olympics Jharkhand (SOJ), at a press meet in Sakchi on Tuesday.
According to him, SOB will conduct the health check-up camps across 75 cities of India covering 75,000 athletes in one single day marking 75 years of independence. 7,500 clinical volunteers have been trained according to Special Olympics guidelines to conduct the screenings effectively.
All technical equipment will be provided by the SOB. Medical staff, ophthalmologists, audiologists and nutritionists will be made available by the national body for assistance and cooperation. Professionals will also be made available.
In Jharkhand, the health check-up camps will be held in  East Singhbhum (Jamshedpur) and Bokaro districts on April 7.
"Around 800 athletes from each of these two districts have been registered. They will be physically screened by the team of doctors and clinical directors of the SOB," added Bodhanwala. In both Jamshedpur and Bokaro, the athletes will undergo dental check-up and health promotion, said Bodhanwala, adding the SOJ is conducting the programme in partnership with SABAL, which is enabled by Tata Steel Foundation.
SOJ assistant area director Satbir Singh Sahota said, "We were expecting around 300 athletes for the physical screening. Prevailing heat has played a spoilsport since some of the athletes would not be turning up. Athletes from Noamundi and Chaibasa (in West Singhbhum) will not make it owing to the heat."
He added that 50 athletes will attempt spot jump fopr over a minute to try and make it to Guinness Book of World Record,  Asia Book of Records and Limca Book of Records in Jamshedpur and Bokaro.
Sahota, a former international cyclist who was also present at the press meet, said Unique ID cards will be issued to all the participating athletes which will assist them to avail free health check-ups and follow-up treatments at concerned hospitals for their dental care and eye treatment in future. "All special athletes who attend the health screening camps will get free treatment throughout their life," he pointed out.
As per the layout, athletes from East Singhbhum and West Singhbhum will be screened at SABAL Centre in Jamshedpur. Athletes from Bokaro, Ranchi, Ramgarh and Dhanbad will be screened at Bokaro.
Special schools and NGOs in both Jamshedpur and Bokaro will be sending their students for the screening. They will transport the students to the screening centres.