Incessant rain throws life out of gear in Dhanbad and Santhal Pargana
Incidents of house collapse, inundation in residential colonies, disruption of coal production, flooding of mines reported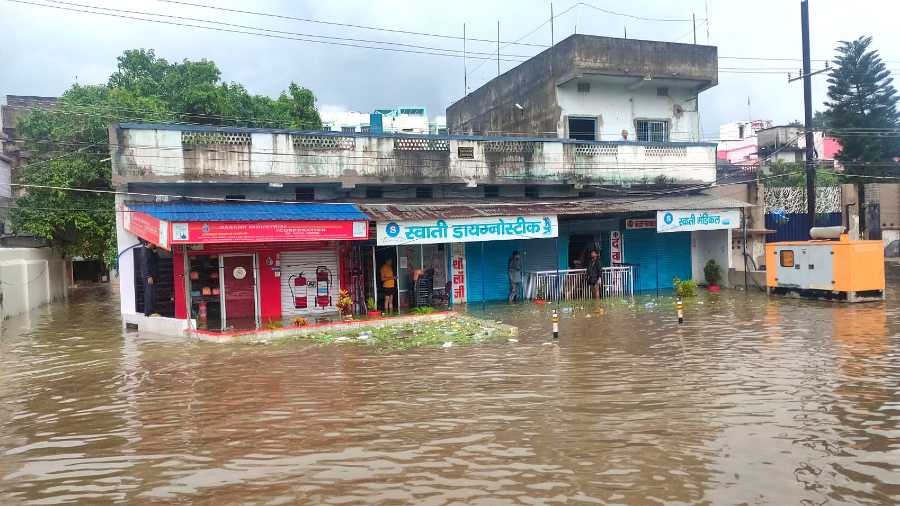 Waterlogged near Surya Vihar colony in Bartand, Dhanbad
Gautam Dey
---
Dhanbad
|
Published 30.09.21, 09:31 PM
|
---
Incessant rains caused due to Cyclone Gulab threw life in out of gear in Dhanbad and several parts of Santhal Pargana, including, Deoghar, Dumka, Godda, Jamtara, Pakur and Sahibgang as several incident of house collapse; inundation in different residential colonies of Dhanbad and Deoghar; coal production disruption due to water entering into the mines at Dhanbad took place.
One incident of subsidence in Rajput Basti, one of most subsidence prone zones of underground fire affected area around five km from Dhanbad also took place this morning during which a woman narrowly escaped getting buried alive in a crater developed in the incident.
Meanwhile in Jharia more than a dozen muddy houses collapsed due to rains at Shamsher Nagar and Upperkulhi locality of Dhanbad and affected persons were rescued by local social workers.
A PDS shop of one Baijnath Ram situated at his home also collapsed in Gadiwan Patti locality of Jharia due to which food grain stock was also spoiled.
Rain also led to the collapse of several houses in different parts of Nirsa and particularly in Mugma area as the house of one Kalipado Kumbhkar collapsed today in Pithakiyari Panchayat about 35 km from Dhanbad district headquarters.
Meanwhile rain water also entered Keshalpur colliery in area IV of BCCL this morning but as entry has been banned in BCCL underground collieries since yesterday no loss of life took of injury to anyone took place in the incident although the rescue team of BCCL reached at site to supervise the intensive dewatering work.
Dhanbad recorded more than 280 mm of rains since yesterday out of which 62 mm of rain was recovered from 4 am to September 29 to 6 Pm while 220 mm or rain took place between 6 pm of yesterday to 11.30 am to this morning.
Meanwhile rain also caused Maithon and Panchet dam to flow at highest ever level of September as Maithon level reached at 482.68 feet around 8 feet lower than highest level of 490 feet while Panchet level reached to 419.52 feet around 6 feet below the danger level of 425 feet.
Rail services were also affected on Dhanbad Gaya Railway line due to a tree falling and damaging the overhead equipment on the Railway line between Herodih and Sharmatand in Koderma district this morning at around 4.45 am due to which several important train including 02302 New Delhi Howrah Special Express, 02314 New Delhi Sealdah Special Express and 02824 New Delhi Bhubaneswar Special Express were also delayed at Koderma and Herodih Railway station for 30 minutes to 2. 40 hours.
Normal traffic resumed on the line after the completion of repair work of OHE at around 7.55 am this morning.
Meanwhile railway cancelled a pair of trains including 02353 Howrah Lalkuan Express, 02354 Lalkuan Howrah Express passing through Dhanbad division due to inundation at Tikiapara near Howrah Railway station.