In Jharkhand winter, bonfires kill 4 in one week
The number could have risen to five, but Krishna Tuddu, a five-year-old, survived a fire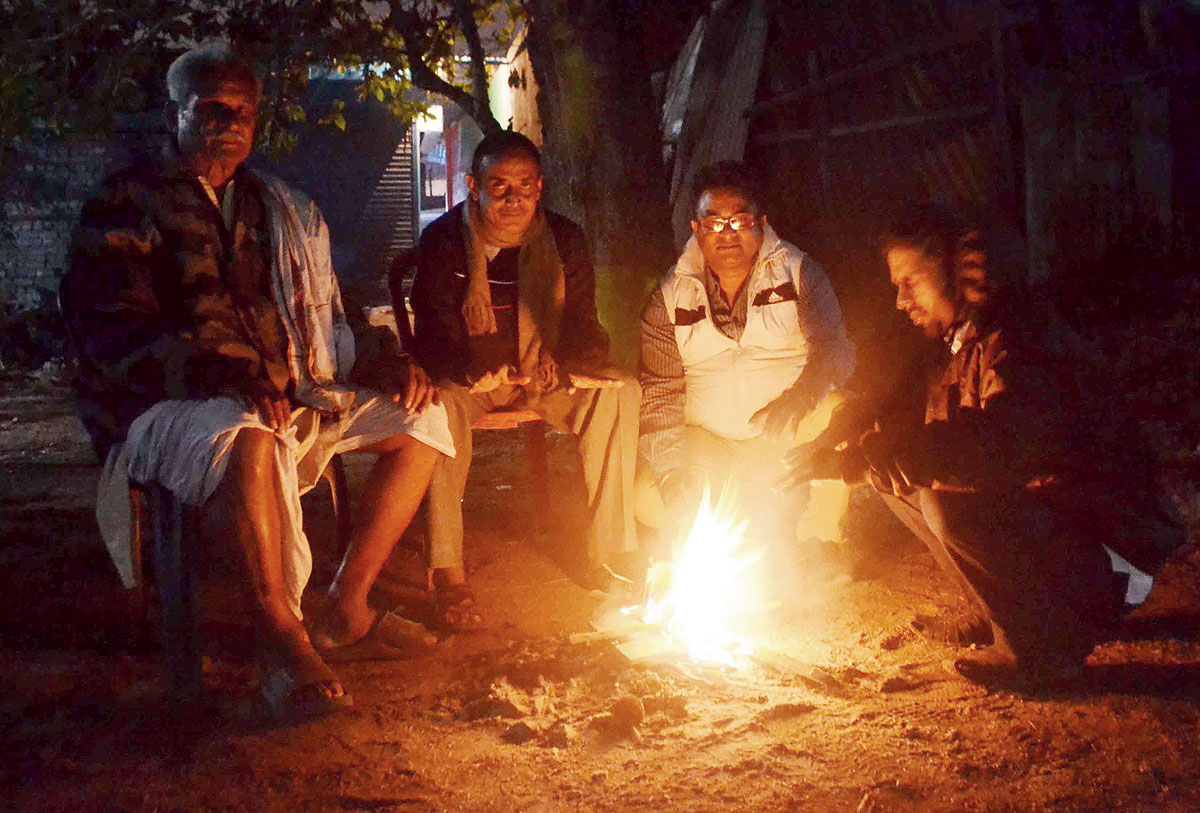 Dead heat: Residents battle the chill in Parsudih, Jamshedpur, on Tuesday.
Picture by Animesh Sengupta
---
Jamshedpur
|
Published 18.12.18, 06:54 PM
|
---
Bonfires have become a death trap in steel city and its neighbouring areas this winter.
At least four persons have died of bonfire burns in the past week after night temperatures plummeted below 10°C in the Kolhan region, stressing on the need to impose certain safety standards — like not wearing loose clothes or always wearing cotton — while distributing materials to light a fire.
The number could have easily risen to five, but timely medical attention saved the life of Krishna Tuddu, a five-year-old kid, who had suffered severe burns while enjoying a bonfire outside his home at Jhinkpani in West Singhbhum on Monday night.
Krishna's parents initially took him to Chaibasa Sadar Hospital in the small hours of Tuesday, but shifted him to MGM Medical College and Hospital following the advise of emergency doctors. Although Sudhir Tuddu's son survived the accident, his condition continues to be critical.
On Monday, octogenarian Fuleswari Devi died at Tata Main Hospital's burn care unit. A resident of Kasidih Lane 9, she had sustained burns after she had inadvertently gone too close to the bonfire outside her home on Saturday night.
On Friday, two persons died at MGM Medical College and Hospital because of bonfire burns.
Biren Singh Sardar (45) accidentally caught fire from a bonfire near his house at Bansgara village under Patamda thana on December 11 night. Although Sardar was rushed to the hospital on Wednesday morning, he succumbed on Friday.
Sona Tuddu (40) sustained severe burns after she went too close to a bonfire outside her house at Edalbera village in Ghatshila. She was admitted to hospital on Thursday. She died a day later.
Out of the 14 people recuperating in the hospital's burn care unit, six are bonfire victims.
Dr Lalit Minz, the head of the hospital's burn care unit said, "Most of the patients, including Krishna and another kid, have sustained more than 50 per cent burns."
"Adults with 50 per cent burns or slightly more can survive, but for children up to 12 years of age, chances are less," Minz told The Telegraph.
"There were five persons, including Krishna, who were enjoying a bonfire outside the house. A little past midnight, four others went to sleep leaving the child outside. Suddenly he started shouting. We rushed out and saw him in flames. We immediately poured water and doused the flames," Sudhir said, adding that he might have come too close when the shawl he was wearing caught fire.