In election season, bus crisis for baraatis in Jharkhand
Ranchi, Jamshedpur authorities will seize over 2000 vehicles for poll duty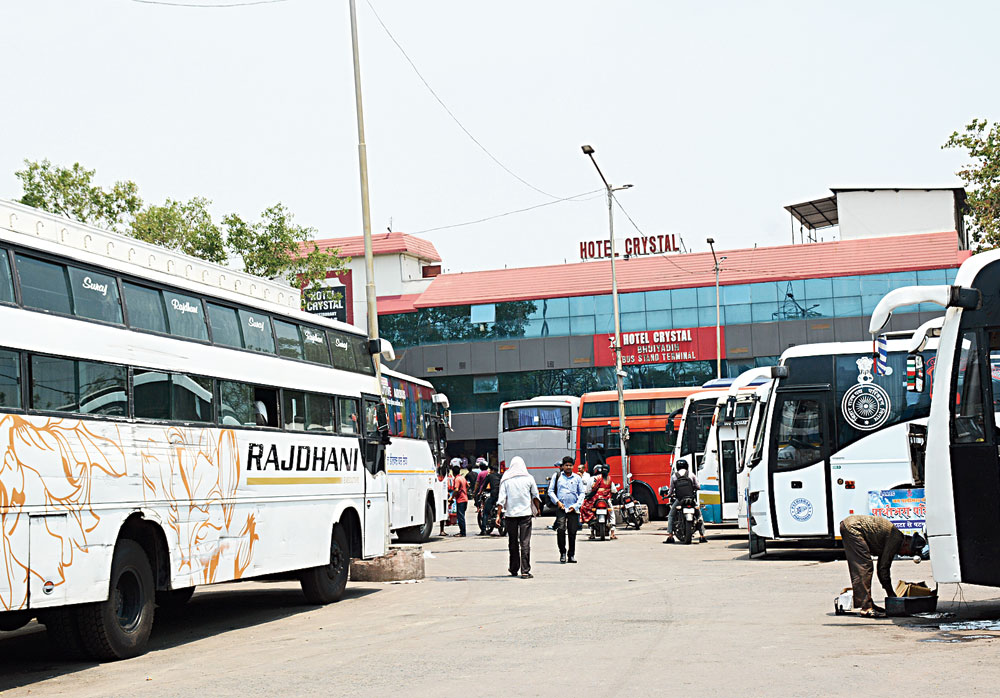 Long distance buses parked at Sitaramdera terminus in Jamshedpur on Tuesday.
Picture by Bhola Prasad
---
Ranchi/Jamshedpur
|
Published 16.04.19, 06:49 PM
|
---
Elections have come at the wrong time for families that have weddings scheduled as they are likely to find it difficult to hire buses or SUVs for transporting baraatis since the most vehicles will be taken over by the authorities for poll duty.
Ranchi looks to be affected immediately with vehicles being sought for Lohardaga — Mandar Assembly segment is part of the parliamentary constituency — and Ranchi. While Lohardaga goes to polls on April 29, Ranchi will vote on May 6.
"We will be requiring over 1,250 commercial vehicles for poll duty on two occasions, between April 26 and April 29 for the Lohardaga constituency and between May 3 and May 6 for the Ranchi constituency. This apart, police will be seizing vehicles for their own use too," said Ranchi district transport officer (DTO) Sanjeev Kumar.
Jamshedpur DTO Dinesh Kumar Ranjan said they would be needing 850 vehicles. Voting in the constituency is on May 12.
"We will be requiring 850 vehicles for poll duty in Jamshedpur parliamentary constituency. The police will be seizing vehicles, nearly 100 more, on their own, and all vehicles will be released on May 12," he said, adding that seized vehicles would be parked at Jamshedpur Cooperative College ground from May.
There are 12 wedding dates, as per the Hindu calendar, in April, namely, 15, 16, 17, 18, 19, 20, 21, 22, 23, 24, 25 and 26. In May, there are 15 auspicious dates, namely, 1, 2, 6, 7, 8, 12, 13, 14, 15, 16, 17, 19, 20, 21 and 23.
Ranchi bus owners association president Krishna Mohan Singh admitted that wedding parties would be inconvenienced.
"We get bulk orders for transporting marriage parties to various districts of the state, UP and Bihar during this time. But we will have to surrender our buses for poll duty. It will create problems for families with weddings. We have no option," he rued.
Jamshedpur Mini Bus Owners Association president Sanjay Pandey said they had been served with notices and would have to surrender buses.
"During the marriage season, we usually get bookings from both rural and urban areas. But we will have to surrender our buses for election duty. We have, therefore, had to refuse bookings between May 7 and 12," said the chief of the association that represents private bus operators in the steel city.
Jamshedpur School Vahan Sanchalan Samity president Santosh Mandal said that they would be meeting the East Singhbhum DTO to request him that school pool vans weren't taken over for election duty.
"We will be meeting DTO and ask him to consider our request for the sake of school children who use our vans to commute to school," Mandal said.