Palamau: NGT's eastern zone bench seeks illegal mining data
A letter by circle officer to landowner addressed the issue and ordered them to refrain from illegal quarrying, failing to do which action would be taken against them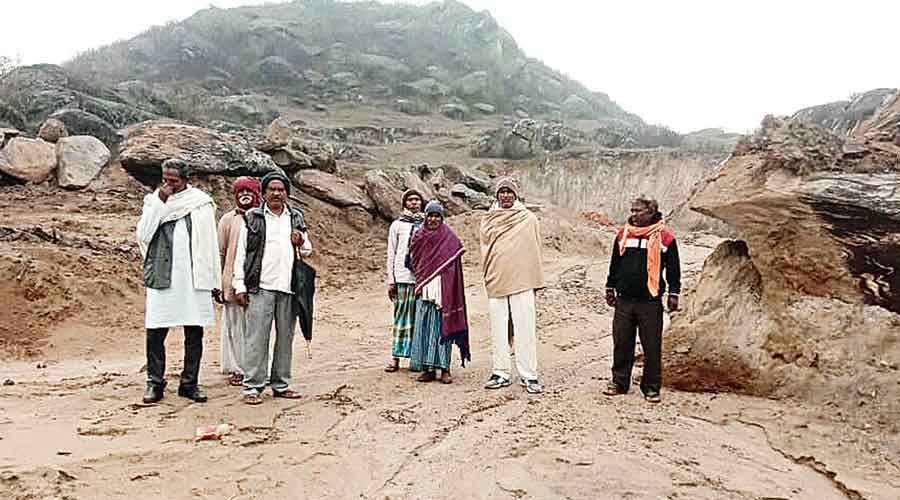 Villagers at the site of Dhajwa Pahad in Palamau section of which has been flattened because of alleged illegal mining.
Bhola Prasad
---
Jamshedpur
|
Published 04.02.22, 01:42 AM
|
---
The eastern zone bench of the National Green Tribunal hearing a petition on illegal mining at Dhajwa Pahad (hills) in Jharkhand's Palamau district on Thursday directed the district's deputy commissioner to probe into the allegation and submit a report in two weeks.
The order issued by the double bench of the NGT at Calcutta has also directed Palamau deputy commissioner Shashi Ranjan to stop illegal mining.
 "The NGT has also asked the deputy commissioner to stop illegal mining if the same is found to be true during the inquiry and also state as to what action has been taken by the circle officer when he knew of illegal mining," said Anup Agarwal, legal counsel of Dhajwa Pahad Bachao Sangarsh Samity (a loosely formed committee of the villagers to save a Hill that had socio-cultural significance for the locals).
Significantly, villagers of Kutmu under Pandu block of Palamau district, some 50km from district headquarter and nearly 250km from capital Ranchi, have been staging protests for nearly 80 days demanding cancellation of mining lease for stone quarrying and action against the stone mafia. The Dhajwa Pahad Bachao agitation began on 18 November 2021 as part of an effort to protect the hill from stone quarrying.
The villagers in the petition before the NGT (a copy of which is with The Telegraph) claim that a Ranchi-based construction company – Shivalaya Construction Co Pvt Ltd – has been carrying out illegal quarrying at Dhajwa.
A lease was granted to the company for plot no 1,046. However, the company has been mining stones in plot no 1,048 it states.
"The stone mafia is working under the protection of the administration and the police. So many hills, or what used to be hills, have been quarried out illegally and levelled in the last two years in the district, and yet, there has been no action," Yugal Pal, a Palamau-based social activist, alleged. Jharkhand has been making headlines for its illegal stone mining for a long time now.
 After the allegations of illegal stone mining in Dhajwa were raised by the villagers, circle officer Pandu carried out demarcation of the alleged illegal stone mining site. He found out that stone quarrying activities were being done at a place that has not been leased out to the company.
A letter by the circle officer to the landowner, dated December 4, 2021, addressed the issue and also "strictly ordered" them to refrain from illegal quarrying, failing to do which action would be taken against them.
But the villagers complain that there hasn't been any administrative action against illegal mining yet.
"Dhajwa isn't just a cluster of rocks, it's much more than that. It provides water into the river that flows nearby, and it provides fodder to hundreds of animals. We worship the hills and the trees as part of our tradition. Where would we all go if the mountain is flattened and all the stones are taken away?" Sanjuay Paswan, a villager said.
Repeated calls to Ranjan on his official mobile number went unanswered.
Palamau district mining officer, Anand Kumar, however, said that mining activities have been stopped in that area. "We have asked the leaseholder to immediately stop mining and asked the local block tehsils and circle officers to conduct demarcation and submit a report. Only after going through their report, we will decide on allowing mining," said Anand Kumar.