Ill on Rajdhani after dinner
No one needed hospitalisation, Gomoh chief yard master B.K. Mandal said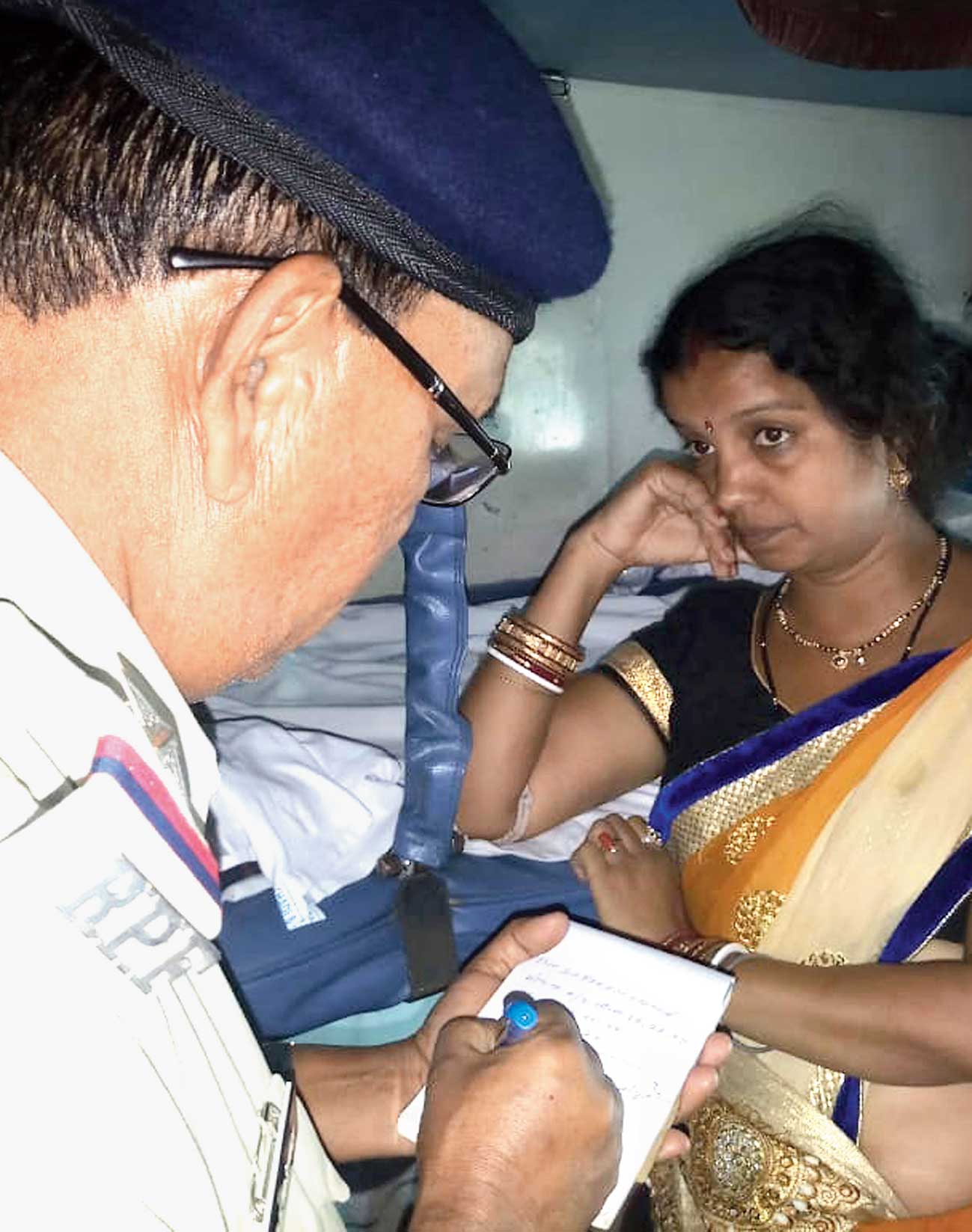 An RPF officer notes a passenger's complaint aboard Rajdhani Express in Gomoh station on Sunday.
Picture by Gautam Dey
---
Jamshedpur/Dhanbad
|
Published 07.04.19, 06:53 PM
|
---
Thirty-one passengers, including nine women and three children, travelling in six 3AC coaches of the New Delhi-Bhubaneswar Rajdhani Express complained of stomach pain, vomiting and loose motions early on Sunday, hours after having chicken curry and rice at dinner near Kanpur on Saturday night.
Of the 31 passengers, two were from Bokaro.
A joint medical team from Dhanbad and Gomoh, which anchored itself at Gomoh station around 6.30am on Sunday to give immediate care to the passengers travelling in B-3, B-4, B-5, B-7, B-8 and B-9 coaches after the train arrived there at 8.05am. Thankfully, no one needed hospitalisation, Gomoh chief yard master B.K. Mandal said.
The matter came to light early on Sunday after one Mamta Kiran (41), who had boarded the train from New Delhi and was travelling in the B3 coach, tweeted about the alleged food poisoning to the Railway Board, which immediately swung into action and dispatched medical teams from Dhanbad and Gomoh.
Kiran said, "Chicken curry served near Kanpur did not taste good. The seal of packaged water was broken, indicating all was not well with catering agency R.K. Associates engaged by the railways."
The worst-hit patients were Bidisha Das (25), Chirasmita Raut (24), Jitendra Kumar (24), Pratap Mohanty (48), Guhiram Thakur (64), Lakhu Roy (35, Sunil Roy (35), Rajnandani (33), G. Hemram (34), Mamta Kiran (41), Kumar Shreyash (12), Niru Pama (27), Debashish Behera (33), Alka Behera (28), Soumen Payra (32), K. Mandal (35), Purnima (44), all passengers of coach B3 and Deepak Kumar Raut (26), Eshwara Raut (36) and Vikram Mandal (29) of B4.
While the Dhanbad team was led by assistant chief medical superintendent Ranjit Kumar, Gomoh deputy medical officer Asim Kumar was in charge of the other.
To ensure the condition of patients did not worsen further, Asim Kumar accompanied the passengers up to Bokaro and helped them with medicines and ORS solutions. Senior railway officers, Government Railway Police and Railway Protection Force personnel led by Gomoh chief yard master Mandal, health inspectors P. Ghosh and Shantanu Kumar and chief travelling ticket inspector K.K. Ojha were also present.
Dhanbad PRO P.K. Mishra said, "An inquiry has been initiated against private caterer R.K. Associates on the basis of the complaint of the passengers. Action will be taken on the basis of the report."