IIT-ISM students get a food court
Road re-aligned to ensure closed campus; library hours extended till midnight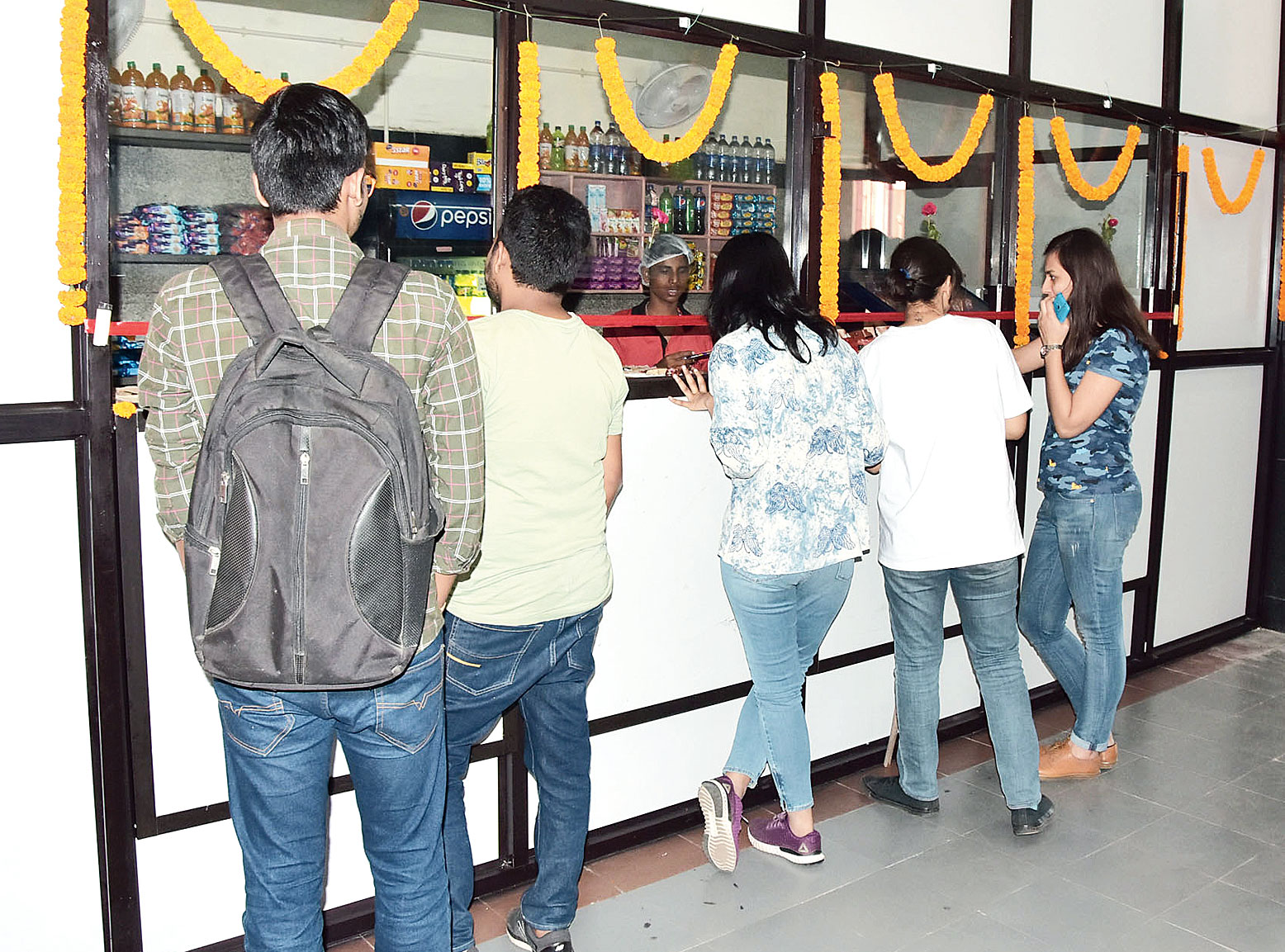 Students assemble at the new food court on IIT(ISM) campus in Dhanbad on Wednesday.
Picture by Gautam Dey
---
Dhanbad
|
Published 24.10.18, 06:31 PM
|
---
IIT(ISM) inaugurated a food court on the ground floor of the central library on Wednesday, a much needed addition to student amenities made possible after a road passing through the premises was realigned to stop trespassing that till early this month was a hindrance to ensuring a closed campus.
To begin with, the food court has two stalls, one selling Amul products like milk shake, chocolate sundae, sweets and ice cream and another serving large variety of snacks and beverages like tea, coffee, noodles and sandwich. The food court will remain open from 10am to 10pm daily.
Inaugurating the food court on Wednesday, IIT(ISM) director Rajiv Shekhar in the presence of registrar, colonel (retd) M.K. Singh said, "Besides the existing canteens near the administrative block and Ramdhani Stall, the food court will provide additional options to students inside the campus."
"Though initially we launched just two counters we plan to set up eight more in future as we do have adequate space," he added.
Meanwhile, the institute also issued a notification to increase the closing time of the library from 8pm to midnight. "The central library will now be open from 10am to midnight instead of closing at 8pm. With the new food court students will no longer have to worry about food options at night," added Singh.
On October 2 Dhanbad MP P.N. Singh had inaugurated a 2km road to help residents of Dhaiya, Ranibandh and adjoining areas to go to Saraidhela without having to enter the IIT(ISM) campus.
Abhiskhek Kumar, a first year MTech student of mechanical engineering, said the new food court would be of much help to students. "The food court will help students who prefer to spend long hours in the library. Besides now there are more food options," he added.
"From tea, coffee to noodles and sandwiches, there's options aplenty for students," said owner of one of the food stalls Rajiv Kumar.