IIT-ISM student launches a farm produce supply start-up
22-year-old Sanjeet Kumar's 'Urban Reach' app has garnered more than 3,000 customers in four months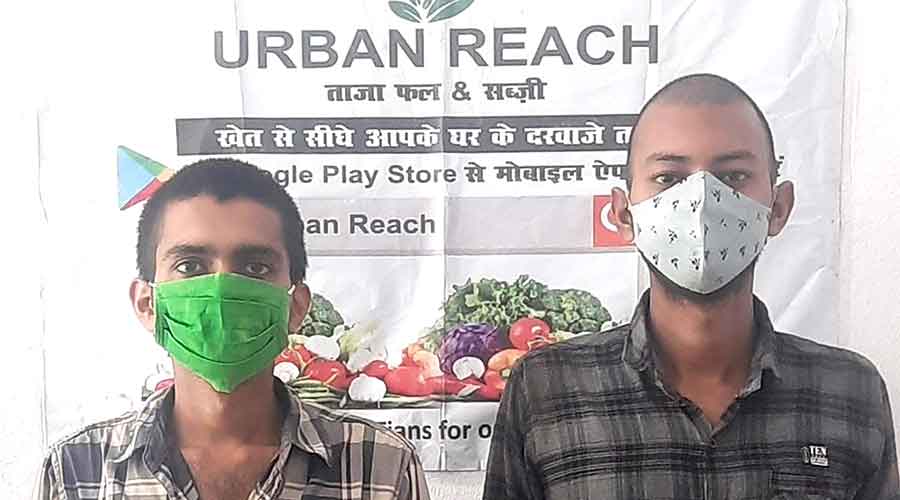 Sanjeet Kumar (right), B.Tech, Computer Science and Engineering student of IIT (ISM) Dhanbad along with his friend Avinas Kumar
Gautam Dey
---
Dhanbad
|
Published 28.06.21, 04:43 PM
|
---
A final year B. Tech Computer Science Engineering student of IIT-ISM, Sanjeet Kumar, has launched a start-up that provides fresh farm produce at his hometown in Arrah, Bihar.
The start-up, Urban Reach, was launched on February 7, 2021 and has over 1500 mobile app downloads.
"Difficulties faced by people for daily essentials, including milk, fruits and vegetables during the first lockdown in 2020 and pathetic conditions faced by farmers of spoiling their produce due to lack of outflow sparked off the idea for launching the supply chain," said Sanjeet.
"This apart, the problem faced by almost every family due to job losses during the pandemic also propelled us to launch the business model based on agriculture," said the 22-year-old whose father K.K. Singh is a private company employee while mother, Indu Devi is an Anganbari sevika.
"Our aim is not only serving customers fresh farm produce to earn money, rather empowering farmers with technology as the farmers are using our web portal to update information about their produce on a daily basis," said Sanjeet who is being helped by his friend, Avinash Kumar, a MCA student of Veer Kunwar Singh University of Arrah, Bihar.
"Our work model is based on forecasting, pricing, farmer harvesting and collection centres," said Kumar.
"Based on farmer's information of their crop and harvesting date we provide weekly indent to them," said Kumar explaining forecasting and added that farmers get reconfirmation messages about the quantity of produce to be brought a day before distribution.
"We decide the sale and purchase price of products after analysing the price data of different markets and generally the farmers get more profit by selling products to us rather than in the open market," explained Kumar.
"After the arrival of goods at our collection centre which generally takes place from 10 am to 2 pm, these are quality checked and weighed in front of farmers to ensure transparency," said Kumar and added that they have an e-rickshaw and three bikes to supply the produce to the customers.
"While the web portal is used to update the information about farmer's produce, the mobile app helps to get daily information about customer's demand," said Kumar.
"As we are doing business in higher volume we have reached a break-even position within four months where there is neither loss nor much profit but we are aiming to develop India's fastest supply chain for fresh produce and will soon move out to other towns of Bihar," he said.