IIT (ISM) comes to rescue of slum women engaged in handicrafts
Atal Community Innovation Centre (ACIC) provides fund and training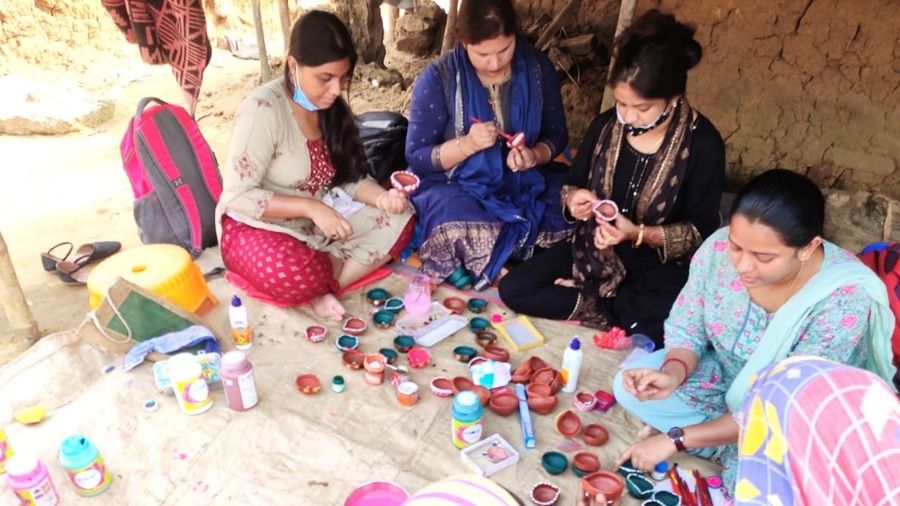 IIT (ISM) Dhanbad students helping slum women make colorful diyas at a village in Barwadda, Dhanbad last week.
Gautam Dey
---
Dhanbad
|
Published 03.11.21, 05:00 PM
|
---
IIT (ISM), Dhanbad's newly established innovation hub, Atal Community Innovation Centre (ACIC) has taken an initiative to provide monetary support and training to slum women in the handicrafts sector besides the ones engaged in making earthen diya and candles.
ACIC has already supported 25 women hailing from two villages in the Barwaddah area of Dhanbad including Bagula Basti and Malhar Basti. ACIC has collaborated with the community service wing of the institute, Centre for Societal Mission (CSM), wives' association of IIT (ISM) faculty members and Deepti Ladies Club in this endeavour.
A four-minute-55 second long promotional documentary (https://youtu.be/ncP3degMhfg) in Hindi made by ACIC on the products made by these women was released on the Twitter account https://twitter.com/IITISM_DHANBAD of IIT (ISM) today. The video highlights the effort put in by these women and fervently urges people to buy their products as a mark of encouragement.
Sharing details with The Telegraph Online, Amit Shukla, Chief Executive Officer of IIT (ISM) said, "We have been working in these villages over the last two months and helping women with both monetary and training assistance. The documentary based on their work has been made by our core team to spread the word around."
Akansha Sinha, Manager (Innovation) of ACIC, Camplia Chowdhury, Manager (Planning and Operations), three B Tech 3rd year students, including Aniket Raj and Rishabh of Electronics Engineering and Aman Kumar (Mathematics and Computing) visited these villages along with some members of the Deepti Ladies Club and the Centre for Societal Mission. "Our basic aim is to provide self employment opportunities to these women associated with making earthen potteries besides other products like flower pot, thread jewellery making, paper fans and others," said Sinha.
"We are planning to install some equipment at our IIT centre for these women so that they can expand their production on a commercial scale and will also provide support in marketing of their products, which are exquisite in nature," informed Sinha adding, "The women of these villages are quite enterprising and with little support they can make rapid development in their field and as part of bolstering community innovation, we will provide them fund as well as technical and marketing support to help them stand on their own feet. "