IIT (ISM) collaborates with Coal India Limited
A memorandum of agreement was signed in this regard during a virtual meet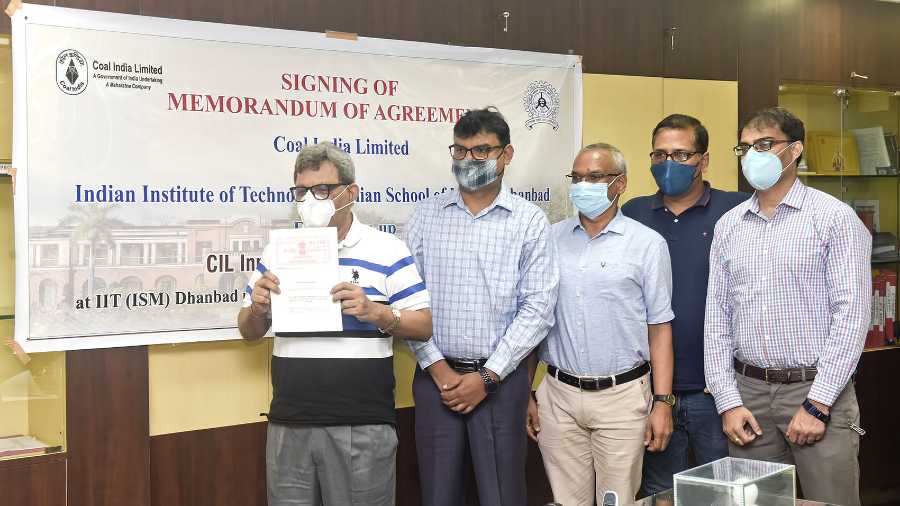 After the signing of the MoA Rajeev Shekhar (in white T-shirt), Director, IIT (ISM) Dhanbad along with the professors of the institute display the document in their Dhanbad office on Tuesday
Gautam Dey
---
Dhanbad
|
Published 13.07.21, 09:01 PM
|
---
Dhanbad-based technical institute, IIT (ISM) joined hands with Coal India Limited (CIL) for exchange of technology and resources for environmentally safe, economical, sustainable, efficient and smart coal mining.
A memorandum of agreement (MoA) in this regard was signed during a virtual meet which was attended by Director of IIT (ISM) Rajiv Shekhar and Director (Technical) of Coal India Limited, Binay Dayal in presence of Chairman of Coal India Limited, Pramod Agarwal and a host of Coal India Limited's officials. Several Head of Department of Mining Engineering of IIT (ISM), AK Mishra were also present.
Sharing the details of the association, Dhiraj Kumar, professor of Mining Engineering department, who is also the dean (International relation) and alumni affairs of IIT (ISM) said, "MoA will help us to set up a CIL Innovation and Incubation Centre at IIT (ISM) to engage budding technocrats and community at large in innovation and entrepreneurial activities. It will also support start-ups specialising in core business areas of CIL."
The centre that will operate under the aegis of Dean (Innovation, Incubation and Entrepreneurship) will promote research and development aimed at solving the technological problem of CIL in mining activity through provision of indigenous technology.
"With changing times coal companies are facing the problem of deep seated deposits of mineral resources. There is a need to establish balance between the mining activity and observing environmental norms," elaborated Kumar.
He added, "As part of the initiative CIL will provide financial support to IIT (ISM) to establish the centre; providing a conducive environment, infrastructural facilities and other value-added services in an equitable fashion to accelerate the growth and spread of innovation in the country."
The CII Centre is also being established with the objective of nurturing innovators who can ideate in the domain of Technology Innovation and Community Skill Development. It also aims at providing opportunities to innovate and design unique and incentivized solutions for the immediate beneficiaries like local community peoples, contract workers of CIL, students & employees of the institute, industry, society and nation as a whole.
The centre will organize events like workshops, seminars, tech fests and publish quarterly or half-yearly newsletter to promote and encourage stakeholders with latest technological advancement and then applicability in the mining sector.