Human chain for Swamy
The NIA special court had on Thursday rejected the octogenarian Jesuit priest's interim bail petition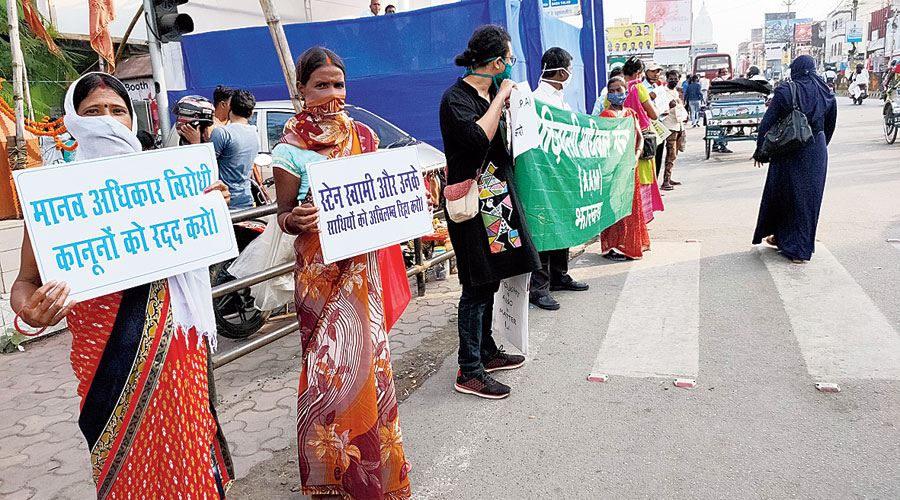 ---
---
Tribal rights activists and civil society groups continued their protest against the arrest of octogenarian Jesuit priest Father Stan Swamy on Friday evening by forming a human chain in the heart of Jharkhand capital Ranchi, while Jesuits held special prayers across the country for his release.
The NIA special court had on Thursday rejected Fr Swamy's interim bail petition.
Nearly 50 activists and members of civil society groups held placards and formed a 200-metres human chain under the aegis of Adivasi Adhikar Manch near Albert Ekka Chowk in Ranchi on Friday for nearly two hours from 3pm.
"We would continue our protest in a peaceful manner till Fr Stan Swamy is released. Those who have worked for tribals know that Stan Swamy has been arrested on fabricated charges by the central government. We came to know yesterday night that the bail petition filed by his legal counsel in the NIA special court in Mumbai was rejected. This was one of our ways to express not only our solidarity with Fr Swamy who has been defending tribal rights for over four decades but also defy the central government tactics of intimidating voices of dissent through the UAPA. We also demand release of all the 16 people falsely arrested in the Bhima Koregaon case," said tribal rights advocate and Manch member Aloka Kujur.
Manch general secretary Prafulla Linda expressed shock that an ailing elderly resident has not only been arrested on fabricated charges but even his bail petition has been rejected.
"He has denied being present at Bhima Koregaon but still the 83-year-old Jesuit who is suffering from age-related health issues and has always stood for tribals and Dalits is being targeted and arrested during the Covid-19 pandemic and kept in jail. Even his bail petition has been rejected. We will continue our agitation come what may," said Linda.
Jesuits across the country held special prayers on Friday for the release of Fr Swamy.
"Prayer is our most potent weapon and the Jesuits are doing community prayers across the country for the release of Fr Stan Swamy. We are praying for all the efforts being undertaken for his release. We also seek power of the Holy Spirit that we may continue to be defenders of human rights and restore humanity. Even sisters of Missionaries of Charity are praying daily and the Archbishop House in Ranchi joined the prayer today," said auxiliary Bishop of Ranchi Archdiocese, Theodore Mascarenhas.
The NIA special court on Thursday rejected the interim bail petition filed by Fr Swamy's lawyer Sharif Shaikh on medical grounds citing his old age and health problems.
According to the petition, Fr Swamy suffers from Parkinson's disease and could not even sign documents when he was produced before the court by the NIA and the legal team had to take his thumb impression. The petition said Fr Swamy had undergone surgery and hospitalisation right before his arrest and had fallen down in jail (Taloja Central Jail, Mumbai) and sought bail as per the recommendation of the Maharashtra government's high-powered committee appointed on orders of the Supreme Court to decongest jails in view of the Covid-19 pandemic.
However, the NIA opposed the bail plea, stating that Fr Swamy was trying to take undue benefit of the pandemic to get out of jail.
Significantly, senior leaders of all Opposition parties, including Congress MPs Jairam Ramesh and Shashi Tharoor, DMK MP Kanimozhi Karunanidhi, CPI leader Sitaram Yechury, CPM's D. Raja, NCP MP Supriya Sule along with Jharkhand chief minister Hemant Soren and his Kerala counterpart Pinarayi Vijayan have condemned the arrest of Fr Swamy.