Howrah-Jagdalpur Samaleshwari Express to resume services from January 3, 2022
Passengers heave a sigh of relief as restoration of the train will make their travel easy and hassle-free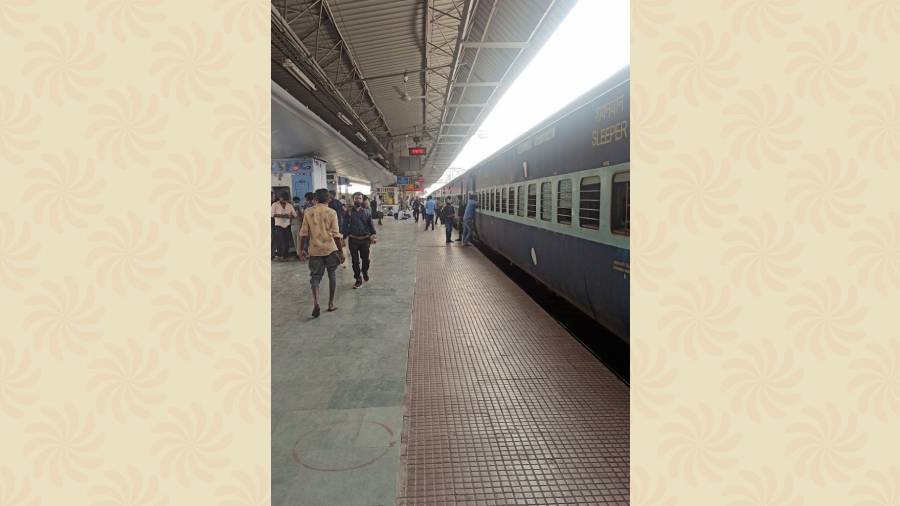 Tatanagar railway station.
Bhola Prasad
---
Jamshedpur
|
Published 31.12.21, 07:39 PM
|
---
The South Eastern Railway ( SER ) has decided to restore the operation of Howrah-Jagdalpur Samaleshwari Express (18005/18006 ) via Sambalpur from January 3, 2022.
The above mentioned train will be departing from Howrah every Monday, Wednesday, Friday and Sunday at 10.20 pm to reach Jagdalpur at 10.05 pm, the following day.
In the opposite direction, the 18006 Jagdalpur-Howrah Express will depart from Jagdalpur every Tuesday, Wednesday, Friday and Sunday at 5.05 am will arrive Howrah at 5.15 am, the next day.
The Up train will reach Tatanagar station at 2.25 am while the return train will reach the same station at 1.05 am.
Station director P K Balmuchu, said, "The train's services had been suspended in April earlier this year during Covid second wave."
Chhotanagpur Passenger Association's senior functionary Arun Tiwari said the restoration of the train will immensely benefit passengers.
"Numerous passengers travel to Chhatisgarh from Tatanagar and other places under Chakradharpur division. Restoration of the train will make their travel easy and hassle-free," he said.
The train will have one First AC, one AC 2-Tier, two AC 3-Tier, six sleeper class and two general second class coaches. It will be stopping at Uluberia, Bagnan, Mecheda, Panskura, Kharagpur, Jhargram, Tatanagar, Chakradharpur, Manoharpur, Rourkela, Rajgangpur, Bamra and Jharsuguda, for passengers to embark or disembark.
The return train (18006) will be halting at Santragachi instead of Mecheda station.