How the coronavirus lockdown has changed lives in Jharkhand
2 quarantine centres in Dhanbad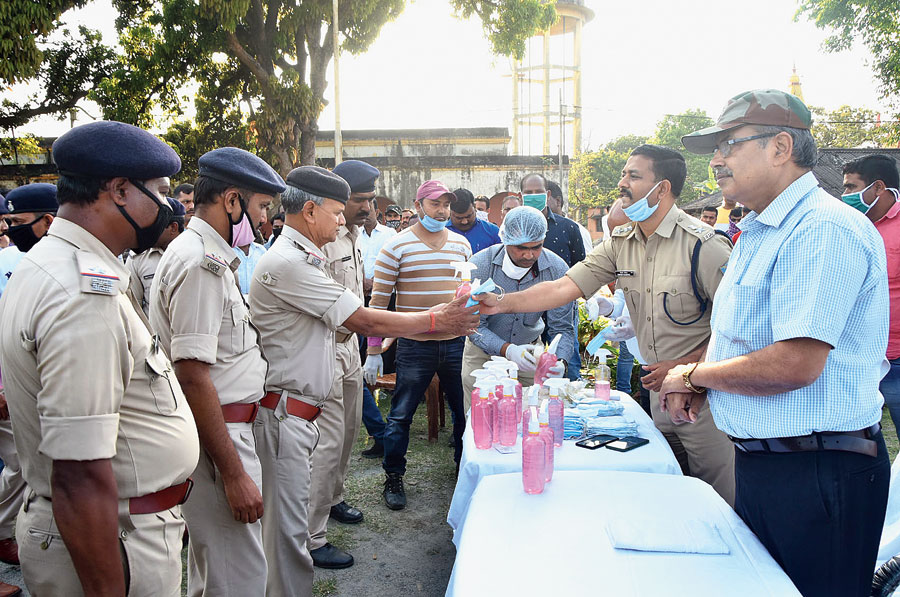 ---
|
Dhanbad
|
Published 24.03.20, 07:17 PM
---
The district administration on Tuesday set up two quarantine centres in Dhanbad, one at Sadar Hospital and other at Red Cross Bhavan near Golf Ground.
Both have provisions of essential items such as food and other items of daily use like soaps.
Dhanbad DC Amit Kumar, through a letter on Tuesday, said BDO Prashant Layak would be in charge of the quarantine centre while ADM (supply) Sandip Kumar Doraiburu will be the senior in-charge. The BDO will appoint observers for the quarantine centres who will be deputed for all the three shifts of eight hours each. The district civil surgeon Gopal Das will depute paramedical staff for the quarantine centres depending on how many people are there, and ensure the visit of a doctor at least once a day at each quarantine centre.
"SSP Kishore Kaushal has been entrusted with the task of deputing policemen to ensure 24/7 law and order at the quarantine centres while overall maintenance of law and order will be ensured by SDO Raj Maheshwaram," the letter said.
Civil surgeon Gopal Das, said: "We are ready to take people at the quarantine centres if they have difficulty quarantining themselves at home."
Das added that they could keep at least 100 persons at the Sadar Hospital quarantine centre. The Red Cross one can accommodate 20 persons with immediate effect and its capacity can be increased as per need, he said.
Thai scare
People in an upscale colony objected to the presence of a girl found locked in a flat with cough and cold. Her parents had recently returned to Dhanbad from Thailand. Police later informed civil surgeon Gopal Das after which she was taken to Sadar Hospital where no sign of coronavirus infection was found in the girl during thermal screening. Doctors ordered a 14-day home quarantine.
Sanitary drive
Civic body Dhanbad Municipal Corporation has launched intensive drive of spraying hypochoroide solution from Tuesday at all the five circles Jharia, Dhanbad, Sindri, Katras and Chhatatand. Fogging is also carried out in all the five circles.
Fumigation
Tata Steel Utilities and Infrastructure Services (formerly Jusco) on Tuesday resorted to ultra low volume bleaching spray to fumigate commercial areas of the city to combat Covid-19 besides spraying of larvicides.
MLA donates pay
Congress MLA from Bermo Rajendra Prasad Singh has announced to pay one month's salary of Rs 1.75 lakh to the chief minister's relief fund to combat the novel coronavirus threat. He appealed to people to inside homes and follow government rules and regulations to fight Covid-19 and said he would hold a meeting with traders and medicine wholesalers to see if home delivery was possible for vegetables and medicines.
Cop meetings
Meetings were held at Bokaro, Giridih, Deoghar, Dumka, Godda and Pakur at their police headquarters and all SPs reviewed the situation. They directed all police station OCs to take stern action against those violating the lockdown and seal inter-district borders.
Additional inputs by Suresh Prasad Nikhar and Antara Bose