How Isro made rocket science fun
3 state girls, part of nationwide young scientists' meet, recall out-of-the-world sessions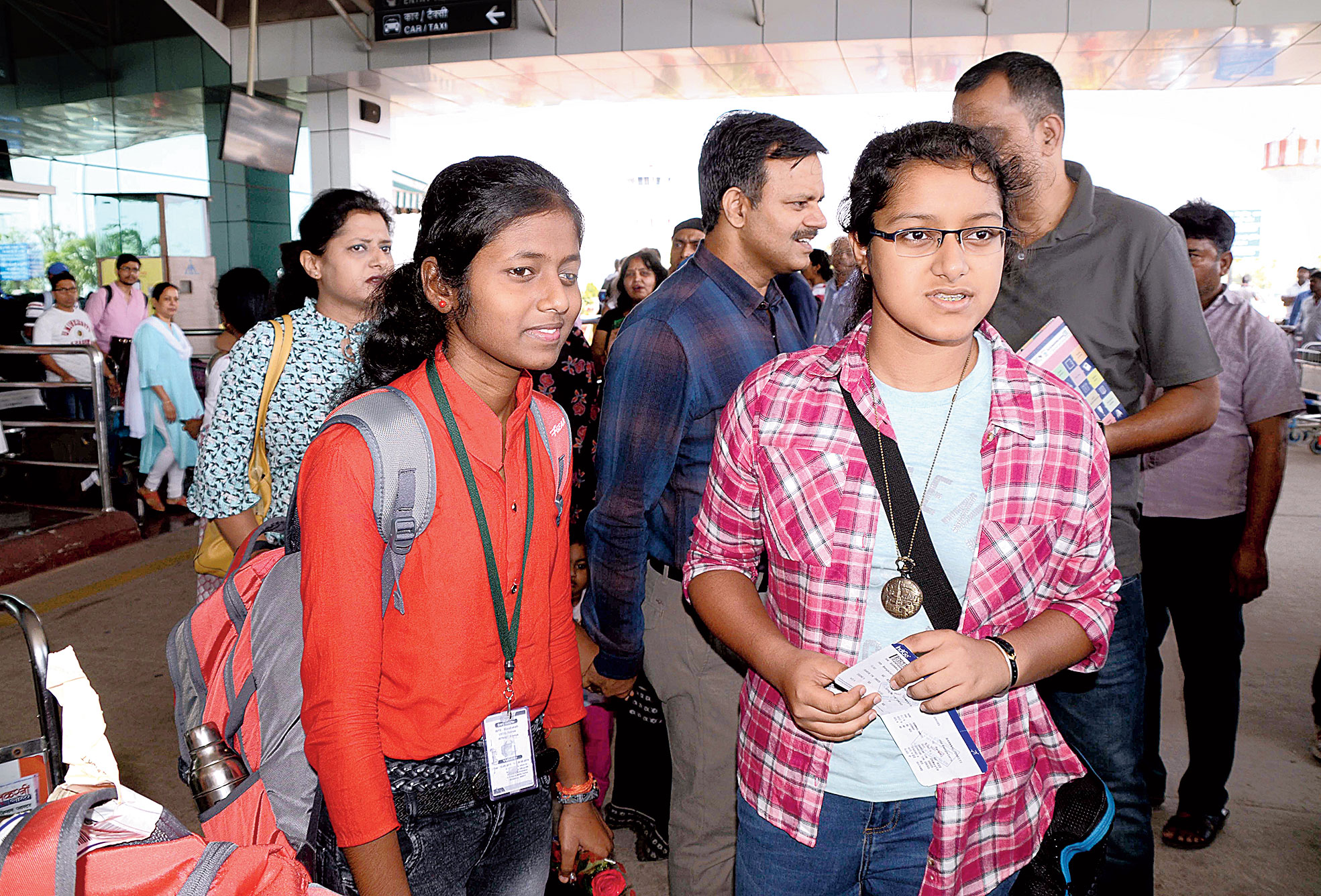 ---
|
Ranchi
|
Published 26.05.19, 07:00 PM
---
The morning flight from Bangalore landed at Birsa Munda Airport in Ranchi around 9.15am on Sunday had, among its passengers, two starry-eyed schoolgirls from the state.
The duo were among the three Jharkhand schoolgirls who attended a unique workshop by Indian Space Research Organisation (Isro), YUVIKA (Yuva Vigyani Karyakram) or young scientists' programme from May 13 to 25, which included interactions with space scientists, lab sessions in Bangalore and going to Sriharikota, Andhra Pradesh, to see the launchpad of Chandrayaan II as part of India's moon mission, and a live rocket launch.
In March this year, Isro announced YUVIKA, a 'catch them young' programme entirely sponsored by it to create awareness among students about the emerging areas of space activities.
Based on Class VIII academic performances and scientific aptitude, three students were selected from each of the 36 states and Union territories attached to different Isro centres for this workshop for schoolchildren under state boards, ICSE and CBSE, with special focus on rural students. From Jharkhand, students selected were Dhriti Barnwal (Class IX, DPS-Ranchi), Maantu Pani (Class X, Kasturba Gandhi Balika Vidyalaya, Dhalbhumgarh) and Rinki Kumari (Class XII, again from a Kasturba school but based in Jaridih, Bokaro).
Of the 108 students, 27, including Jharkhand's trio, stayed at Isro's Bangalore centre, while the others were put up at Isro centres elsewhere.
At the airport on Sunday, Rinki, the daughter of a village schoolteacher, kept wearing her Isro ID card around her neck.
Dhriti couldn't stop beaming. "We were primarily at the Bangalore facility of Isro for the programme and the experience was thrilling," said the daughter of a senior bureaucrat. "We attended sessions by renowned space scientists K. Kasturirangan and K. Sivan (current Isro chairman), we gazed at space through sophisticated telescopes, we were asked to help make satellite models and even saw a sounding rocket launch at Sriharikota. Out of the world!"
Rinki chipped in to say that before the rocket was fired, scientists told them about the number of precise calculations they had to make, including the angle of firing.
"I really enjoyed visiting Sriharikota, the spaceport from where rockets are launched in India. The sounding rocket went up and then had a landing on the sea (Bay of Bengal)," enthused the girl from Araju village in Bokaro bordering Bengal.
Maantu, a farmer's daughter, who is returning by train and would reach Tatanagar on Tuesday from where she would go to her home in East Singhbhum's Manikbera village as summer vacations are on, added that India's moon mission came alive for her. "One has to be very good in maths to be a space scientist," she said over phone.
Asked about the biggest takeaway from this experience, Dhriti, Rinki and Maantu together said it opened up a whole new frontier. All the three girls, despite coming from different backgrounds, said they wanted to study science and explore space science as a career.
"Research is really tough, but I want to try it," said Dhriti. "I'm also now seriously considering pursuing space studies," said Rinki. "I had other plans but now I feel like doing something for the society by studying science."
Dhriti's father Sunil Kumar Burnwal, principal secretary to the CM, who was present at the airport, said he was happy that schoolchildren received an exposure of this quality. "We would earlier choose traditional options such as medicine or engineering or IAS, but these kids have more choices," said Barnwal.