Hometown Ranchi, like others, caught off-guard
CM Hemant lauds Mahi, requests BCCI to hold ant exhibition match with him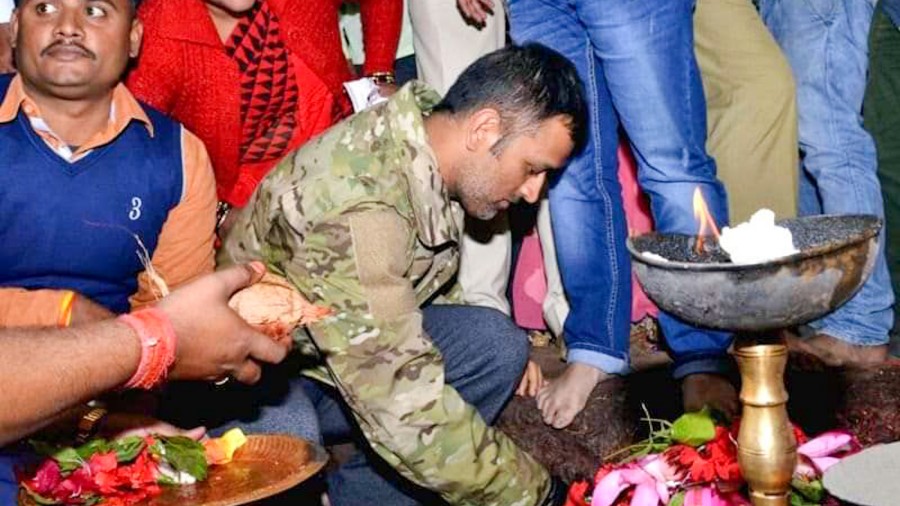 ---
|
Ranchi
|
Published 15.08.20, 10:13 PM
---
Mahendra Singh Dhoni's sudden announcement that he as retiring from international cricket, although true to his character of spinning surprises, caught everyone off-guard in his hometown of Ranchi.
Chief minister saluted the 39-year-old cricketer who led Team India to stellar heights, on twitter within minutes and appealed to BCCI to hold an exhibition match with Dhoni in Ranchi so that his fans in Jharkhand could watch him live, in person, for one last time.
"He made Jharkhand proud with his contribution to the game, and gave his fans lots to cheer. He won't be able to don blue jersey again, but I appeal to BCCI to hold one farewell match in Ranchi so that everyone can see him play in Team India jersey one last time," Hemant tweeted.
देश और झारखण्ड को गर्व और उत्साह के अनेक क्षण देने वाले माही ने आज अंतराष्ट्रीय क्रिकेट से सन्यास ले लिया है।हम सबके चहेते झारखण्ड का लाल माही को नीली जर्सी पहने नहीं देख पायेंगे।पर देशवासियों का दिल अभी भरा नहीं। मैं मानता हूँ हमारे माही का एक फ़ेयरवेल मैच राँची में हो जिसका 1/2 pic.twitter.com/XFt5zBSvG8

— Hemant Soren (घर में रहें - सुरक्षित रहें) (@HemantSorenJMM) August 15, 2020
Chanchal Bhattacharjee, one of Dhoni's childhood coaches and a veteran sports journalist said the news of his retirement was a bolt from the blue. "Not that we hadn't anticipated his retirement, but the way he decided and made the announcement gave one goose bumps. Even at this age, his reflexes are very sound and in shape," he said.
"I had an inkling that he may call it a day the day after the T20 World Cup. Only yesterday, he left Ranchi to return to the 22 yards after a gap of about a year, fully confident. He even training hard. Today, he took the world by surprise," Bhattacharya said.
Adil Hussain, Dhoni's former captain at Central Coalfields between 1998 and 2003, maintained that the uncertainty over the T20 World Cup, due to the coronavirus pandemic, may have forced him to call it a day. "No one ever gets to know what goes on in his mind. All through his career in Team India, his unconventional decisions made him the leader he became," he said.
In a glittering career spanning around 15 years since his debut in 2004, Dhoni spent most of the years leading India in all three formats of the game and became the only captain in history to win all ICC trophies.
Under his captaincy, India won the 2007 ICC World Twenty20, 2016 Asia Cups, the 2011 ICC Cricket World Cup and the 2013 ICC Champions Trophy.
Bhattacharjee recalled that Dhoni's explosive 148 vs Pakistan in Vishakapatnam, months after his debut in 2005, will by far remain the most cherished innings for him. "I think I would want to watch that innings again and again because this was the game where Dhoni was born as a star after failures in around four earlier innings," said the coach.
Hussain, however, rates Dhoni's match-winning knock of 183 against Sri Lanka in the 2011 World Cup final as his standout innings. "Dhoni didn't score much in the entire World Cup… but in the final, to promote himself up the order against in-form batsmen requires lots of guts and confidence. But he gambled, took the risk, and the rest is history," said Hussain.
Simat Lohani, Dhoni's childhood friend and a close confidant, remarked, "India's Kohinoor will no more glitter on the 22 yards. Throughout his tenure, he gave the entire nation, immense joy to watch the game."
Dhoni's IPL franchisee Chennai Super Kings tweeted, "Truly bolt from the blue! Nandri (Thank You) very much #Thala (head of the gang) and #ChinnaThala! #WhistlePodu."