Home for rescued victims of human trafficking inaugurated in Palamau
NGO teams up with local administration to set up the 18-room Ujjawala Grih in Birsa Nagar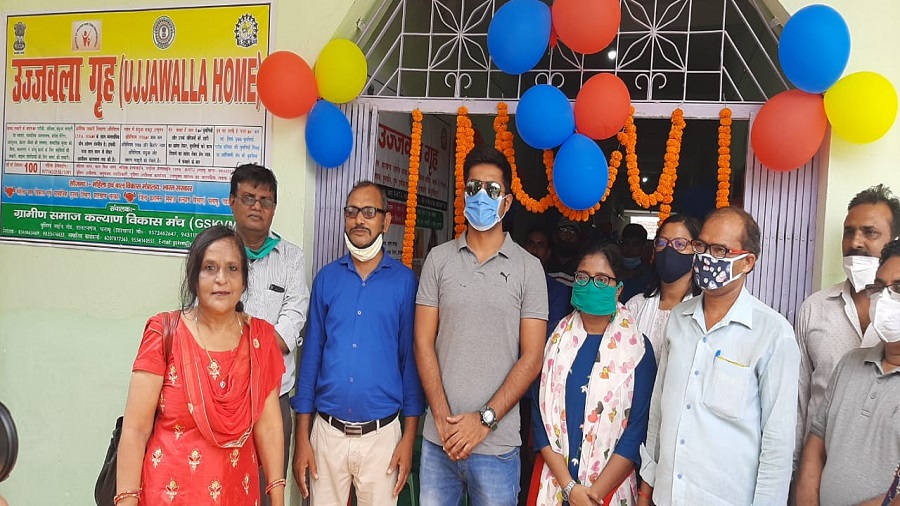 Inauguration of Ujawala Grih at Birsa Nagar in Shahpur
Sourced by the Telegraph
---
Daltonganj
|
Published 17.10.20, 05:19 PM
|
---
Rescued victims of human trafficking will now have an address of their own until they are taken back by their families said sources.
Deputy commissioner Palamau Shashi Ranjan told The Telegraph Online that an 18-room house at Birsa Nagar in Shahpur, named Ujjawala Grih, will now be a home for the survivors.
The home, which was put up by an on-probation IAS employee Dilip Pratap S Shekhawat, will be the first of its kind here in Palamau.
Sources said Palamau was infamous in the eighties and nineties for bonded labour (bandhuwa mazdoor). Bengal-based writer Mahashweta Devi and Swami Agnivesh used to frequent the place to campaign for the cause of anti-bonded labour.
The administration is being cautious while running Ujjawala Grih, due to its experience with two of their children's homes for boys and girls often being in the news as children have escaped from there.
The NGO Gramin Samaj Kalyan Vikas Manch has signed an MoU with the administration to run Ujjawala Grih.
NGO head Hashmat Rabbani said his team will work hard to make this Ujjawala Grih a 'home' for the rescued victims of human trafficking.
"Rescued people of human trafficking of the three districts Latehar, Garhwa and Palamau will be housed here," said the DC.
Sources said illegal cattle smuggling and second human trafficking plague these three districts.
Rescued cattle being ferried in high containers, re-designed oil tankers etc. are given to the nearby locals for them to keep in their fields.
However, humans who have been trafficked are far less wanted.
"We have found that families are reluctant to take them back. This becomes a very piquant and tight situation for us as we wonder where to put up such unclaimed rescued ones," said Ranjan.
Many do not reveal their addresses or their family's locations.
It will be now far easier to carry on legal procedures for the survivors with the help of paralegal volunteers (PLVs).
However, sources said Ujjawala Grih has one drawback so far privacy of the survivors is concerned.
Most rescued boys and girls are in their teens and will be housed together, sharing washrooms, kitchens, bedrooms etc.
This has been a cause for worry as sexual exploitation has been found to be rampant in identical shelter homes in places like Bihar.
"We will see what best can be done for the rescued ones, with males and females living separately," said Ranjan.