Hi-tech learning curve for government school
Annamitra Foundation gifts Bhatia Basti institution a touchscreen digital board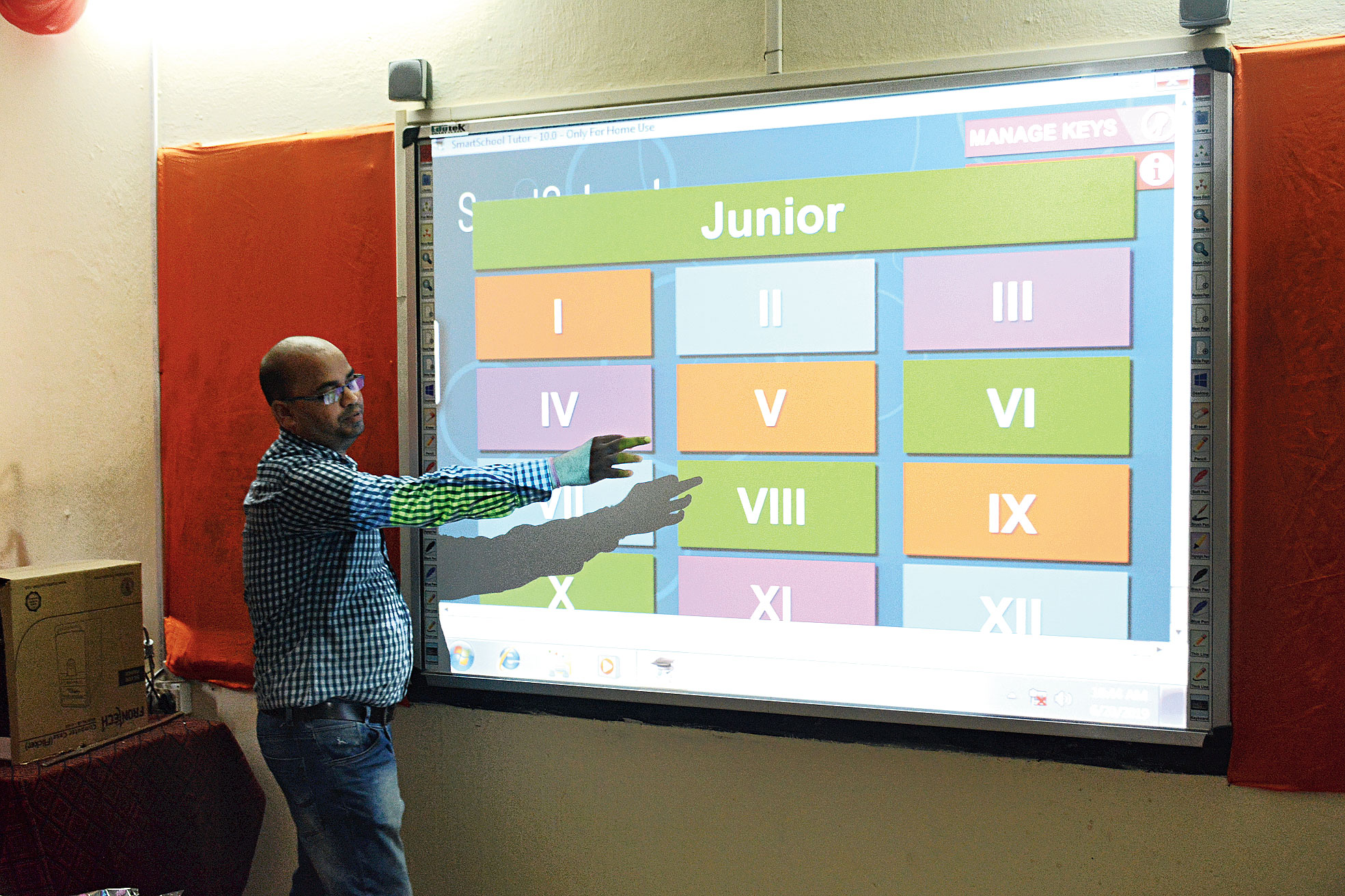 A teacher shows how the digital board works at Utkramit Madhya Vidyalaya at Bhatia Basti in Kadma, Jamshedpur, on Thursday.
Picture by Bhola Prasad
---
Jamshedpur
|
Published 20.06.19, 07:23 PM
|
---
Move over blackboard, Utkramit Madhya Vidyalaya, the government-run school at Bhatia Basti here, now has a smart class with a digital board.
The institution on Thursday received a smart class from Annamrita Foundation (earlier known as Iskcon Food Relief Foundation) to teach its students in the audio visual format. This is the first smart class for a school under the Annamrita Foundation's Healthy Food, Smart Education initiative.
Minister for food and civil supplies Saryu Roy and East Singhbhum deputy commissioner Amit Kumar inaugurated the smart class with a touchscreen digital board having age-appropriate content for Classes I to XII.
Right now, the school has 260 students, including girls, from Classes I to VIII.
Also present during the inauguration were vice chairman of Annamrita Foundation Sanjay Tikku, chief marketing officer of India of Annamrita Foundation Jyoti Ranjan; deputy superintendent of education of East Singhbhum Brijmohan Kumar and others.
The school was called Adarsh Vidyalaya — a government school with all the basic infrastructure such as power, water, toilets, playground, boundary walls, among others, in place — by the district education department.
Minister Roy heaped praise on the teachers of the school, who he said wanted tangible change in quality. "The primary credit for this school's upgrade goes to its teachers who wanted positive change. Like many other government schools, this school also lacked basic facilities but teachers here strove to change things," Roy said.
The minister added that the change was visible to everyone. Though he added realistically he would not compare this school to private English-medium schools, it did have the basics in place.
He also suggested government schools organise parent-teacher meetings on the lines of private schools to help students and create a conducive atmosphere for academic excellence.
Deputy commissioner Kumar hoped the smart class here would help students learn faster and retain what they learnt better.
"Interesting pedagogy attracts students to school and education," said Kumar. "I also hope teachers learn to operate the smart class system well, as this can somewhat compensate the shortage of teachers, a problem that exists in the schools of our state."
For the past 15 years, the Annamrita Foundation has catered to the midday meals of 12 lakh children, Tikku said. "We will also look into the possibilities of installing smart classes in other nearby government schools. The Annamrita Foundation has adopted this school and will conduct health checkups and introduce more innovative concepts. Today (Thursday) itself, we came across the problem of frequent load-shedding in the school so we're now planning to install a solar power system here," he said, though he admitted that as a nonprofit, they had to scout for funds.
But the biggest smiles belonged to the children.
Asked how she felt about the smart class, Anjali Mahto, a Class V student of the school, who was among a big crowd of children, beamed widely. "Mujhe ye achcha laga ki ab humein padhai padhai mein cartoon dekhne ko bhi milega. (I'm happy because we will get to watch cartoons while we study)," she said.