Here's to someone really specially abled in Dhanbad
On Teacher's day, meet a fighter who was born without arms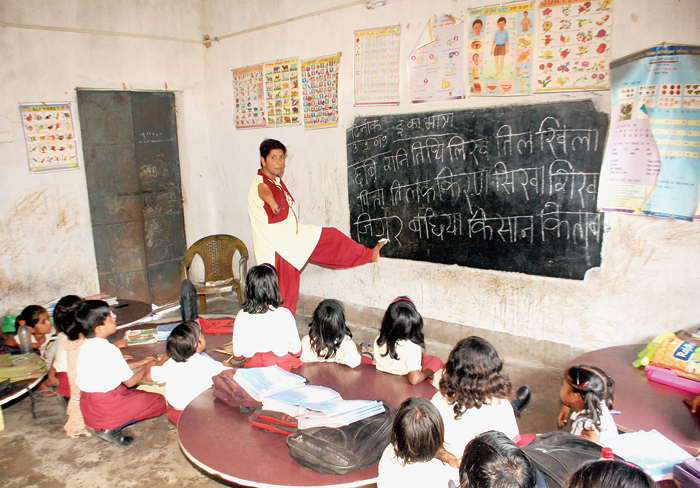 ---
|
Dhanbad
|
Published 04.09.19, 10:02 PM
---
So what if she is born without arms. Basanti Kumari, 40, a parateacher of a middle school in Rodabandh, Sindri, knows how to give a hand in shaping young minds.
The parateacher has been teaching children for the past 14 years by writing on the blackboard with her toes.
Daughter of former foreman of Fertilizer Corporation of India (FCI) Sindri Madhav Singh and homemaker Prabhavati Devi, both no more, political science graduate Basanti has been teaching since 2005.
A day before India celebrates Teacher's Day to honour India's second President and teacher-philosopher Sarvepalli Radhakrishnan's birth anniversary, Basanti said she was proud to be a teacher.
"I consider it an honour that I can teach," she said. And for that I thank my father, whose progressive thinking made me confident that I can study and have a career despite being born with a serious disability," she added.
She added she did not have any problem in writing with her toes on the blackboard.
"I'm used to doing a lot of things with my feet and toes since childhood," said the eldest of five sisters. "I write on notebooks with my toes too," she said. "My father, till his death six years ago, never stopped encouraging me."
She said that she taught children more than the syllabus. "In a society where people kill the girl child in the womb, my parents loved and cherished me and my four sisters. I tell my students that girls and boys are equal in all respects," she said.
Basanti passed her matriculation in 1993 with third division but excelled in intermediate with a first class in 1995 and graduated with honours, second class, in political science in 1998.
There was a waiting period before she finally secured job as parateacher in 2005.
"I appeared for Jharkhand Teachers Eligibility twice earlier, but failed by one or two marks. I request the government to provide me a job (as permanent teacher) in the special category of disabled persons as it is very difficult to sustain life on a salary of Rs 12,000 per month," she said. "I also have the responsibility of getting my youngest sister married, the others are married and settled," she said.
Any advice to her students? "Just carry on. Be consistent and work hard," she said.
Any moment of pride that she'd like to share? "This year, I got the opportunity to see our grand Republic Day parade at Rajpath in Delhi. I was among the few women selected from Jharkhand associated with the Beti Bachao Beti Badhao scheme and so got this honour," she said. "And teaching every day is a matter of pride. I feel blessed."