Hemant Soren's August 9 holiday nudge to Centre
Jharkhand CM comes down heavily on the BJP-led govt for not including a separate religion column for tribals in the census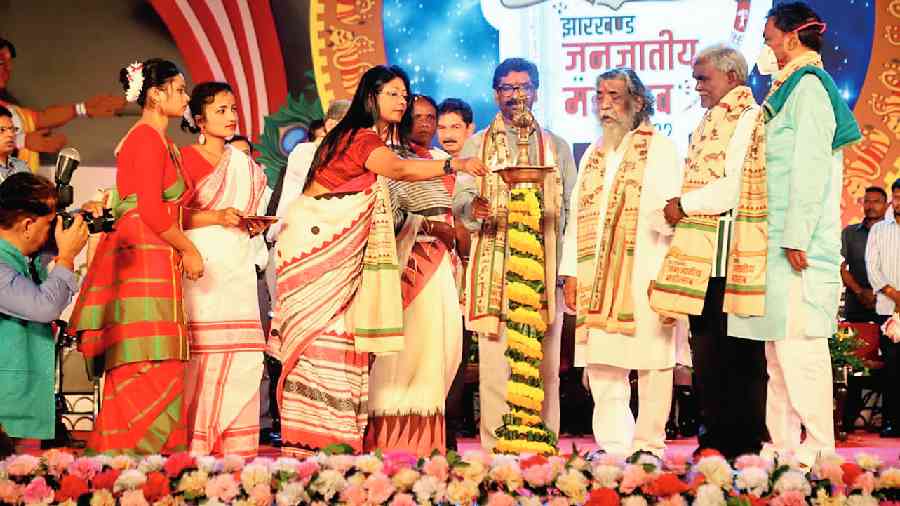 Jharkhand Rajya Sabha MP Mahua Maji, JMM supremo Shibu Soren and chief minister Hemant Soren light the lamp to inaugurate the two-day Jharkhand Tribal Mahotsava at Ranchi on Tuesday.
Manob Chowdhury
---
Jamshedpur
|
Published 10.08.22, 01:54 AM
|
---
Jharkhand chief minister Hemant Soren came down heavily on the BJP-led Centre for not including a separate religion column for tribals in the census, thereby posing threat to the tribals' identity.
He also called upon the central government to declare a public holiday on August 9 to show its real concern for the welfare of tribals.
"The neglect by the policymakers at the Centre has led to tribals still rotting in poverty and suffering from displacement, illiteracy, exploitation and marginalisation. Is it not unfortunate that today's policymakers are not willing to recognise our separate religion, customs and language which formed the basis for being called Adivasis? Today the identity of Adivasi (indigenous) society is in crisis as constitutional provisions are only on paper and not enforced. Some people even hate to call us Adivasis and call us Vanvasis instead," Soren said while addressing the inaugural function of a two-day Jharkhand Tribal Festival in Ranchi on Tuesday to mark the International Day of the World's Indigenous Peoples.
Soren's cabinet and Jharkhand Assembly had passed a special resolution for according Sarna Adivasi religion code in the census in November 2020 and sent it to the Centre through President and made the demand before Union home minister Amit Shah earlier this year for inclusion of Sarna code in the census.
Tribals argue that the inclusion of a separate Sarna religion code in the census would allow them to be identified as followers of the Sarna faith.
Tribal organisations have claimed that with the Centre dropping the "Others" option from the religion column for the next census, Sarna adherents would be forced to either skip the column or declare themselves members of one of the six specified religions: Hindu, Muslim, Christian, Buddhist, Jain and Sikh.
Taking a dig at the alleged attempt by the Centre to tweak forest conservation rules, Soren said: "Our forefathers fought to protect forest, animals and hills and now we have to think of ways to protect it as attempts are being made to snatch them by those in power. Everyone is eyeing the tribes' land which has an abundance of mineral resources without bothering to plan for the welfare of tribals."
Soren also announced that the state government would again review those forest land deeds which had been cancelled earlier.
"The government would again review those forest land deeds which had been cancelled for some or other reasons in the past and the forest land deeds pending for approval would be cleared within three months," said Soren.
He further announced that tribals who had taken loans at exorbitant interest rates from local moneylenders would not have to return the amount and in case such complaints are received, action would be taken against the moneylenders.
"Tribals will be given 100kg of rice and 10kg of pulses free by the government in case of marriage or death in the family so that they do not need to take loans for such rituals. I would appeal against taking loans for community functions and even if one has to take loans, they should take it from banks," said Soren.
Earlier in the day, Soren on Twitter shared the letter by Bengal chief minister Mamata Banerjee expressing her best wishes for the tribal festival.
"I am very happy to receive your invitation to the Jharkhand Janjatiyo Mahotsav 2022 to be held at Ranchi, Jharkhand during 9-10 August 2022. We are proud of our brothers and sisters belonging to tribal communities and it is indeed a befitting way to showcase the glorious culture, heritage, tradition and achievements of the community and recalling with great honour their overwhelming contribution to society," the letter states.
"You will be happy to know that we are celebrating Biswa Adivasi Dibas in all the districts of our state in a very befitting manner. I would have loved to be present on the occasion but due to pre-scheduled urgent commitments in the state I am unable to make it this time. However, I take this opportunity to extend my heartiest greetings and wish the Mahotsav a grand success," the letter added.
The inaugural function had troupes from different states showcasing tribal folk songs and dances while there was a seminar on tribal history, anthropology, literature and philosophy at Tribal Research Institute in Ranchi during the festival.