Hemant meets Rahul in Delhi with Congress minder
Talks may have centred on nominees for cabinet, boards and corporations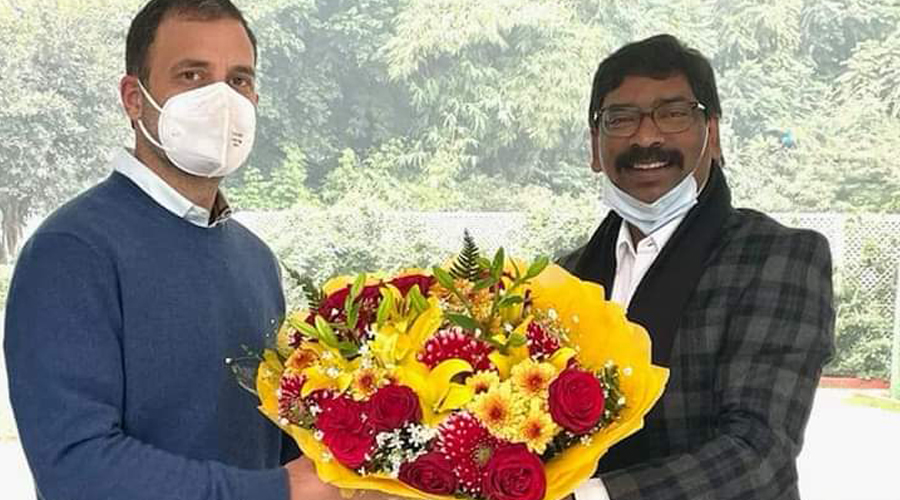 ---
|
Ranchi
|
Published 18.01.21, 05:11 PM
---
Jharkhand chief minister Hemant Soren met former All India Congress Committee (AICC) president Rahul Gandhi in Delhi on Monday, triggering speculation that vacancies in the state cabinet and government-run boards and corporations were discussed.
The meeting assumes importance as it took place in the backdrop of coming elections in Bengal where Hemant's party, the Jharkhand Mukti Morcha (JMM), is planning to contest. JMM's primary ally in Jharkhand, the Congress, has tied up with the Left in Bengal.
Both Congress and JMM leaders, however, called the meeting a courtesy visit. Hemant, along with Congress party's Jharkhand affairs in-charge R.P.N. Singh, flew to Delhi on Sunday night.
Hemant, who is expected to meet Sonia Gandhi too, is likely to return to Ranchi on Tuesday.
A JMM leader said, "The meeting was long overdue. Now that things are slowly improving (Covid-19), our leader wished to meet with the top brass of our alliance partner. Regular interactions and meetings help in maintaining better coordination. One shouldn't read much into it."
A Congress source, however, said the idea of the meeting was to discuss various issues as the state government had completed a year in office. "Two days back, R.P.N. Singh, during his visit to Ranchi, held a meeting with all Congress MLAs, district heads and other key members on vacant posts in boards and corporations in Jharkhand. This apart, the party has for long been staking claim to one more ministerial berth, considering the number of MLAs we have," claimed the Congress leader.
As of now, there are two vacancies in the 12-member cabinet.
But speaking with reporters in Ranchi on Sunday, R.P.N. Singh maintained that their party wasn't focusing immediately on filling vacant berths in the state cabinet.
Instead, he said, the focus would now shift towards a by-election in Jharkhand necessitated after the Madhupur seat fell vacant last year following the death of JMM MLA and minority affairs minister Haji Hussain Ansari.
"Let us focus on the bypoll first. The rest will be discussed with our coalition partners later," Singh had said.