Hemant Soren lauds Christian missionaries' work on education
The chief minister was ddressing the inaugural day of the two-day golden jubilee function of Gossner College in Ranchi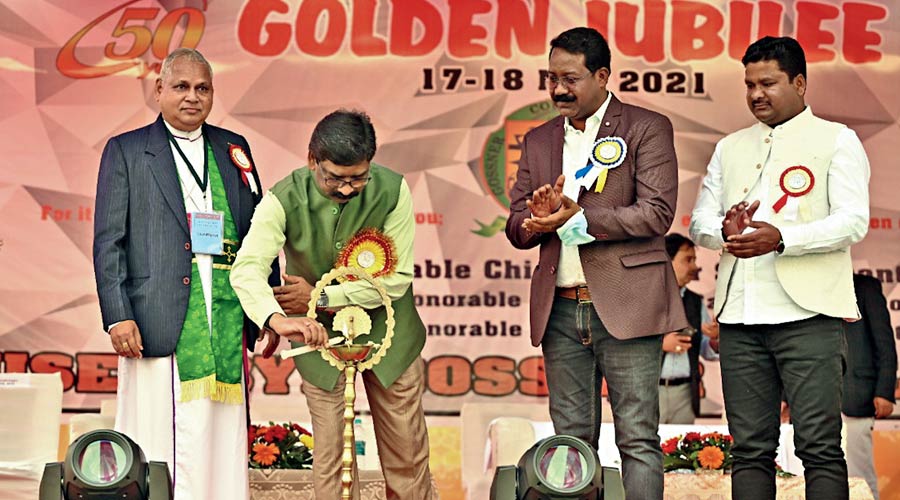 ---
Jamshedpur
|
Published 18.11.21, 01:11 AM
|
---
Jharkhand chief minister Hemant Soren heaped praises on Christian missionaries for their role in uplift of education, especially for tribals and downtrodden in the state.
Addressing the inaugural day of the two-day golden jubilee function of Gossner College in Ranchi, as the chief guest on Wednesday, Soren said: "If we look at the level of education and work done in the academic sphere in the state, the missionaries have contributed more than 50 per cent. There was tremendous cooperation for tribals, backwards, minorities and poor in the missionary schools."
The chief minister continued its praise by claiming, "Missionary school and college impart education with discipline with a thrust on social values. The result can be seen from Gossner College which has had 27 departments and thousands of students representing the state across state and country."
Significantly, two of the MLAs Kolebira MLA Naman Bixal Kongari and Khijri MLA Rajesh Kachhap are students of the same college and were present at the function. Gossner College also has a major contribution in Indian hockey. College students Asunta Lakra and Sumrai Tete have represented the Indian women's hockey team. Asunta has also captained the Indian women's hockey team while college student Bimal Lakra has been a big player of the Indian men's hockey team..
The college gives preference to students coming from socially, economically backwards and underprivileged communities, particularly, ST/SC and other backward communities.
Soren admitted that the backwardness of Jharkhand is mainly because of lack of education.
"The state lags behind in several important areas due to lack of education. The government is taking several important steps both in rural and urban areas to improve the education scenario. Several of our ambitious schemes in the education sector were delayed due to the Covid infections. Now with things returning to normalcy, we are focussing once again on improving the education sector," said Soren.
The chief minister admitted that the closure of educational institutions during the Covid pandemic had a negative impact on education.
Gossner College was started from Bethesda School campus in Ranchi with the aim of educating the minority community on November 1, 1971. The minority college is affiliated with Ranchi University and is managed by Gossner Evangelical Lutheran Church of Chhotanagpur and Assam.
The college which taught only tribal and regional languages during inception has now grown into having 28 departments with more than 200 staff and 13000 students.
On the occasion, the college made a presentation through a documentary film about the developmental journey and achievements of the institution. The first replica of the college was also placed for the visitors.