Soren calls for civic discipline while using public facilities
Sources in the RMC said that those found littering and parking irregularly would be penalised according to the provisions of the Jharkhand Municipal Act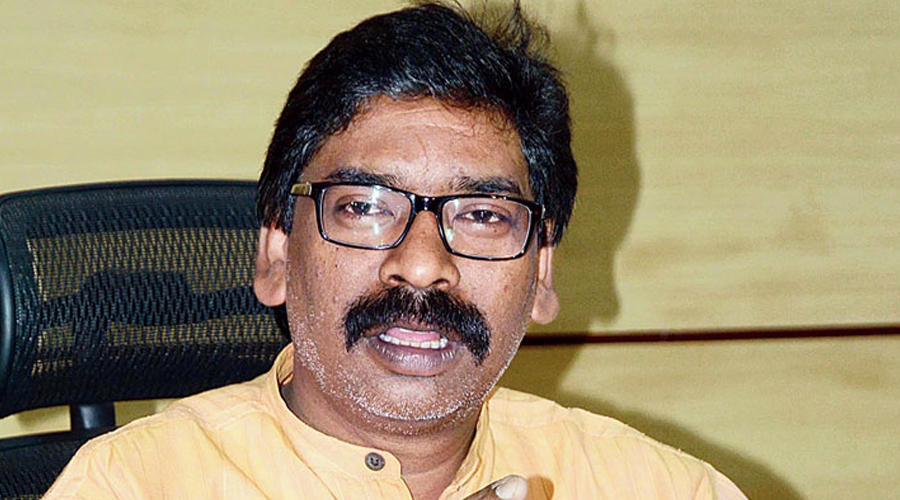 ---
Jamshedpur
|
Published 02.11.21, 12:55 AM
|
---
Jharkhand chief minister Hemant Soren last week requested people to maintain civic discipline while using public facilities like markets and cautioned that any violation would be caught by cameras.
After inaugurating a three-storey vegetable market at Nagababa Khatal near the Raj Bhavan in Ranchi which was built at a cost of Rs 10.86 crore, Soren recalled the poor condition of the earlier market especially in terms of parking of vehicles, littering and disposal of garbage.
"We all have been coming to this vegetable market and seen the pathetic condition in which it was. We have dedicated a clean and modern vegetable market and it is the responsibility of the masses to maintain it along with the municipal bodies.
"We have installed CCTV cameras in strategic locations in the market and we would be monitoring civic discipline on the premises," said the chief minister.
Sources in the Ranchi Municipal Corporation (RMC) said that those found littering and parking irregularly would be penalised according to the provisions of the Jharkhand Municipal Act.
"We would be randomly inspecting the CCTV feeds and the shopkeepers or buyers who are found littering or parking vehicles in an irregular manner would be penalised by the enforcement officers on a regular basis," said a city manager of the RMC.
Random parking by buyers caused traffic jams along this stretch in the past while throwing of vegetable waste had added to civic hazard.
The chief minister reiterated on working in a systematic manner to maintain the facilities provided by the government and hoped that vegetable vendors and buyers would take care of the market as their own and not damage it.
The market can accommodate nearly 250 vegetable and fruit vendors and would be the first such facility in the state to have semi-underground facilities. A food court and parking facility are also present in the market.
After inaugurating the vegetable market, Soren went to Harmu Housing Colony to inaugurate Sardar Patel Park and also urged local residents to maintain the facility considering it as their own.
The chief minister also inaugurated a life-size statue of Sardar Vallabhbhai Patel in the park.
Soren later told the media that large-scale recruitment in government departments would begin in the next few months and that they are determined to streamline the job regularisation process for contractual posts.
The chief minister also announced that after the state's foundation day celebrations (on November 15), the district administrations concerned would organise camps at panchayat levels and clear all pending problems of the public from November 16 onwards and also link beneficiaries with government schemes. Jharkhand was carved out of Bihar on November 15, 2000.