Hemant Soren blames BJP for pricey onion
Onion price skyrocketing because of 'anti-poor policies of the government', says Soren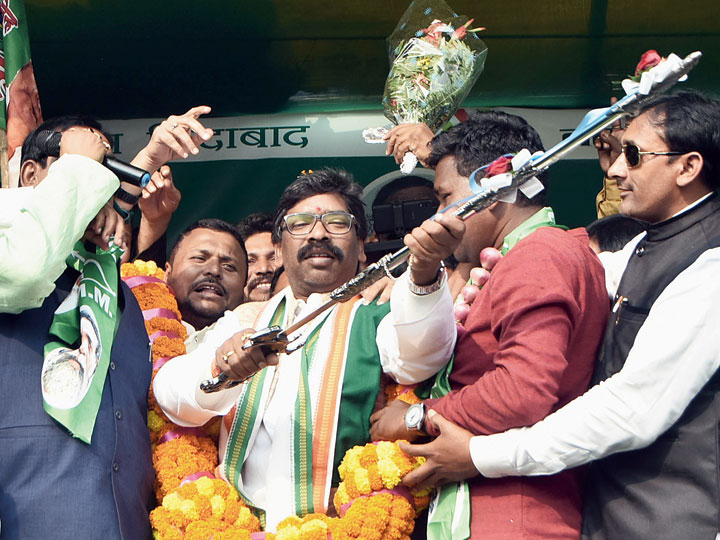 ---
|
Dhanbad
|
Published 10.12.19, 07:31 PM
---
JMM president Hemant Soren, on a whirlwind tour across Dhanbad to campaign for party candidates including Sindri's Phulchand Mandal, Nirsa's Ashok Mandal and Tundi's Mathura Prasad Mahto, charged the BJP government at the Centre and state with anti-poor policies.
"The onion is being sold at the price of gold due to anti-poor policies of the government, making life difficult for the masses," Soren thundered at KFS grounds of Nirsa in the presence of JMM candidate Ashok Mandal.
"Due to the wrong policies of the government, pulses and vegetables have vanished from the meals of the masses. The price of rock salt has increased by more than 62 per cent," Soren told the crowd of around 5,000. "The masses depend on rice, marh (starch) and a piece of onion as their main meal. But that's become unaffordable due to the skyrocketing prices of the onion."
He accused the BJP government of privatising central government and public sector entities and said the railways and BSNL would be the biggest victims of the government policy to favour capitalists.
"What happened to Jio?" ridiculed Soren, going on to say all Jio free SIM card, call and data facilities were being gradually withdrawn one by one. "But why will not BSNL face closure when the Prime Minister has become the brand ambassador of Jio?" Soren said sarcastically.
"Plans are on to privatise Coal India, Steel Authority of India Limited and Damodar Valley Corporation," Soren said. "The attempt is to give an edge to selected private players and make employees dance to the tune of these private players."
He added: "They (the BJP) seek votes on the name of Ram and Patel (Vallabh Bhai) but the fact remains that they do not follow the ideals of Ram and Patel. They only carry out divisive Hindu-Muslim politics."
At Nirsa, he also pointed out the closure of Dhanbad's local industries such as KFC and Om Railway Products.
"Due to wrong government policies, dozens of hard coke factories in Dhanbad closed down while hundreds are on the verge of closure, offering a starvation-like situation before lakhs of workers at these industries," Soren said.