Hemant Soren announces setting up forensic lab in each zone
We have today handed over 93 officers in the laboratory and hope this will strengthen the laboratory to give prompt outcome: CM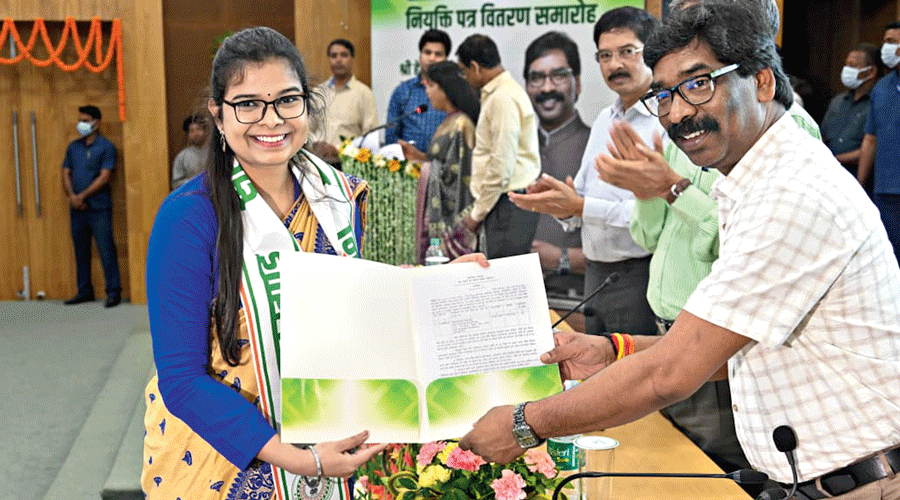 Hemant Soren distributes appointment letters to forensic laboratory officers at Ranchi on Wednesday.
Manob Chowdhury
---
Jamshedpur
|
Published 24.06.22, 01:00 AM
|
---
Jharkhand chief minister Hemant Soren announced the setting up of state forensic laboratory units in each of the five zones in the coming years and hinted at recruitment in over 50,000 vacant posts soon.
At a function to mark distribution of appointment letters for selected assistant directors, senior scientific officers and scientific assistants at the state forensic laboratory, lying vacant for over a decade, under the state home department at Ranchi on Wednesday, Soren said: "We have today handed over 93 officers in the laboratory and hope this will strengthen the laboratory to give prompt outcome."
"With the recruitments we would not require to send samples to other states like Gujarat for forensic tests. Now all kinds of forensic examination including DNA test, narcotic tests and other technical test can be done at the laboratory in Ranchi. Keeping in view the need of such laboratories we will soon expand such units at all the five zones (clubbing of several districts from a zone) of Jharkhand," announced Soren.
Soren said that it is the priority of the government to settle cases pending due to delay in investigation.
"During a recent survey of the home and prison department it was found that thousands of prisoners and undertrials belonging mostly to tribal, Dalit and weaker section are in jail due to delay in investigation. The government data reveals that most of these prisoners were found involved in petty crimes but have been locked up in jail for many years as investigation were pending due to delay in forensic tests. With the augmentation of human resources at the laboratory we hope to expedite investigation," said Soren.
He added that the government is also focussed on filling up the vacant posts lying in all the departments. "The appointment rules of all departments have been corrected and strengthened, which is benefiting the local children of Jharkhand. Requisition has been sent for filling up 12,000 personnel of the junior service level and 40,000 in various other posts," said Soren. He also said that the government has reduced application form fees to aid poor aspirants.
"Earlier application form fee hovered between Rs 500 and Rs 1500 in competitive examinations, but now our government has kept this fee between Rs 50 and 100. Now more than four lakh children appear in competitive examinations like JPSC," added Soren.
Jharkhand DGP Neeraj Sinha said in the past a panel  was formed for the Criminal Justice System. It had suggested that a forensic investigation team should be there along with the police investigation.
There was a forensic lab in the state, but there was a shortage of expert officers for investigation. Now with the appointment of officers, these problems will be resolved.