Hemant Soren's advice to 'guardian-less' BJP in Assembly: select a leader
BJP press speaker Rabindra Nath Mahto to grant Babulal Marandi the status of the leader of the opposition soon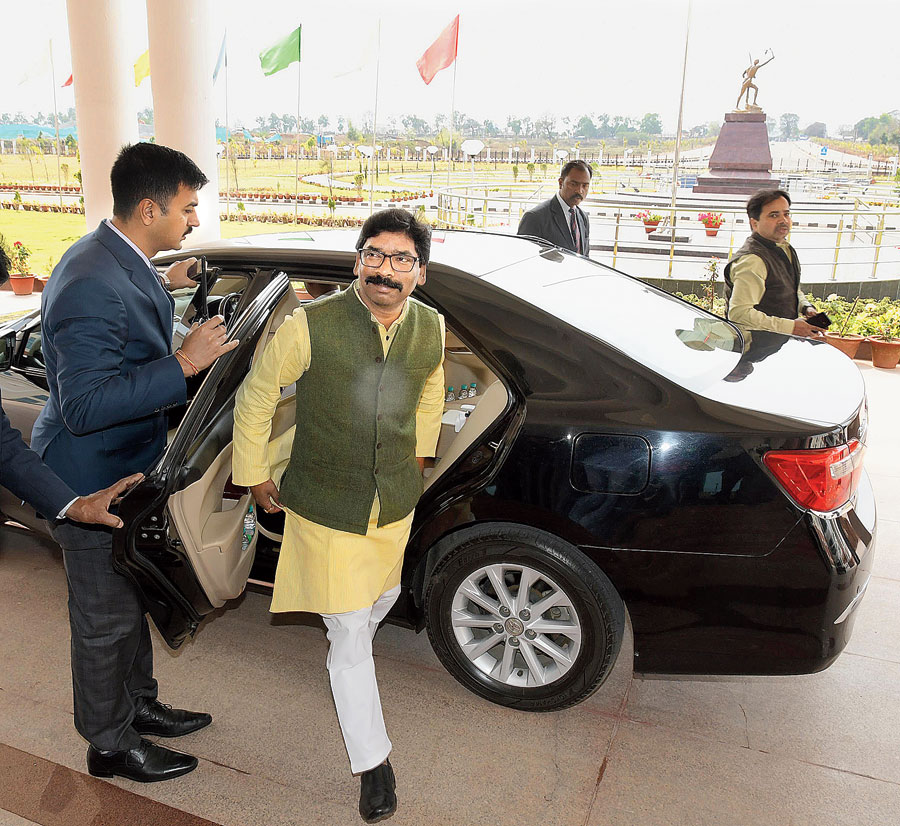 Chief minister Hemant Soren arrives at the Assembly in Ranchi on Thursday.
(Prashant Mitra)
---
Ranchi
|
Published 05.03.20, 08:01 PM
|
---
Chief minister Hemant Soren on Thursday suggested BJP legislators select a temporary leader among them as a stopgap till the Speaker makes a decision on granting Babulal Marandi the status of the leader of Opposition.
Hemant's suggestion came around 2.15pm when senior BJP legislator C.P. Singh raised Marandi's issue after the House was adjourned at 11.31am following ruckus over alleged remarks made by Congress party legislator Irfan Ansari outside the Assembly before television cameras.
Hemant said that the Opposition had become "guardian-less in the House". "They planned to make someone the guardian but the matter is pending before the speaker. It is my suggestion that they select one among them as the leader till the matter is decided," Hemant said as ruling party members welcomed the idea by thumping their desks.
But a few seconds later, the BJP MLAs went into the well of the house to again press Speaker Rabindra Nath Mahato to grant Marandi the status soon. The debate on the budget started amid their protests.
BJP members stayed in the well of the house till 2.29pm. When they realised the issue would not be resolved, they chose to boycott the house for the day chanting Jai Shri Ram.
After they left, Ajsu MLA Sudesh Mahto, JMM MLA Lobin Hembrom, Independent MLA Saryu Roy and Congress MLA Purnima Neeraj Singh spoke about the budget.
Sudesh Mahto said the budget did not reflect promises made in election manifestos. Hembrom countered this, saying "for the first time something has been given to everybody". Roy welcomed the budget but suggested that "expenditure be visible". Purnima Neeraj Singh appreciated the idea of a tribal university in the state.
Finance minister Rameshwar Oraon, replying on behalf of government, ended the debate saying he would welcome all criticism and suggestions and let the state benefit from his "time-tested experience".
Earlier in the morning, before the House came in motion at 11.06am, BJP MLAs in saffron vests with messages such as "Loktantra ki hatya band karo", "Lohardaga mein huye dange ke liye Hemant sarkar sharm karo sharm karo", among others.
Once the House came in motion at 11.06am, BJP MLA Bhanu Pratap Shahi alleged that his Congress counterpart Irfan Ansari had abused his (Shahi's) party members in front of TV cameras and demanded Ansari's termination from the house on this ground. Speaker Rabindra Nath Mahato told BJP MLAs that it was tough for him to act in the matter as the purported remarks were made outside the house. But BJP MLAs did not relent.
Ansari tried to speak in the House but BJP MLAs were not ready to listen.