Hemant launches job scheme for urban poor
Over 5lakh to benefit by working in civic projects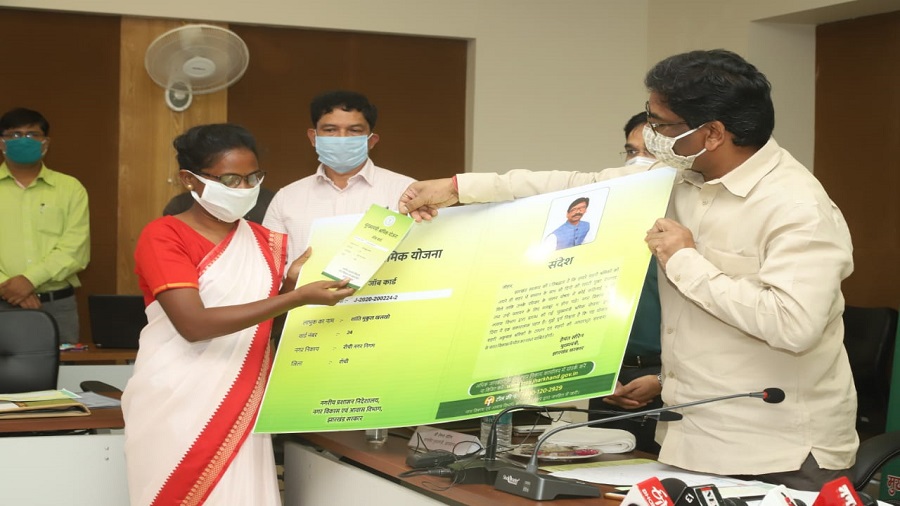 Chief minister Hemant Soren hands over a job card to a beneficiary of a new job scheme he launched in Ranchi on Friday
Telegraph picture
---
Ranchi
|
Published 14.08.20, 07:48 PM
|
---
Chief minister Hemant Soren rolled out an employment guarantee scheme for urban unskilled workers on the eve of Independence Day on Friday, claiming that the MGNREGA-like initiative would initially benefit around five lakh poor families.
Titled Mukhyamantri SHRAMIK (Shahri Rozgar Manjuri For Kamgar) Yojna, the scheme aims to provide guaranteed work for 100 days (man days) a year within 15 days of receiving an application.
 "In case we fail to give a job within the stipulated period, we shall provide them unemployment allowance. The idea is to ensure no one lives or dies of hunger," Hemant said while launching the scheme online from Project Building to reaffirm the state government's commitment towards the wellbeing of labourers.
As a symbolic gesture, the chief minister distributed job cards to five persons.
Hemant said that while the lockdown necessitated by the coronavirus pandemic had brought everything to a halt, it also exposed several unknown realities about Jharkhand to him.
"Honestly, we didn't know the magnitude (of our workforce)… the number of our people working in other states as labourers, even though it was an open secret that many have been migrating to other cities in search of a livelihood for years. This is when we envisaged the scheme. The idea is to provide equal opportunities for our shramik brothers in urban areas," the chief minister said.
Hemant said that as per his government's estimates, around 10 lakh labourers returned to Jharkhand after the lockdown using various modes of transport.
He also pointed out how Jharkhand showed the way for other states while facilitating the return of migrant labourers. "Even before shramik trains had begun, we were the first to ask the Centre to allow us to run our own trains. While we later got permission, other states too followed on our footsteps. Jharkhand was the first to run a shramik special train which came from Telangana in May. Thereafter, we were also the first to fly our labourers via aerial routes from hard-hit areas like Andaman, Ladakh and so on," he said.
The state urban development department will be the nodal agency for executing the employment scheme. Secretary Vinay Kumar Choubey said anyone who was above 18 and has been living in an area run by a civic body since April 1, 2015, was eligible to apply for a job.
"That is the only criteria for applying for a job either through our portal (http://msy.jharkhand.gov.in) or through ward-level resource persons under respective civic body limits," he said.
Citing priority areas, Choubey said the first target would be to provide jobs under various projects undertaken by civic bodies. "In case jobs (man days) aren't available there, then we will look at other sectors of urban development, followed by forest department and other wings of the government. Guaranteed job is our mandate in this scheme," he promised, adding that every year the government would make special provisions for creating man days (jobs) and allocating funds in the state budget.
Choubey said the scheme would help civic bodies that are starved of manpowered to undertake projects centred around daily city management and beautification.