Hemant joins Mamata, demands JEE-NEET be put off
At Sonia-chaired e-conclave of CMs, JMM leader calls for effective Opposition strategy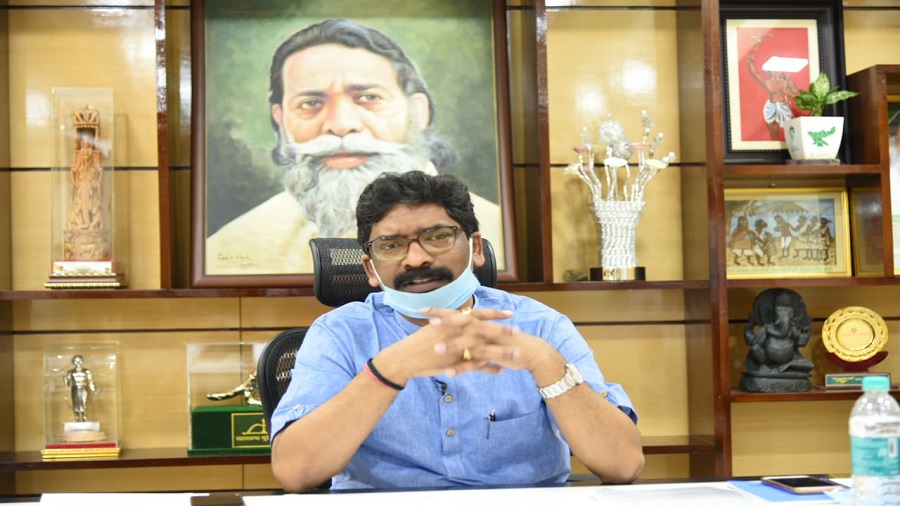 ---
|
Ranchi
|
Published 26.08.20, 07:15 PM
---
Chief minister Hemant Soren demanded the deferment of JEE-NEET 2020 on Wednesday, adding to the chorus of voices, including that of his Bengal counterpart Mamata Banerjee, opposed to holding the competitive examinations next month in the wake of the pandemic.
Airing his views on a host of issues at a virtual meeting chaired by Congress's interim president Sonia Gandhi, Hemant asked the Centre to be considerate towards students and postpone the exams for the time being even though the Supreme Court had refused to cancel them.
"Exams must happen, but it should not be rushed through at a time when Covid-19 cases are rising by the day. As far as Jharkhand is concerned, we are hitting a peak with large numbers of cases being reported daily, and in such a situation, exams will only complicate matters," the chief minister said.
JEE-NEET 2020, which was originally scheduled for April, got postponed because of the nationwide lockdown. As per the fresh schedule, JEE will now be held from September 1-6 and NEET on September 13.
Hemant said, "NTA has only named centres in three to four districts of Jharkhand. This means, we will be forced to ply buses and open hotels to accommodate a large number of examinees, many of whom will come with their parents. Many students from neighbouring states like Uttar Pradesh, Bihar, West Bengal come to Jharkhand to appear for the exams.
"In such a situation, Covid-19 cases will grow. And as in the case of any crisis, the Centre will put the entire blame on states."
Hemant pointed out that Jharkhand was also battling a crisis of beds, ventilators and other resources to combat Covid-19 and in the event of a major spread of the virus because of the exams, the crisis will escalate.
"We (Opposition) must strongly raise our voice against this before the Centre," Hemant demanded, as Sonia and other chief ministers, like Mamata Banerjee, captain Amrinder Singh, Uddhav Thackery, listened in.
Hemant also asked the Congress president to redraw the Opposition's strategy to take on Prime Minister Narendra Modi and his government that, he said, was to blame for derailing the country's economy which has led to massive unemployment.
"I don't hesitate to point out that we as the Opposition haven't been able to raise the issues effectively to counter the Union government and its anti-people policies. We have to be united and receptive towards our partners and draw up strategies to prevent the ruling party from diverting the nation's attention from core issues," Hemant said, pointing to how GST, privatisation of PSUs, price rise, especially of petrol and diesel, were threatening to break the backbone of states.