Helping hand for Hindu brothers
Social organisation spearheaded by Muslim youths sets example of communal harmony and environment conservation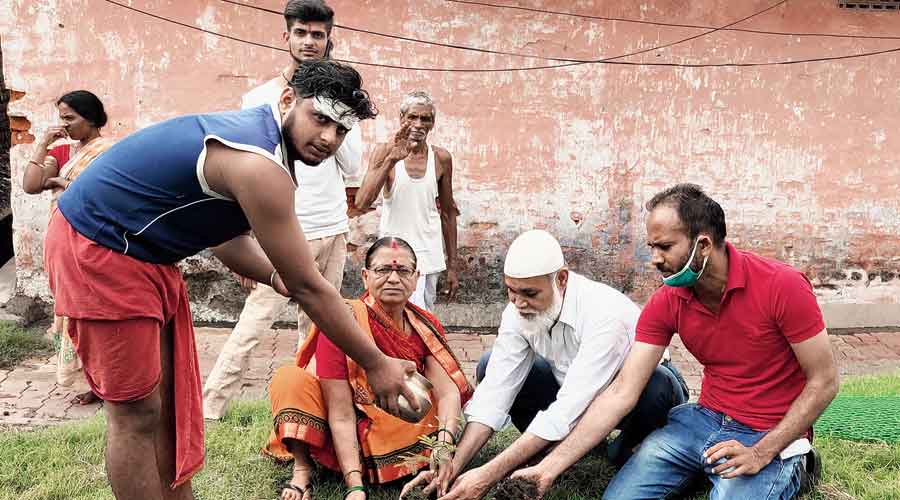 Social activist Akhlaque Ahmad (right in red T-shirt) and others plant a sapling at Tiwari Mandir in Dhanbad's Jhariaon Monday
Shabbir Hussain
---
Jamshedpur
|
Published 07.07.20, 02:26 AM
|
---
A social organisation in Jharkhand, spearheaded by Muslim youths, is helping devotees during the Shravan month by distributing puja essentials and also encouraging them to plant saplings, setting an example of communal harmony and environment conservation amid the Covid-19 pandemic.
The social organisation, Youth Concept, on Monday (the first day of Shravan) started distribution of milk and water to the devotees near a Shiva temple at Chottai Kuli in Jharia township along with a plantation drive.
A large number of devotees perform rituals at Shiva temples during the Shravan month, with Monday considered the most auspicious to offer puja to Lord Shiva.
This year places of worship have been shut down by the Jharkhand government till July 31 in wake of the pandemic.
"We have been organising plantation drives during major festivals since 2007. Since 2019, we are also setting up stalls distributing puja essentials like milk and mineral water during the holy Shravan month. This year there was not much crowd in front of the temples due to the restrictions enforced because of the pandemic and the government having banned religious congregations. However, we will continue to set up stalls near major Shiva temples for devotees who might come to buy essentials for performing puja at home," said Akhlaque Ahmed, a member of the organisation.
Akhlaque is a special educator for the intellectually impaired at a block resource centre in Jharia.
Aslam Sadmani, 60, an advocate in Dhanbad district court and president of Youth Concept, said they wanted to convey a message of communal harmony by this initiative.
"Shravan is considered most holy by our Hindu brothers. We wanted to send a strong message of communal harmony and decided to start distribution of puja essentials during this period. Last year, we distributed milk and bottled water near 20 Shiva temples on every Monday of Shravan. We would like to do the same this year as well," said Sadmani.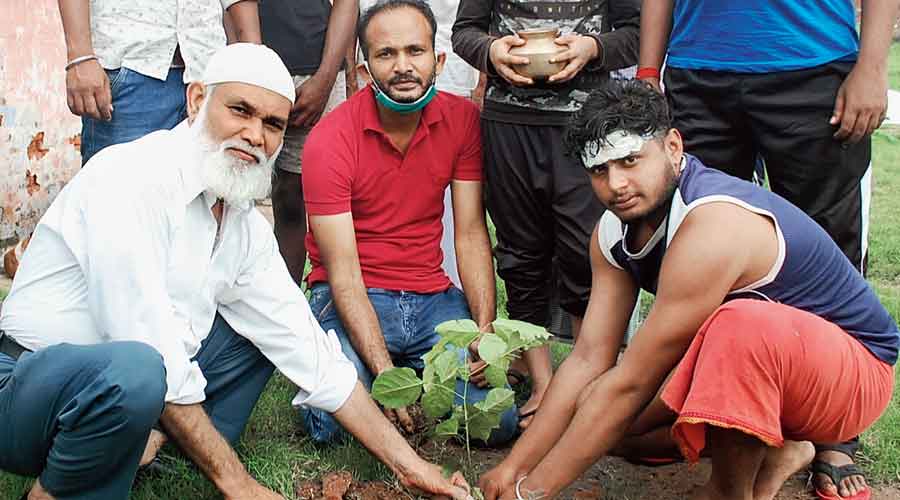 Devotees welcomed the initiative. "I had come to the Shivalaya (Shiva temple) for offering puja and took milk from one of the stalls. Since the temple was closed, I took it home. They also requested me to plant a gulmohar tree in my name. We need more green cover," said Gyanti Devi, 70, a devotee.
The social organisation claimed to have planted over 7,000 saplings since 2007.
"We plant mostly medicinal and flowering trees and put up fabricated grills around the saplings to keep them away from the reach of grazing animals. Since 2007, we have planted nearly 7,000 saplings.
"Today we planted seven saplings. We requested locals, who expressed interest in our activities, to come forward and plant a sapling and put up a board with their names beside it so that they feel an obligation to nurture the sapling. This plantation drive is essential as Jharia is amongst the most polluted cities," said Akhlaque.
Jharia, known for its underground coal fires, was the most polluted city in the country in 2018 according to Airpocalypse-IV, an annual report released by Greenpeace India in January this year.
Jharia had recorded particulate matter (PM10) level of 322 micrograms per cubic metre, whereas the safe limit is 20 micrograms per cubic metre.