Heightened vigil on border as Bihar Assembly elections begin
STATE DIGEST: 2 youths arrested in Maoist murder; robbery before Diwali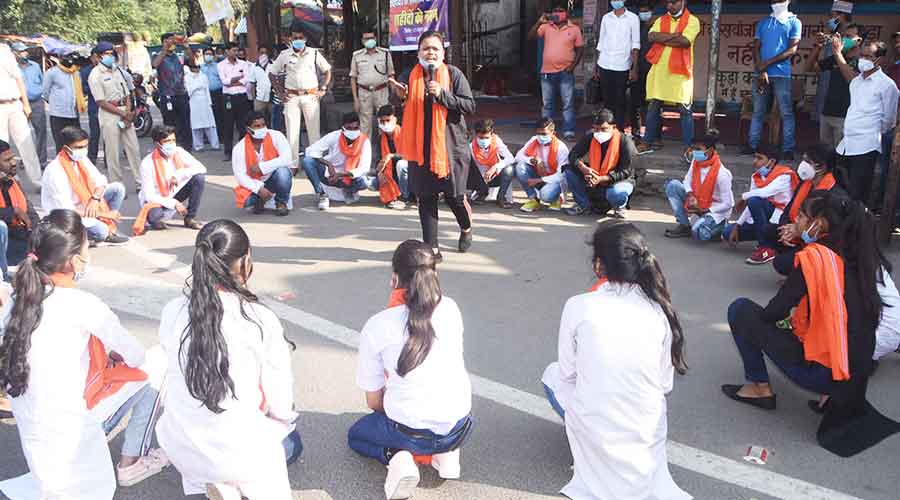 ---
---
The Chatra border with Gaya was sealed on Wednesday till the evening to keep a strict vigil on vehicles entering the Bihar border.
The first phase of the Bihar Assembly Elections took place in Gaya on Wednesday.
Policemen were deployed in large numbers. Inspector B.P. Mandal
said they stayed there till 5 in the evening when polling came to an end.
Mandal said roads leading to Gaya including Huntergunj-Imamgunj,
Pandeypura-Imamgunj, Huntergunj-Dumariya Barachatti,
Huntergunj-Sherghati and Huntergunj Lenjwa were sealed from 7am to 5pm.
2 youths arrested in Maoist administered murder
Pathalgadda police in Chatra arrested two Maoist informers in the district who aided in the killing of a woman on October 18.
Police claimed that both had done recce of Nageshwari and passed information about her to subzonal commander Deepak Yadav after which she was gunned down.
The arrested youths have been identified as Niranjan Kumar Bhokta, resident of
Mudhesa Tola of Koranbe in Payhalgadda and Jogendra Ganjhu resident of Urub
village in Simaria block.
Maoists had called Nageshwari a police informer and blamed her for passing information about them to police.
Police had lodged an FIR against Maoist's subzonal commander Karu Yadav and four others under sections 147, 148, 149, 449, 341, 302 of the IPC and17CLA act. The other three extremists named in the FIR are Mithilesh alias Duryodhan Mahto, Binod Munda, Chandan and Ramkhelawan Ganjhu.
Robbery before Diwali
Three masked men looted a customer service point at Ketat Kalan under Rehla police station of Rs two lakh twenty four thousand on Wednesday.
Sources said this is the first robbery in day time just weeks ahead of Diwali.
SP Palamau Sanjeev Kumar said SDPO Surjit Kumar is looking into this day light robbery.
SP said digital recording of the three miscreants was not recorded as there were no CCTV cameras at the service point.
SDPO Surjit Kumar said a case has been lodged.