Heavy rain disrupts Jharia water supply for three days
Power cut at Jamadoba treatment plant, residents furious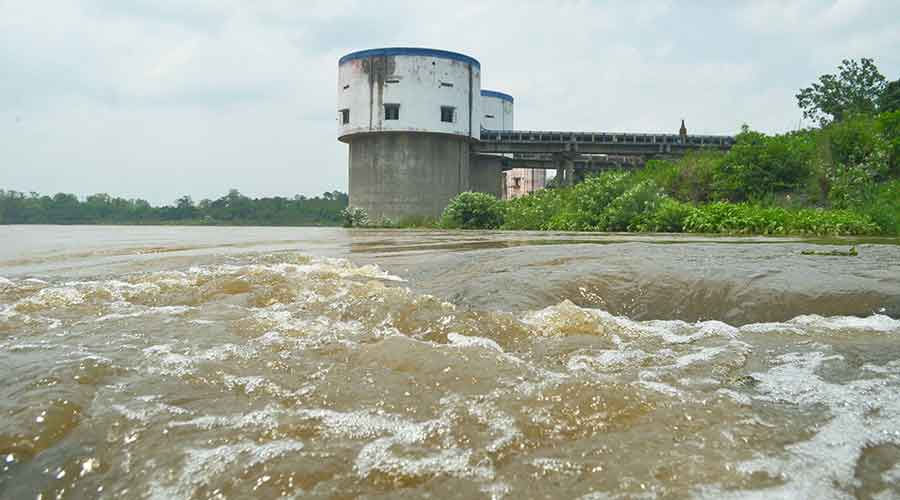 Jharkhand Mineral Area Devlopment Authority intake well on River Damodar during the heavy rain at Jamadoba, Jharia on Thursday.
Picture by Shabbir Hussain
---
Dhanbad
|
Published 18.06.21, 11:09 PM
|
---
More than five lakh residents of Jharia are facing disruptions in water supply for the last three days due to increase in water level of river Damodar and consequent submerging of the motors of the intake well at Jamadoba based water treatment plant of Jharkhand Mineral Area Development Authority.
The power supply disruption caused due to heavy rains has also complicated the issue to some extent as a continuous eight hour of electricity supply is required for regular water supply from Jamadoba based water treatment plant.
Expressing outrage over the situation, Pinaki Roy a private tutor of Jharia said, "Regular water supply which was a USP of basic amenities of Jharia has almost eluded the town since the five years due to various reasons, including water supply pipeline rupture, technical snag in motors of JMADA at Jamadoba and lack of regular electricity supply to the water treatment plant."
"Why can't the arrangement of direct electricity supply connection to the water treatment plant be made through the DVC to avoid the power failure affecting the water supply?,"questioned Roy and added that instead of early morning water supply at around 6am to 8 am, water supply now a days is carried out at the odd times of 11 am to afternoon at around 3 pm and even during the night in some localities
Echoing his sentiments former councillor of Ward Number 37 of Jharia, Anup Sao said "Besides the irregular water supply several areas of Jharia like, Fatehpur Lane, Hanuman Gadhi, Niche Rajbari, Dumariyatand, Hetli Bandh, Koiri Bandh, Mishra Para and Poddar Pada  are also affected through low pressure of water supply as a result of which water doesn't reach in several of the houses of these locality"
"We have also carried out an inspection of the water treatment plant (WTP) at Jamadoba as part of a delegation of Jharia resident two years ago during which we were apprised about the constraints being faced by the employees deputed at the Water Treatment plant in carrying out regular water supply including the constraints faced in lifting the motors from near the river bed during the time of rise in water level," said Sao.
"At a time When JMADA is investing more than Rs 317 crore in laying new pipelines and water treatment why can't it invest a little on beefing up its existing water supply infrastructure at Jamadoba" said Sao
Sub Divisional Officer of Water Supply Division of JMADA, Pankaj Kumar Jha said, "Rise in water level of the river Damodar to  around 467 feet from the safe level of 457 feet is the main cause of  water supply disruption as it led to dipping of motors of the intake well of Jamadoba based WTP.
"Though, the problem has been fixed but not irregular power supply in affecting water supply," further said Jha.